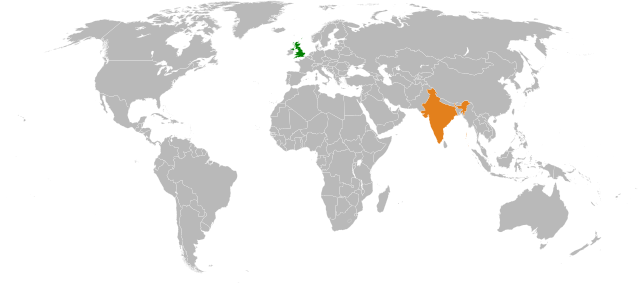 Yes, we Indians owe a lot to British Raj, our democratic setup, judiciary, parliamentary form, postal service, railways, but there is no denying that UK acquired much lucrative perks while reigning India, the British Indian Army aided in many wars, much of Indian produce and resources, and also taxes were channeled to Britain, leaving the Indian economy grow merely at 1 per cent during the period, 1880 to 1920. Let us not discuss why at the end of the British rule India was in a wretched state, why our share in global GDP fell from 20 per cent to below 5 per cent during the colonial era. Past is past, and as our present PM puts it, it is time to unite globally to better the lives of all humans. Today, the UK has a high commission in New Delhi, along with 5 deputy commissions in other cities, and India is represented by high commission in London and two deputies in Edinburgh and Birmingham. India is a sizable investor in the UK, and over 1.5 million Indians in Britain and with the statue of our 'Father of the nation', Mahatma Gandhi, at the Parliament Square, the bonding has taken new curves.
It is appreciable that PM Cameron was one of the foremost world leaders who grasped the rise of Narendra Modi much prior to his occupying the office of Indian PM; in 2012, Modi's boycott by the UK came to an end, a measure that validates Cameron's prophecy and his quest to fortify ties with one of the UK's most prominent trade partner. PM Modi has tweeted 'Phir Ek Baar, Cameron Sarkar' (Cameron Government is back), and you cannot deny that voters of Asian origin, specifically Indians, supported David Cameron with full valor in 2015 polls; indeed, Cameron's campaigning in Hindi fetched much for him. Also, a decisive win for conservatives corroborates that the people of UK are much assured of PM's actions in past five years; few notable ones include the much-needed austerity in view of mounting deficit, and apt alterations in education and healthcare domains, something that is also a part of PM Modi's vision for India.
Though the synergy of Modi and Cameron is apparent, and the UK's PM's calling of the affiliation with India as 'New Special Relationship' commemorates this prolonged bond, the new 5-year term of PM Cameron with at least 4 more years of a stable government in India can be a platform for two countries to inscribe a new chapter of mutual growth and commitment. Expectations and potentials from both sides are immense, and if the PMs are wise enough to tap viable avenues, paybacks are sure to flow. Trade, climate change and energy are presently a part of India-UK bilateral relations; the overlooked area is UK's efficiency in agriculture, which is highly mechanized, facilitating production of 60 per cent of food requirements with the help of half a million labor force. For India, agriculture is an area of concern with more than half the workforce dependent; hence Indian agricultural universities are to seek support from agricultural colleges in the UK so as to embrace Europe's astuteness in research, biofuels and pastoral farming.
Another key area of collaboration, close to the heart of Indian PM, is education and skill expansion. Tens of thousands of Indian students move to the UK for higher education and this number is to see an increase as the Theresa May's stringent rules for overseas students have been relaxed, but the area of pain for India is severe brain drain and the gap in expertise and standing between Indian and foreign universities. The UKIERI (UK-India Education and Research Initiative) promotes student mobility, innovation and skill development, but basic and urgently-needed deviations in India's education structure remain unattained. Along with research and leadership, curriculum development for the primary and elementary wings with infusion of skill development can be borrowed from Britain. Pearson, an education and publishing firm, places UK at second place as far as education system of all European countries is concerned. If PM Cameron is to actually back PM Modi's dream for skilled India, it has to come through the education route.
Extremism and religious intolerance are at the top of the agendas of world leaders and unless the west joins hands with Asian giant India, as most of the terrorism flows from Asia to these European countries, a decline in fanatic activities is unmanageable. This is a zone where the two PMs hold similar views, Cameron in 2010 identified Pakistan as promoter of terrorism and present relations between Pak and UK aren't warm, which is an avenue for India and UK to exploit so as prevent US and China from unduly cheering Pakistan. Counter-terrorism, a wing presently dominated by the US, will see novel turns if India and UK, along with other European countries, devise such strategy and military tactics that can effectively combat radicalism. PM Cameron's concern over safety of UK's Jewish communities and PM Modi's worry over violence targeted at Hinduism by Islamic extremists in the name of Jihad are no different.
When the POTUS visited India in January this year, many political analysts held a view that PM Modi replaced UK's PM to be US' top partner. President Obama stressed that a non-violent tomorrow can be foreseen if US-India stay united, defence and intelligence pacts have also come through. This doesn't mean that  the historic bonding of India and UK can anyway be underrated, but UK's obsession of China, backed by strategic alliance between both nations, is what that places India and US on side and the UK-China duo on the other. In politics, words of leaders count much. When PM Modi promoted 'Make in India' globally, the world sat and paid heed. Why can't PM Cameron, in writing, back India's seat on United Nations Security Council? Having inherited a paralyzed economy, both India's and UK's PM have, more or less, same set of worries and similar goals of cutting deficit, generating employment and easing trade. Visas for Indians can be made more accessible and job procedures for Indian students and professionals be relaxed as a gesture of goodwill by the Cameron government.
Competence and will of PM Cameron can never be challenged, and how he survived the economic ups and downs of Europe and also steered clear of appeasement politics are the specimen. PM Modi faces same contests in India and countering an opposition that is adamant to woo voters with economy-shattering schemes isn't that uncomplicated. It is a lesson for the BJP as to how David Cameron, who couldn't have made it this large had he just endorsed his economic astuteness, used election campaigning to the best of his party. India and UK await a prolific partnership between the two heads, and with so much in analogous, this consensus seems realistic.