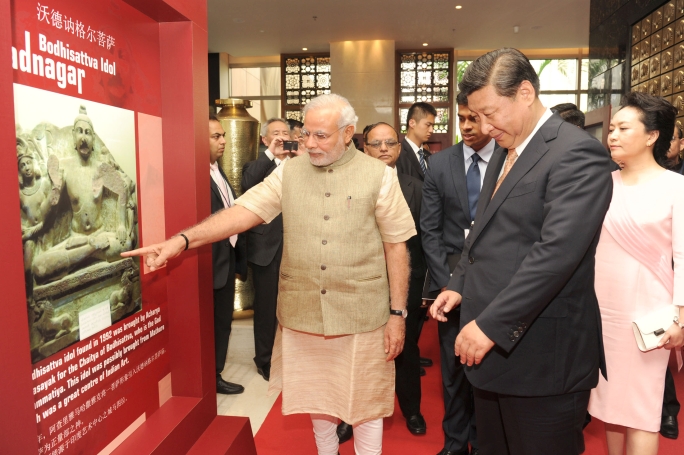 India and China are no different, be it the liability to serve massive population, or the legacy of being world's leading economies prior to American or Russian advent, or the inherent conservative approach of the society, or even the non-authoritative structure of polity where China's communism and India's democracy are examples for the world to follow. Also is the similarity that lies with respect to relations between the People's Republic of China and the Republic of China (Taiwan), and India's relations with impish Pakistan. As per a recent survey, 80 per cent of the China's population was contented with the working of the communist government and the unprecedented win of the BJP in 2014 validates Indians' support to the present Modi-led government. The fresh era of politics and economy in both the countries commenced in the 1940s, in China after the admission of defeat by the Empire of Japan in the Second World War, and in India post the outgoing of the British Raj. Even the economic downtrends in both these emerging economies were managed by welcoming market-oriented and liberalized economy.
When the Indian Prime Minister, Narendra Modi, would meet his counterpart, Xi Jinping, on his first visit to China, on the top of his agenda, likely subjects would be the trade deficit, the ever-prevailing boundary dispute, India's stand on the Asian Infrastructure Investment Bank promoted by China and indeed a dialogue with Chinese entrepreneurs to convince them to Make in India. Now all these may be very much significant in their respective backgrounds, the trade deficit that soared to USD 36 billion in the FY 2013-14 and is likely to cross USD 60 billion in the coming two years if the imbalance in trade remains unaddressed is to be accorded the uppermost priority. It is expected that the Indian PM would ask for corrections in the Asia-Pacific Trade Agreement so as to lower the trade barriers for Indian exports, but along with, novel avenues of bilateral ties with tough-to-deal-with neighbor are to be found. Remember, it was Atal Bihari Vajpayee's distinguished approach that led to appointment of Special Representatives for clearing up of LAC dispute; on similar grounds, it will be Modi's acumen that can address trade deficit in a never-thought of manner.
A basic that explains this wide gap between India's trade with China is that the Chinese exporters have tapped the segment of Indian market where our indigenous producers have been unable to focus. PM must stress the need of a balanced bilateral trade and in the current scenario, which indeed is unsustainable for India, China must extend respite by way of raising investment and pooling resources on technical terms. While we export a few primary commodities to China, we are in receipt of technology-intensive products. I feel that unless China realizes the fact that the two Asian giants are to grow in chorus, it will rarely serve any need even if we secure easy entry of Indian pharmaceuticals, IT, tobacco, rice or any other commodity. Import of mobile phones from China accounts for more than USD 5 billion every year and the same is likely to swell if Chinese giants like Xiaomi and Huawei aren't enthused to participate in the Make in India drive.
PM Modi must emphasize on the historic ties between both countries that range back to more than 2000 years, and also how India extended cordiality by accepting PRC as the lawful government and putting an end to our affiliation with Republic of China. It was a shared effort by India and China in the Second World War that ceased the evolution of Imperial Japan; however China's growing strategic relations with India's topmost rival, Pakistan and also the incessant incursions of Chinese military into our soil have been an unpleasant position so far. A vivid orator, Narendra Modi, will not escape mentioning a noteworthy bond, the Silk Road that aided the spread of Buddhism from India to parts of East Asia. Though it seems hard at this point in time to bid peaceful farewell to the boundary dispute, for which both nations have a dissimilar interpretation, by persuading China to fortify economic ties, the controversial dispute and tensions at the LAC can be lessened.
China and India are the most sought for investment locations for foreign investors, and there is no wrong in saying that India has taken a lead in the past few months. China's economy and GDP growth rate are not to see smooth road in the upcoming days, but in India, investors' outlook is firmly bullish. Modi's country is to outpace that of Jinping's in 2015 and the gap would amplify in 2016; hence China is to see India with a reformed perspective now, by allowing our exports to flow freely in their market, and also refrain from dumping cheaply priced goods in the Indian market. When it is estimated that the bilateral trade would touch USD 1 trillion by the year 2050, no single country can expect undue favor in this agreement. The world economy, as per the forecasts of IMF, is not to show any sizable advancement and will grow just 3.5 per cent in 2015. Taking note of all the said forecasts, it is constructive that the world's manufacturing hub, China and the IT hub, India take a mutual step towards development.
By all odds, the foremost call of integration may come from India-China consensus on 'One Belt One Road' initiative of Xi Jinping that will lift multinational economic progress with land based Silk Road and water based Maritime Silk Road. Asia and Europe are to be integrated via infrastructure development and cultural connections, and the parts of planned route will pass through south India that calls for Indian backing to the project, but not without studying strategic impact of India's encirclement. The Trans-Himalayan Economic Zone of co-operation with Nepal and Bhutan seeks New Delhi's involvement; a suspicion is cast over China's intents; however Indian cannot abstain from partnering with China so as to unfold economic windfalls in Asia and Indo-Pacific. In all views, this is a fascinating topic at time when PM Modi too knows bonuses of integration, reflected from his 'Bharat Mala' blueprint, a road network of about 5,000 km.
Diplomacy and keeping the enemy or even the ally guessing are tactical approaches in running a government. Though the border dispute did not result in any bullet been fired for over a quarter of a century, as said by the Indian PM to the TIME magazine, China has cautiously played mind games with India over the years, USD 50 billion pouring for China-Pakistan economic corridor that would also pass through the PoK and steady military aides to Pakistan reveal this. India has an edge as well; Japan and Vietnam are eyeing India as a responsive partner, these nations being wary of China's attitude in the South China Sea region. Plus, Tibet is an aching concern for China and India's strength lies in countering China-Pak affection by varying its tactic, which has so far remained in favor of China to appease the dragon by former Indian leaders. Along with, second and third leg of PM's tour will be South Korea and Mongolia, nations with cold relations with China. Using diplomacy, perhaps, can keep Modi at the same level as Xi.
Let's be assured that PM Modi will revive the historic Sino-Indian bonding with his Midas touch and President Jinping will be equally friendly. China's pro-Pakistan era and India's era of troublesome trade deficit are to see a long-term break to allow the two Asiatic giants exploit available prospects in the global market, effectively and unitedly.