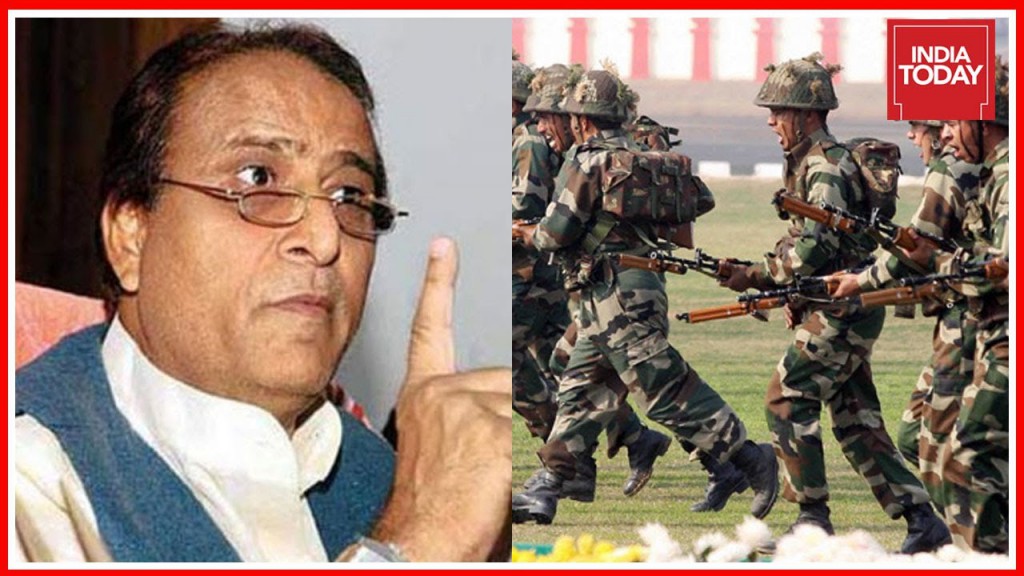 For any nation to thrive and prosper, it has to have a profound sense of nationalism and intense patriotism, supported by a formidable military. To be able to provide a conducive environment for the sprouting of such worthy sentiments, India has to cultivate and nurture strong patriotic fervour among its population. And that, in turn, has to be aided and abetted by the government and its leadership.
A sense of pride and esteem in the military muscle of the country is an integral part towards fostering a national self-worth. Simultaneously, the military personnel should be made to feel that they are important. For that, they have to be treated with respect, courtesy, love, and esteem by the civilians. All these are imperative to make the forces effective.
Our Army is Fighting a Selfless War
Unfortunately, in India, it has become fashionable for certain sections of the population to take potshots at our national institutions like the Army. They keep criticising the armed forces for their strategies aimed at containing the spiralling internal troubles or for combating the cruelty of the professional stone-throwers or for gunning down armed terrorists in some parts of the country as part of their duty.
In fact, the Indian Army needs to be treated with admiration because they fight at some of the toughest theatres of war while living in exceptionally harsh and treacherous climatic conditions and near extremely hostile borders anywhere in the world.
We also need to revere our Army because they are fighting a selfless war. For the sake of our country, they have to forego many simple comforts of life that many of us take for granted. Currently, India has the third largest Army in the world, and its men have acquitted themselves admirably well over the years.
Despite rendering such honourable service to the nation, some sections of the people and media tend to cast aspersions on the service personnel. It is not at all cool to malign our own forces. Now, here the question is should there be a law to prevent people from taking potshots at the Army?
Should be Commended for Unsung Struggles
The answer should be an emphatic YES even though it might sound like an infringement on the fundamental right to freedom of speech. Imagine this: on any given holiday, many of us wake up late, and lazily sip hot coffee, sitting comfortably in our lounge chair. Or, we watch from our balcony the world go by and probably later in the afternoon we go for a film and eat out.
On the other hand, many of our Army personnel may be biding their time in some dugout in the middle of nowhere. All around, there is white snow, as deep as their knee. The temperature ranges from a minus 10 degrees Celsius to bone-numbing minus 50 degrees. The glare from the snow is blinding. If they step out, a barrage of enemy bullets could pound them to pieces. And their ration is running out, and they never know when they might get their supplies.
This is a routine scenario for our soldiers, and they go through such ordeals on a daily basis for our sake. As such should we not be grateful to them for their sacrifices? It is common sense that there is nothing like absolute freedom. Any right to freedom comes with a set of responsibilities. A person's right to "free movement" does not entitle him or her to walk over the head of another person.
Here, we should remember that if the civilians level accusations of improper action against our men in uniform, however absurd those charges might sound, the service rules do not permit them to refute the allegations or explain the situation to defend their actions.
Anti-India Tirade is Full-time Profession
The civilians who shout from the rooftops about alleged human right abuses have no clue as to under what conditions our Army personnel operate. It is all very easy to give long lectures from the safety of a comfortable chair in your living room or give sermons from the comfort of a TV studio. But it is an entirely different matter to actually face hostile missiles and projectiles from an unruly, aggressive mob.
What these critics conveniently forget is that they can sleep peacefully in their homes at night because of the agonies suffered by our Armymen. Some of our civilians, who profess to be the keepers of human rights, left-liberal intellectuals or whatever, have taken up anti-India tirade as a profession. They seem to think that it is trendy to criticise every government establishment. They believe it is okay to spit and run, and to hell with ethics and morality.
How moral is it to level unfounded and baseless accusations at the Army sitting comfortably in an insulated place knowing fully well that they cannot defend themselves? Maybe, that is how these "chatterati" thrive! Anyone with a modicum of common sense can understand that our soldiers, who keep a constant vigil 24X7X365 at the borders, deserve our utmost respect.
Those at the border posts and hostile territories stay away from their families, family events and festivals to make sure that the rest of us within the country celebrate our special days with our loved ones, without sparing a single thought to the skirmishes along the border.
Soldiers Face a War Every Day
If you look at it, our soldiers pay a huge price for keeping us safe and for ensuring our peaceful existence. They enjoy no holidays, no weekends and no bonuses. They don't see their children grow up nor do they know how they have fared in the academic exams. These Armymen spend their youth at the altar of the nation's safety.
What do they get back for their sacrifices? Abuses, insults, brickbats, and infamy! And for what? Just for discharging their honourable duty? For taking action against stone throwers, who, by the way, are driven not by any ideology but by their greed for money and money alone!
Is it fair? No, not at all. This is more so because they are given no options. They cannot choose whether to stay at a border post or to come back or to give up. Like Field Marshal, Sam Manekshaw had once told them that they are required to fight, and they should fight to win. "There is no roof for the losers. If you lose, don't come back. You will have disgraced the country, and the country won't accept you," he had then emphasized.
The soldiers fight not to protect their family or their property. They face bullets for the sake of us – the civilians, including those who sit at the TV studios with their big mouths, bigger ignorance, and gigantic egos. In fact, the soldiers cherish peace more than anyone else. As the celebrated and much decorated American Field Marshal Douglas MacArthur tells us, "The soldier, above all others, prays for peace, for it is the soldier who must suffer and bear the deepest wounds and scars of war."
Soldiers face a war every day in order to hold the peace. It is a tough job. In insurgent areas, there is only one law: kill or get killed. In a way, unrest within the country is harder to deal with than border skirmishes. On the border, the enemy is in uniform. Between two professional soldiers, there is no quarter asked or given.
But, domestically, the enemy is faceless and nameless. He does not wear a uniform that would distinguish him as a friend or enemy. When stones and grenades come flying, when bombs go off anywhere anytime, soldiers do need to initiate counteraction. Because they also have a right to protect themselves. In the process, some collateral damage is but inevitable.
Laws Needed to Ensure Army is Respected
Our Army and other branches of the military are national symbols, and represent the best of all our government institutions. It's our country's pride. It's like our national flag. There is a protocol on how the nation's flag should be treated. A similar protocol on dealing with the military is the need of the hour.
We need such a regulation because many of us tend to misuse or abuse our liberties. Many of us, particularly the youngsters, don't respect authority and resort to vandalizing public property at the slightest provocation.
When our flag or national institutions are allowed to be trampled upon, the future generations will stop appreciating us as a nation. We will then become weak as a country. Even before we realise it, India may get disintegrated. No doubt, any such development will be grabbed with glee by our enemies, internally and externally.
Hundreds of thousands of men and women of integrity have given their sweat and blood and laid down their lives to make us what we are today. We cannot squander it away in the name of liberty for the sake of some misguided, anti-national elements or ill-informed politicians. Ignorant and fading politicians and out-of-work journalists take potshots at our national institutions like the Army to stay relevant and to remain in the public eye. Such things should not be allowed to happen if we want India to remain strong and united.
Any such possibility, even if remote, must be nipped in the bud. If left unchecked it could assume dangerous proportions. Containing it then could have serious consequences. The nation may have to pay a big price for it by then.
Given that India's neighbours include a restless and unstable Pakistan on the west and an assertive and aggressive China on the north, India's defences should remain battle-ready at all times. We need a motivated and robust Army to safeguard our freedom. We cannot let some pseudo-liberals and ignorant politicians to mar the high reputation of our Army and affect their morale.
So, if we need new regulations to prevent mischief-mongers from taking potshots at our national and patriotic institutions, so be it. Any curb on our freedom of speech is a small price to pay for keeping our defence forces highly motivated and battle-ready.