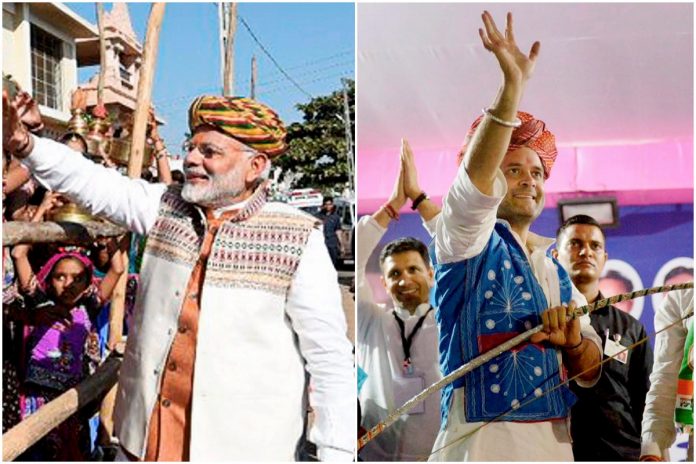 At a time when Bitcoin has captured the wider imagination in the international scene, India's most talked-about affair is the impeding Gujarat state polls. Indeed, Gujarat is India's Prime Minister Narendra Modi's home state, a region where the BJP has been in power since time immemorial (voters of contemporary India tend to pick the defeated party of former polls to rule; howeverwhen BJP first outshined Congress in 8th legislative assembly polls in 1990 by winning almost double the seats won by the latter, it only tightened its grip over the state's political scene in all future elections; the first BJP CM was sworn in in 1995).
Even if there were some other topics in news apart from Gujarat polls – slowing GDP growth rate, impact of GST and demonetisation on commerce and the war of words between BJP and Congress leadership or even the leaked tape of leader of Patidar agitation – they will all, in some manner,shape the outcomes ofGujarat's 14th assembly elections.
Gujarat is being termed as the 'litmus test' for the BJP. It can be felt that the media is overly obsessed with Indian electoral scene and most other problems have taken a backseat. When the BJP lost to Aam Aadmi Party in Delhi state polls, analysts said it indicated an end of the much talked about Modi-wave. In Bihar elections the BJP tasted defeat at the hands of RJD-JDU led front.
And then were the polls in Uttar Pradesh and other crucial states where BJP Chief Ministers formed the state governments with unprecedented backing from the electorate. From north-east India to right in the south (where the BJP played a key role in Tamil Nadu political crisis after the death of CM Jayalalithaa) to eastern parts (where JDU is back in the NDA fold), the BJP hasbeen outperforming its rivals. We can thus say that winning/ losing a state legislative poll is no deciding factor on the national leadership since state elections are fought more in the light of local issues and leaders than on national-level policy actions like introduction of new indirect tax regime (GST) or demonetisation or even India's sovereign rating upgrade.
But even then one cannot utterly reject that Gujarat polls are much more than other state polls and there exist a few rationales to back this point. One, PM Modi rose to fame in national politics owing to his visible and effective delivery and good governance when he served the state as its CM for 4 uninterrupted terms. 'Gujarat Model' was the most convincing electoral issue put forward by the BJP when the party chose Narendra Modi as its candidate for Prime Minister over others including the one-time party favorite Lal Krishna Advani.
It is then not wrong to conclude that if there were no 'Gujarat governance miracles' there wouldn't be a so-called 'tea-vendor' as India's PM.
Two, Gujarat is one of the most prosperous and business-friendly states. Multinationals wrestle with one another to get a place to set up a factory in this western state of India, the GDP growth rate and other economic and social indicators are also among the best. But what do these mean in state elections?The key poll issue of the opposition in upcoming polls is the alleged hindrance to economic growth and commercial well-being of Gujarat and its business fraternity due to the combined effect of demonetisation and GST. Rahul Gandhi termed GST the 'Gabbar Singh Tax' and has time and again reiterated that demonetisation was nothing but an exercise to help the corrupt convert their black money into white.
Although the opposition has fallen short of providing the electorate any reliable data to back its theory of the combined ill-effects of demonetisation and GST, it cannot be overlooked that businesses in Gujarat had to suffer a short-term dent on their profitability due to cash crunch and the arduous new tax regime where confusion prevailed over enthusiasm.
Modi regime that has lately seen many triumphs – the rating upgrade by international credit rating agency, Moody's; a belated uptick in GDP growth rate after quarters of dip;election of Indian judge in the International Court of Justice that saw British judge lose in diplomatically sensitive battle;America calling upon India, Japan and Australia to push the 'Quadrilateral Security Dialogue' –is thus wary of losing the critical Gujarat battle. PM Modi has been fiercely campaigning in the state and other prominent faces like Yogi Adityanath have been imported to not leave any stone unturned.
Even the arch-rival Congress has noted the significance of Gujarat polls.
Rahul Gandhi not only addressed public gatherings with his barbs and sarcastic take on BJP's policy actions, he also visited temples with a view to not allowing the BJP win on the issue of minority appeasement by almost all non-BJP led governments. He seems to have taken a leaf out of UP polls book where the seemingly-formidable regional parties, Akhilesh-led SP and Mayawati-led BSP, were left biting the dust owing to their long neglect of majority Hindus and politics based on polarization and caste and religion mathematics.
But what does the electorate, the ultimate decider, think? Yes, even the analysts and critics who dislike Modi have boiled down to the fact that India does not have a politician who can challenge Modi's clout, at least for the time being (a survey by Pew Research validates this). So does it mean that Gujarat voters will not think twice prior to picking a BJP candidate on the polling day? No.
As we duly discussed in the beginning, state elections are more of a locally-focusedcombat, although national level policy actions and political happenings will remain in the backdrop. Voters very well know certain facts – PM Modi cannot be CM Modi again, the post-Modi governance model of Gujarat doesn't have anything extraordinary to boast of, successors of Modi couldn't achieve the same cultstatus, and a change in government may mean renewed focus on issues facing the local populace and which may have been ignoreddue to the uninterrupted winning-streak of the BJP.
Anti-incumbency isn't just a word in the discipline of political science, it can trigger a chain of events that can ultimately lead to change of office. For BJP, Gujarat isn't a win-lose game alone, this 'karma-bhoomi' of PM Modi can signal setbackeven in a scenario wherethe BJP wins majority but the number of seats or voting share of the partysees a sizable decline.