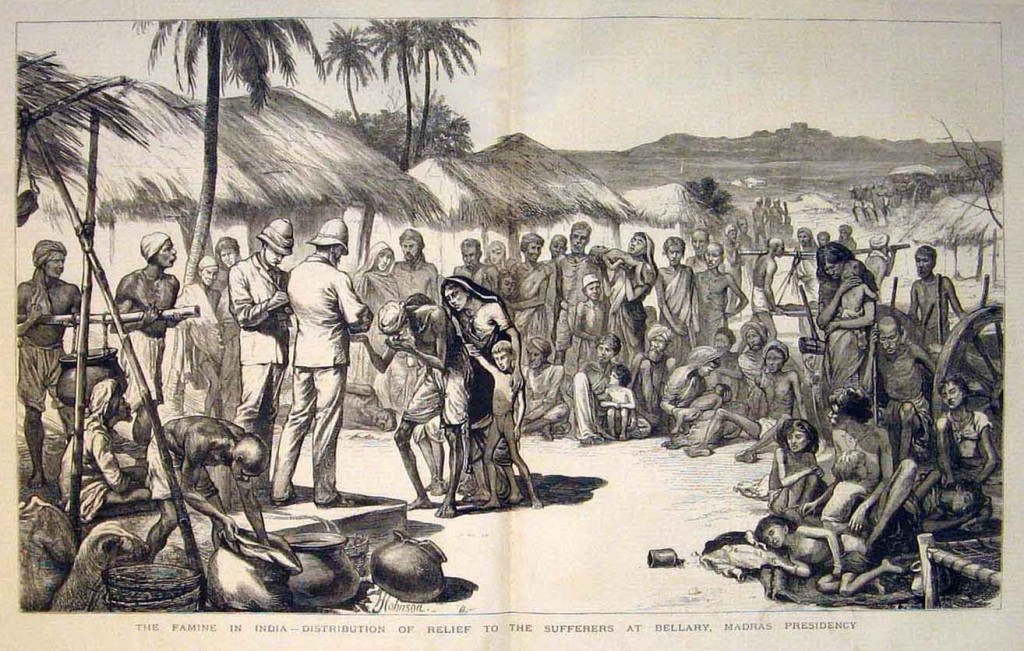 England ruled over India for almost 200 humiliating and punishing years, a period that must remain etched forever in the annals of our country's trajectory. In our entire history, we haven't witnessed more horrific massacres than that committed by the English over us. Having reached our land driven by their outright and shameful greed of profiteering, the English used every opportunity to exploit our ancestors and treat them like subhumans. That England did so even in China fuelling the opium wars, the drugs being grown by the English in the Indo-Nepal border region and trafficked in China, is another testimony to their brutal past.
India, as a nation, and we, as a people, must always remember this past and learn from it. India was plundered by the English, our women raped, our wealth looted and our people treated as slaves. The English even took many of our ancestors to faraway lands like Fiji, Guyana, Suriname, Trinidad and Tobago to use them as indentured servants and slave laborers. They separated many families and destroyed the harmony in our society. In their sadistic lust for power, the English killed hundreds of innocent Indians in incidents like the Jallianwala Bagh massacre. The ultimate suffering they caused was through the Cabinet Mission plan announced on May 16, 1946, which led to promulgation of another alternative plan on June 16, 1946 that eventually led to the partitioning of India into Hindu-majority India and a Muslim-majority Pakistan.
The second plan's implementation caused the 1947 riots and bloodbath resulting in the death of lakhs of people. This happened mainly because the English imperialists felt it wise, as the ruling power, to sanction the breaking apart of our country. Divide and conquer was their tried and tested strategy through which they unleashed genocide upon our people. It is in the memory of those Indians who were killed, cremated and buried during the partition days as well as those who were humiliated, tortured, murdered and desecrated by the English Empire, that I write this article. In 1947, the English imperialists left behind a bankrupt India, a nation torn apart and a people subjugated and broken. We Indians should never forget this humiliation because a nation that fails to learn from history is doomed to repeat it.
It is no wonder that England always favored Jawaharlal Nehru, an Anglophile with his background of English education, as the man they could easily influence and control, directly or via proxies like Edwina Mountbatten. But the English were scared of leaders such as Sardar Vallabhbhai Patel and Netaji Subhash Chandra Bose. No surprises then that Sardar Vallabhbhai was not chosen as India's first Prime Minister, despite winning elections from majority of the provinces (Nehru didn't win even from a single province), whilst Subhash Chandra Bose was made to disappear from the scene altogether.
Since Nehru's ascension, England always exerted considerable influence over India, from behind the scenes. Even Indira Gandhi was educated in England. We all know Rajiv Gandhi was enrolled at Cambridge University. And Rahul Gandhi worked in London for two years, and still likes to go there to celebrate his birthdays. Thus, through the Congress party, England always managed to retain some semblance of control and power over India, since the Congress party hierarchy had its assets, its lives and its secrets in the hands of its benefactors, the English. We wouldn't be surprised to learn that even MI5 and MI6 kept dossiers on Congress Party leaders in a bid to exercise control over them.
Today, England faces a very different reality: a resurgent India and an increasingly confident nation that is striving to emerge as an economic leader internationally. And for the first time since independence, India has in absolute majority a nationalist ruling party in power that has no ties to England, and is not beholden to them in any manner. In Prime Minister Narendra Modi, we have a true son of the soil, a man who grew up, studied and has always stayed in India. In fact, none of the current top leaders in India's ruling party has had any background of education or familial ties in England. Nor does India purchase any weapons of war from England. So what does a nation like England do in such a case, habituated as they are to feeling superior, and treating us Indians as inferior subservient slaves?
Given the recent turn of events, it can be inferred that England is trying to interfere again, and weaken India's nationalist Bharatiya Janata Party (BJP). It seems that the English are resorting to some dirty tricks, shamelessly trying to hurt our governance and our security, and thereby threaten our national interests. And they are trying to indirectly blackmail us through their media. Here, let me give you two recent examples.
Rupert Murdoch is the leading media tycoon in England. He is also one of the strongest supporters of the Conservative Party that governs England today. His newspaper, The Sunday Times, recently published a scandalous article in a bid to denigrate our Foreign Minister Sushma Swaraj. Through this article, the newspaper attempted to create a media furore aimed at embarrassing India and our government. It would not be unreasonable to assume this was England's way of hinting to our government that before our Honorable Prime Minister's official visit to London scheduled in November this year, he better realize that England can always make life difficult for his government. As a patriot, this underhanded move via The Sunday Times to malign India's honorable Ministers disgusts me. And it should definitely offend every true Indian.
When this particular scandal petered out with more and more people realizing that India government had done nothing wrong, England threw another bombshell. Leaking some police interviews of some alleged members of Pakistan's Muttahida Quami Movement in London, England claimed via the BBC (though unsubstantiated by facts on the ground), that India was funding MQM, and by proxy, our government has been helping the party create unrest in its stronghold of Karachi. Such dishonest and deliberate leak of patently false and unjustifiable rumours can easily be something out of the playbook of the dirty tricks department of the English Government and its intelligence agencies.
This rumour has the potential to easily sabotage efforts of peace between India and her neighbour, and it can have adverse impacts on generations in South Asia, a home to over 1.5 billion people. It may also lead to India being isolated and branded as a nation that interferes in the domestic affairs of its neighbours. But more importantly, it can even eliminate hopes of a peaceful coexistence between India and Pakistan.
England, through these leaks and disclosures, thus contrived to humiliate India and also tried to weaken our country's international standing, whilst desperately trying to make us look like sponsors of domestic terrorism in our neighbouring country. And this false propaganda of England took place conveniently, just before cases against Zaki-ur-Rehman Lakhvi and the Jamaat-ud-Dawa (JuD) were being brought up, apropos the Financial Action Task Force (FATF).
England almost succeeded in creating a wedge between India and China at the FATF meet, thereby deviating the focus from the path of tranquility and this was very aptly highlighted by our Honorable Prime Minister. Worse still, England tried to weaken our hands in negotiations with Pakistan on the sidelines of the just-concluded Shanghai Cooperation Organization (SCO) summit in Ufa, Russia, where Shri Narendra Modi met Pak Prime Minister Nawaz Sharif. England has thus directly threatened our national security policies and objectives, which is indeed a very serious matter.
Whilst highlighting the treachery of the English government in their desperate bid to regain control over us, we should not be too surprised. After all, they have exercised unbelievable control over the Congress party, which has ruled India for the maximum number of years after our country attained independence in 1947. Here, I would like to make two more important observations before I conclude this article.
England has never given us any reparations for the loot and plunder of our nation which they had resorted to for almost 200 years. Not even once they have offered to compensate us for the murder of millions, unlike what they insisted from Germany in the treaty of Versailles and again from Germany after the Second World War. And while Germany had to apologize repeatedly for the genocide by the Nazis, not once has England, either through her Head of State, the Queen, or through her Head of Government, their Prime Minister, ever apologized to India.
In fact, England hasn't even offered to apologize. If Germany apologizes repeatedly even today for its past, how arrogant must these English imperialists be to never apologize to us for the brutality England unleashed on us during the 200 long years it ruled India. Let us seriously think about it for a moment! Perhaps England felt that Indian lives were cheap, and the heinous crimes of its citizens were glorious.
Perhaps they still have the hubris to think that we natives, the colored people, don't deserve an apology. Perhaps they feel India doesn't merit apology for the rape, pillage and plunder she had suffered at the English hands. Undoubtedly, England's arrogance has no boundaries, and all this while England continues to blackmail us. They want to weaken our position before our Prime Minister visits London in November this year. Perhaps they want more business and are indirectly putting pressure on us to buy their military weapons.
Perhaps they still feel they are our imperial rulers, just like Queen Victoria had conveniently declared herself Empress of India in order to promote herself higher amongst the royalties of Europe. Or perhaps England just feels the need to try everything to humiliate the ruling nationalist political party in India today, in a bid to make it more compliant like the Congress Party to England's wishes. But the new India should never bend, and must never fall for such a horrifying and arrogant behavior of the English.
India must insist on an apology from the English government. We must be careful until we see true remorse and humility from England. We must be wary of England's use of media to promote false propaganda and spread lies with the aim of defaming our government. India should insist on England returning to us what was originally ours – like the Kohinoor Diamond as well as other national treasures and artifacts, which they had looted from our country.
Meanwhile, we should never forget the sacrifices of Mangal Pandey and Rani Laxmi Bai, of Chandrashekhar Azad and Shaheed Bhagat Singh, and of our other brave souls who had consistently fought the tyranny of English. Their names must remain glorious in the annals of our history, as those who fought the tyranny of the English to free us from the yoke of slavery. And we must always remember our past, for the same may be getting played out today, driven by England's evil designs to subjugate India's rising power and strength. Jai Hind.