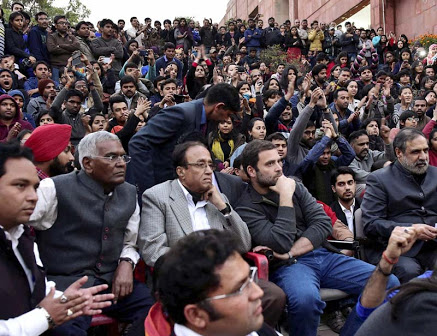 The outpouring of support and solidarity from a wide array of political groups in cases like the Rohith Vemula's suicide and the arrest of a student leader of JNU on charges of sedition reflects sheer hypocrisy, double standards that we were caught into even in the pre-independence era and even today when democracy and parliamentary form of governance are counted as our pluses. To begin with, a very simple question seeks a clear-cut answer. 'Kitne Afzal Maroge, Har Ghar Se Afzal Niklega', 'Pakistan Zindabad', 'Judicial Killing of Afzal Guru'- Are these slogans and expressions under the ambit of freedom of speech or are they anti-national?
A lot many can say that they fall under the right to freedom of expression but no one can deny their absolute anti-national sentiment. All parties, be it the Congress, CPI, CPM or AAP, have condemned the sloganeering; but why then their top leaders united at the JNU campus and advocated the release of the arrested student leader? This is what that symbolizes the hypocrisy of Indian national politics and also of the campus politics, which in case of Jawahar Lal Nehru University has always been Left leaning, more because of not only the students' inclination towards communism but also because of most of the teachers finding their interests in Left's ideology.
Why then the 'Save JNU' campaign launched by JNU's extreme Left leaned students' unions and teachers' association doesn't pay heed to the severe case of sedition that occurred in their campus is clearly evident. Rather, they feel worried of the raid by the Police that they say would hurt the academic excellence and rapport of their esteemed university. No one, and this is so miserable to notice, is even slightly bothered about the prevalence of anti-national elements in the very campus of a university that receives such high allocations from the government to back academic distinction; 'free Kanhaiya' is sadly the call in JNU, with just ABVP and other Right leaned groups opposing this. Also, had the first arrest been of Umar Khalid, organizer of the JNU shocking event, politicians would have given it an appalling communal color, similar to how Rohith's alleged Dalit link was politically exploited against the ruling government.
Let's know that this is not the lone incident in JNU that aimed at diminishing the sovereignty of India. Cases of hailing the deaths of terrorists have occurred on numerous occasions in the campus of the university, all owing to student politics that seeks votes from minority group students; the university administration, however, didn't take cognizance of the matter. And see where have we landed today- Teachers and students of JNU are not demanding penal action for the accused, they rather are mobilized towards protecting the university from any external intrusion, the underlying motive of which is to keep JNU confined in the locks of extreme and ill-version of communism that does not recognize uplifting of poor as its target, its sole goal now is to divide the country and rule these parts in the name of a socialist state.
This is not the pity fight for some seats in DU or JNU students' union election; this is not the battle of ABVP, NSUI, AISA or some other student associations; this is a clear and well-drafted attack on the country's supremacy and sovereignty and the same has to be dealt with under the provisions of law of the land, not through rhetoric politics or through a university committee. Agreed, the Indian Constitution has bestowed upon all the right to freely express their opinions and concerns; the same Constitution of Ambedkar makes the Supreme Court its protector, and the same Court has convicted and sentenced the terrorist who was hailed and commemorated at the so-called 'Country without a Post Office' demonstration at JNU. The evokers, or shall we say 'Hypocrites', of Ambedkar have failed him.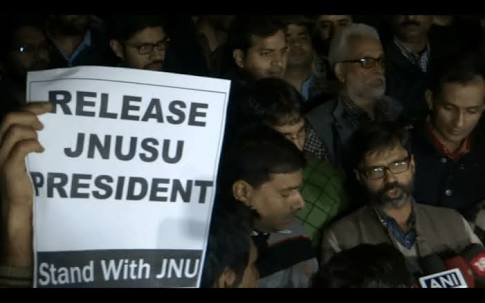 Politics is so very inimitable. While laws of science do have standards and longevity, laws of politics are ever-changing, specifically in India, where Communism, Socialism, Capitalism are re-defined to suit the needs of various political groups. No wonder why the likes of Marx, Lenin and Stalin have been replaced by Yakub Memon and Afzal Guru. The same Rahul Gandhi who was opposed by the Left groups from delivering speech at the JNU campus some years back, the campus that hated Congress, today sees the same Rahul sharing dais with Left leaders and together they have a sole opposition- the union government of India led by the BJP.
Then are also many alleging that speech cannot form a part of sedition unless it incites the public to become violent. Really? And if so is the case, tomorrow the same cluster of people would go to streets, will hail not just Afzal or Yakub but also Hafiz Saeed and Lakhvi, they will also show solidarity with Pakistan and will welcome them to bring down India's democracy. It is happening though, inside one of the most prestigious Indian universities, the JNU, and the participants are from all opposition parties claiming to be seculars and real nationalists. They may not be directly celebrating the hangings of Afzal or Yakub; their cohesion with Kanhaiya and other perpetrators is indirectly leading towards the same end.
Freeing campuses of JNU, DU, Hyderabad University and other places of education of dirty and seditious politics has become an imperative need, something that if not actively and quickly taken care of, will not only brainwash the entire youth studying at these centers, but will also eventually take us to a milieu of divided India, ruled by such perpetrators and mutinous elements. Re-thinking the recommendations of the Lyngdoh Committee and re-working the norms of selection of teachers at JNU (who in most cases not only follow but also propagate the Left ideology) is what should be the first step after the anti-national elements of JNU incident are brought to justice.
Institutions of education and learning are disrespecting country's sovereignty and communal harmony, they have given distorted and ill meanings to Marxism and Maoism, this demands our timely intervention. The youth is our future, let's not make this future politically and morally corrupt. Ambedkar's legacy is to be protected from the madness of so-called neo-nationalists and advocators of treasonable freedom of expression.