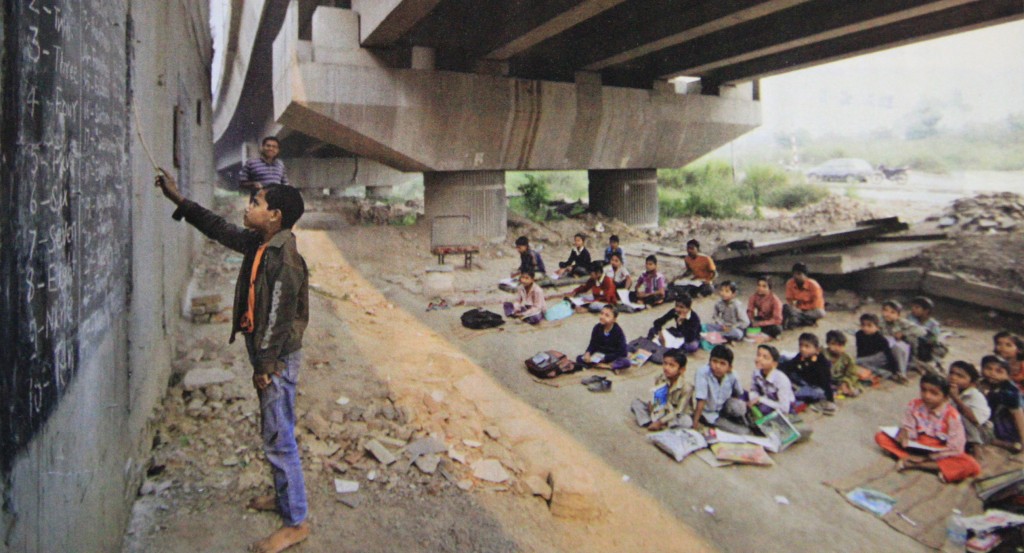 In a country like India known for its vast human resource potential, market reform measures and industrial climate favourable for foreign direct investments, ushered in by the BJP-led National Democratic Alliance (NDA) government, education plays the primary role in preparing an individual for the fulfillment of his career ambitions as well as for the betterment of the nation's economy. In such a scenario, a man without a sound formal education and a professional orientation has a limited range of employment or vocational opportunities available for realizing his full potential or proving his innate skill. Moreover, several doors of career prospects in the corporate sector remain closed to him.
By and large, though free education at primary and secondary levels is available to children all over the country, poverty turns away any number of poor children from the portals of learning. Notwithstanding several welfare schemes and incentives introduced by the government, such as midday meals and waiver of school fees, for weaning the maximum number of children to schools, the inability of poor parents to provide minimum sustainable living conditions make education a distant dream for their children. As a result, many children from low-income families succumb to the harsh economic pressure and become yet another pair of working hands desperate for lifting the family from the depths of crushing poverty.
There are other factors too, such as lack of basic infrastructural facilities like classrooms, poor transportation facilities, etc, which stand in the way of a child's basic right to education. A child denied of basic education, is seriously hampered by the non-availability of jobs of one's liking and aptitude, forcing him or her to become a victim of exploitation by unscrupulous elements, who manipulate and thrive on stark market forces. The street kids, whom we get to see in our everyday life, are the unfortunate ones deprived of basic education.
Where do these children who offer to clean the car windows at traffic lights and hold up their dirty hands for a coin, go at the end of the day? What do they do? What is their life like, with no one to take care of them? They often end up as beggars, petty thieves, drug pushers, prostitutes, juvenile delinquents, mountebanks and peddlers of unlawful and undesirable activities. They are often brainwashed and converted into terrorists. They also work as petty labourers, household help and do hazardous work in factories that employ them against the law. Utterly neglected by the society and swept under its collective conscience like so much of dirt under the carpet, amelioration of their abysmal living standards becomes the sole responsibility of the government.
Timely Intervention
Even if a fraction of the resources and efforts collectively spent by the nation on solving the law and order problems arising out of the vulnerability of the street children and their rehabilitation on a later date, is spent on providing the economically less privileged children compulsory and free education with focus on vocational and industrial training, the future of the hapless children would become a whole lot brighter and the society a good deal less despondent. The Prime Minister's repeated exhortations of foreign industrialists to set up manufacturing plants and production units in India for a profitable venture are primarily based on the availability of a young workforce, both skilled and semi-skilled, in plenty. In terms of human resources, India has much more to offer than any competing country. In fact, India's potential in this regard is promising and yet to be fully tapped.
In view of the above facts, our Union government is currently in the process of drafting a new National Education Policy, which is likely to be unveiled in the near future. The new Policy should strive to address some of the basic concerns with quick endeavours, and in this context, skill development and producing of job-generating entrepreneurs are the most crucial. With so much of manpower available that could be converted into a vast army of skilled and semi-skilled workforce, the sheer dimensions of India offer a tremendous scope for infrastructural development on a humongous scale. For this purpose, making vocational training compulsory for all the children across the country, especially the economically underprivileged ones, who would otherwise slip through the gaping holes in the safety net of the education system currently in place, is absolutely essential both for the good of the individuals and for the betterment of the nation.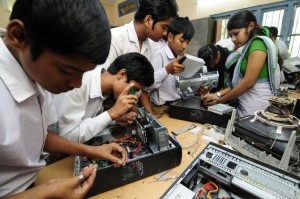 Skill Development
Of equal importance to making vocational training compulsory and universal is synchronizing the education system with skill development and industrial sector's requirements. It is imperative that these three components of the nation's growth engine are in alignment for a sustained economic growth. An estimated 12 million people join the nation's workforce annually. The average growth rate of the agriculture sector is expected to hover in the range of 4-5%. Our country's economic development would, therefore, devolve upon the industrial sector in future. In line with the government's call to create and sustain a climate congenial for the healthy growth of the economy, it is required to make concerted efforts to keep the industrial sector chugging along the growth curve.
For this purpose as well as to make our Prime Minister's 'Make in India' program a success, the Central and State governments should make integration of skill development, education system and industry a national priority. Accordingly, a training program for skill development should be introduced to run concurrently with vocational training to instill in the students participating in the training program, a sound practical experience that would complement the theoretical knowledge acquired in colleges of professional courses, polytechnics, etc. The NDA government currently in power is committed to pushing through an aggressive economic agenda to carry the nation to an altogether new level of development.
Such an ambitious program calls for rapid development of infrastructure in a big way to meet the changing requirements of the industrial sector. Construction of roads, bridges, railway network, shipping, power plants, communication network, solid waste management, etc envisages a vast pool of comprehensive workforce that comprises skilled and semi-skilled workers and trained labour to meet the needs and requirements of the developmental work. The government, which is the primary stakeholder in the evolving scenario of the nation's economy, has to lay the much-needed groundwork by striking a healthy partnership with the corporate sector for making industrial training an integral part of vocational training and the education system.
Business Education and Entrepreneurship Development
The National Standards for Business Education is an exercise in the US, where business educators play an important role in preparing students to become responsible citizens, capable of making intelligent economic decisions. Similarly, the curriculum of primary and secondary education in India should incorporate lessons on basics of decision-making techniques required to be wise consumers, economic codes of an increasingly international marketplace and the processes by which businesses operate. A science stream student cannot be just confined to physics and chemistry as a solid educational foundation for our students demands knowledgeable and ethical decision-making capabilities, leading to skilled participation and competency in the economic system.
How can we expect Indian citizens to abide by the laws of the country if they are unaware of fundamental norms? As such, law-related education and teachings of moral values and ethics should also be made compulsory. In the elementary school system, constitution, civic engagement, law, and society, as well as separation of powers, should be made a part. At middleschool level, lessons on dispute resolution, environmental laws, human rights, intellectual property, justice, voting rights and international issues should be imparted. At the high school level, teachings on amendments in the laws, legal history, law and war, and upgraded level of other laws should be included. When the students are well-aware of their rights and obligations, only then we can expect them to abide by the legislation of the land.
Furthermore, the Ministry of Skill Development and Entrepreneurship should rope in experts to design and develop a world-class entrepreneurship development program into the mainstream curriculum in all the colleges across all states in India. Entrepreneurship development courses should also be delivered in all the industrial clusters across the country. Universities and academic institutions should also be encouraged to introduce programs on Social Entrepreneurship.
As part of the Digital India initiative, the government should also develop and maintain an electronic database of the education system of India. Our country should also become part of the web-based resource for the evaluation of foreign educational credentials such as AACRAO Electronic Database for Global Education profile. The Ministry of HRD and the Ministry of Skill Development should collaborate to boost the efficacy of our education system from the very beginning of child education. This will also eliminate duplication of efforts on the part of these two ministries. The Labour Ministry can also start sharing the needs of today's corporate world so that our education system can focus on churning out skilled jobseekers as well as employment-generating entrepreneurs.
Financial Literacy and Lessons of Life
To create financial awareness among our youth, a Personal Financial Management Program should be incorporated into the school curriculum so that the students can emerge as independent adult consumers, fully prepared to take wise decisions for a lifetime of economic well-being. An evolving state of competency will enable individuals to respond effectively to ever-changing personal and economic circumstances. The sustained financial well-being of Indian individuals and families can thus be ensured.
Our education domain should also embrace lessons on life and career skills, learning and innovation skills as well as information, media and technology skills, which are a must for leading a happy and contented life in the modern world. Creative thinking, problem-solving, communication and collaboration are to be made part of our education curriculum. Another key area is home-schooling of Indian kids, which has so far been an overlooked aspect. In case, the demands of such parents are considered, proper rules should be put in place with respect to qualifications of teachers imparting home education and affiliations of students with boards of education in India. Furthermore, to ensure accreditation of Indian academic programs so that they are recognized in foreign countries, we need to be a part of agreements such as the Seoul Accord.
Knowledge for Knowledge's Sake
It would, however, be a folly to squarely equate education with jobs or vocations. Such a narrow approach and simplistic attitude to education would be far from conducive to a positive outlook that enjoins a broader vision of acquisition of not only skill or talent but also knowledge for the evolution and enlargement of one's mental faculties and a healthy respect for the cultural and religious diversities of different societies. Study of Pure Sciences, Arts and Humanities, Theology, and such other areas of absolute knowledge and information tends to promote the dictum 'Knowledge for Knowledge's Sake'. In short, education adds an extra dimension of appreciation to the mind, of the kaleidoscopic cultural and spiritual mosaic that the rich social milieu prevalent in India represents and transforms a man into a well-rounded personality endowed with enhanced mental horizon.
As man does not live by bread alone, he should have access to the portals of learning for quenching his thirst at the fountains of knowledge. Education being a multi-pronged quest for acquiring academic knowledge about matters of particular interest to individual students, besides becoming proficient in the professional or vocational courses, extensive ground-level reforms in the system of education are necessary. The idea behind the Right to Education (RTE) Act was to bring in the much-desired changes in the system of teaching. It is imperative to spread awareness among children and parents about their rights in terms of the Act. This would enable children to look forward to the fulfillment of their legitimate aspirations under the auspices of the RTE Act.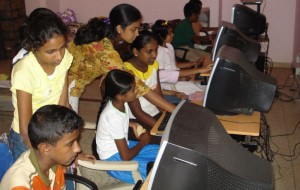 Some Reform Measures
State-of-the-art schools should be constructed to provide hassle-free universal quality education. The schools currently run by the government should be improved upon and sufficiently upgraded. There should be an audit of the condition of the schools with specific recommendations to plug prevalent loopholes and address existing lacunae. The shortcomings and problem areas found in the running of the schools should be overcome by the authorities in a time-bound manner by leaving the task to the professionals and experts answerable to the concerned state government and the Union HRD Ministry.
Some of the areas that need immediate attention are construction of regular classrooms in place of the shoddy or makeshift ones, facilities for providing books and uniforms free of cost to children, facilities for clean drinking water and nutritious midday meals prepared in clean and hygienic conditions, proper transport arrangements for ferrying children, construction of separate toilets for girls and boys and regular maintenance of the school premises. It is of utmost importance to monitor the attendance of teachers on a regular basis to ensure that the classes are conducted without dislocation. Teachers should be encouraged and motivated to be thoroughly professional so that they meet the highest standards of discipline and decorum.
In any case, the teacher-student ratio should not exceed 1:30. There is also another string attached to this. Ask a question from a bunch of youth about their career goals, and assuredly there wouldn't be a single person aspiring to be a teacher. And those teacher entrance exams and trainings at state levels are riddled with corruption, this is an open truth. Doesn't this boil down to a gloomy fact that the most vital pillar of the complete education landscape, the Guru, is the one who couldn't be absorbed in the corporate world, and hence opted for teaching? Make teaching profession lucrative and rewarding; and recruitment of teachers at any level a fair and transparent process. In a country that has so many teachers imparting lessons in schools, when and how private coaching centers became a necessity, with Kota a synonymous of IIT, needs justification? Why can't we have our universities produce an RBI Governor from their faculty? The question seeks deep introspection from policy makers and the present lot of teachers.
Schools should have a policy of zero tolerance in matters related to harassment of children and inappropriate behaviour by the staff towards children. Parents, as well as teachers should be encouraged to air their legitimate grievances at parent-teacher meetings, which should be held periodically. The school should have appropriate arrangements to provide counseling to children who lag behind in studies, or are wronged sexually or otherwise. Children should be taught in gentle and subtle ways about the evils of gender discrimination as well as discrimination on the basis of caste, creed, religion, colour, race or social standing. Successful imparting of right values at impressionable age would help them comprehend the real meaning of that beautiful dictum of ancient India – Vasudhaiva Kutumbakam. The bottom line is that a child's school life should be both rewarding and enjoyable.
Besides imparting theoretical and practical knowledge of various subjects, children should be exposed to a wide range of extracurricular activities like sports, yoga, etc, which should be included in the curriculum as compulsory. Children interested in learning about their favourite hobbies and pastimes should be encouraged to do so, and they should be allowed to pursue extracurricular activities without prejudice to their principal subjects of study. Students should also be taught about social and topical subjects such as patriotism, keeping the public places and rivers clean, etc.
At the school level, there should be a single Board of Education, a uniform curriculum at par with global standards and practices, with a special focus on the specific needs of Indian society and economy. There should also be a uniform system of grading and differential and innovative methodology of teaching throughout the country. Extra focus on the regional language and local history may, however, be allowed as an add-on. The thrust of education at school and university levels as well as at vocational training centres, polytechnics, etc should be on skill-based education, creativity, research, and innovation. A centralized agency on the lines of the University Grants Commission (UGC) should be constituted to execute RTE and coordinate, monitor and maintain standards of primary and secondary level education across the country in a uniform manner.
In keeping with the changing times and requirements, internet-enabled learning and smart digital classrooms may be introduced to replace conventional and traditional style classes in high schools. Apart from the use of computers, tablets, etc, visual e-learning could be introduced by uploading lectures on every subject on the Board's website and use of e-boards in the classroom. This would enable speeding up of dissemination and receiving of information. Furthermore, free availability of lectures online would be a great help to students who could avoid the hassles of private tuitions and coaching. No college or university should be allowed to be set up unless they meet stringent standards prescribed by the UGC.
This would forestall the prospects of setting up of shops by unscrupulous peddlers of spurious quality education bent upon making a killing on the sly. Another useful and innovative reform measure would be to digitize the academic records of the students. The database of the students containing their personal particulars, including a unique identity number allotted to each one of them and their academic rundown should be available on the portal of the HRD Ministry for easy retrieval of information pertaining to any student throughout his academic career. This would prove useful as testimonials such as birth certificate, school leaving certificate, degree certificate, etc. Furthermore, the students would not be required to submit them every time they seek admission in a different university or institution since the desired information regarding their qualification, etc would be readily available online. This would also pre-empt someone taking recourse to furnishing fake certificates.
Investment in Tomorrow's Leaders
Last but not least, there is a distinct possibility of the state governments pleading a resource crunch while addressing the implementation of sweeping changes and reform measures in the education sector. In case, the governments find it difficult to enhance their outlay to make conditions optimal for providing universal, quality education free-of-cost, then they should consider roping in private investors and innovators and provide them a level-playing field. Why not bring in CSR funds in this crucial sector, and strictly make education a not-for-profit institution at all levels? No amount of investment in education could be considered too much, nor should any efforts be spared to find the required funds, because finally it is education that moulds and shapes the character and personality of the future leaders of our country