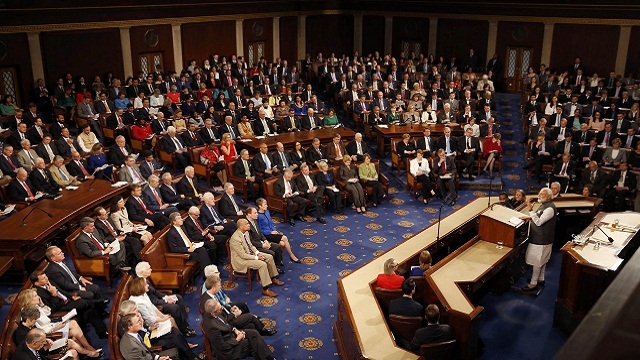 PM Modi is not the first Indian head of the government to have addressed a joint session of the US Congress. He is also not the first who has emphasized on the result-driven bonding between the two countries that share so much in common, from democracy to liberal markets, from cultural richness to innovative and intellectual vibrancy. This, however, was the first time that foreign media, and not just of the India and the US, was flooded with reports on Modi's speech. The analysis that followed invited many admirers, a few critics too. Although there is much to be discussed about PM's recent 5-nation diplomatic tour, let us try to decode this most talked-about event. In the very beginning, it can be easily said that this was an inclusive speech, a perfect 10 out of 10, not only because it invoked many celebrated US and Indian leaders, but also for its coverage of topics ranging from India's rural and renewable energy commitment to security concerns in the Asia-Pacific region. Standing ovations and thunderous applause were a part. Let's explore in-depth.
Reiterating Commitment to Democracy and Liberty
India's name is synonymous with the tag 'world's largest democracy', whilst the US was the first country to have a written constitution that promised equal rights within a democratic setup. Having recalled Abraham Lincoln at the very opening, the Indian PM ensured that all critics back home know his belief in the notion of 'all men are created equal'. He was historically correct in remembering how the world doubted our capability to provide a just and democratic state after 1947. He was also not flawed when he told the same world, from a pulpit that is most watched and heard, owing to its power, that India lives, grows and celebrates as 'one'.
As citizens of India, and being ones who are buffeted by different political positions, we need to acknowledge that our Prime Minister cannot speak on every incident, good or bad, either in the Parliament or in the media. Asking for his intervention in every matter is impractical if not injudicious, and for those who urged for his intervention on the alleged rising intolerance and debate on anti-nationalism, his statement that the Constitution is the real holy book of the present government is a thought-provoking reply, you just need to have courage to accept it.
At the same time and amidst all the glorious words of the PM in the US Congress, any act of any leader of the ruling party or its allies ought to be in line with the principles of the Indian Constitution. Of course, the PM himself and other senior leaders have sent across a strict message down the line regarding discipline in actions and speech, but the real result is expected out of leaders at the provincial levels. 'Toilets before Temples'was an assuring slogan by Modi before 2014 polls; its relevance hasn't lost sheen until today, nor has BetiBachaoBetiPadhao movement or the Jan DhanYojna. PM's wordsin the US Congressional speech, echoing freedom and inclusion for all 1.25 billion Indians, applies to all Indians despite their religion, caste, colour, sex or ethnicity.
An extraordinarily capable politician and one of the most illustrious Indian PMs, Atal Vajpayee underlined the natural alliance between the two countries, and PM Modi reiterated the commitment. India's supreme law of the land. Our Constitution owes much to its US counterpart, and how the time spent in the US impacted Dr. B R Ambedkar's view of liberty and equal rights for all. Pointedly referencing the inspiration drawn by Martin Luther King (a name synonymous with working for the rights and equality of blacks in America) from India's Father of the Nation, Mahatma Gandhi, and Swami Vivekananda's Chicago speech on humanity and religion, are all evidences that humans from both the countries have a natural inclination towards shared culture and embracing our unity in diversity, something that PM Modi emphasized to the US politicians.
Today, the US is the world's largest economy and India the world's fastest growing major economy; these economic advantages and financial vibrancy would never be possible unless there was an unmitigated force in the background to move us towards the ambition of eradicating poverty and inequality. While the US has long achieved the goal of providing assured basic amenities to its citizens, PM Modi ignited the spirit of shared humanitarian values by making person to person comparisons. Thus calling upon the US to take a big leap forward in helping India attain its part of ambitions. The Green Revolution of India executed by the then PM Jawaharlal Nehru and American biologist Norman Borloug took India towards food security; alliance, thus, is the best road to success. And the statement of PM Modi that drew maximum applause, that we haven't yet claimed IPR for Yoga, which is practiced by more than 30 million Americans, was an impeccable shot.
Economic Partnership of the Two Countries
This may merit primary consideration, since whatever may be the force exerted by other factors, unless mutual economic benefits are at stake, no partnership can thrive. The civil nuclear deal between the two countries, and the two-way flow of people, capital, ideas and technology have shaped economic ties between India and the US. Prime Minister Modi, by adding these to his speech, ticked the right box at a time when it was much needed. The world is slowing down, including China, Japan and European countries, and India remains the sole shining spot. By impressing upon and assuring the US political and business milieu, India can attain not only capital, but also jobs and technical know-how to take our economic growth to yet another level.
In this context, as highlighted when the PM included his ambitions of a better India in his speech, the goal of attaining and adopting some successful US models in the fields of public health, education , housing and basic infrastructure are something that cannot be ignored. If the policymakers want farmers, job-seekers, students and workers to grow in a robust manner, borrowing the US model of inclusive growth is indispensable. PM Modi acknowledged how Indians are shining in the US, even in spelling bee; however with ignominious cases like that of Bihar toppers, we should take a critical look at our institutional framework and not refrain from any possible help from other countries including the US.
Global Security and collaboration on foreign missions
There is no denying the fact that terrorism is nurtured in India's neighborhood and PM Modi, by including this expression in his momentous speech, warned not only Pakistan but also its allies. Freedom of navigation in international waters and the security of the Indian Ocean, combined with other areas of global relevance were an indirect warning to China which is not only claiming others' territories in South China Sea but is also directly confronting India by working in the Pak-occupied Kashmir for its One Belt One Road project. At the other end of the spectrum, India has supported not only Afghanistan in its struggle for re-building the war torn country, but also played a role in peacekeeping missions of the UN, which makes India one of the most actively concerned and participative nations in the arena of international peace and stability. It was important for PM Modi to tell this to the world, which he did quite appropriately.
Climate change is a major talking point in the US political discourse, and a mutual concern; with the focus on renewable energy, India and the US are jointly tackling this menace, PM Modi stated unambiguously in the US Congress. Additionally,there was an urgent call to nations for an upgradation in the constitution and structure of international institutions and groupings. PM Modi's speech included this point; this will open doors for India in NSG, APEC, UNSC and similar other important unions which hold unparalleled significance in decision making and impact global politics.
PM Modi's address was exceedingly reassuring to all Indians, which includes opposition parties in the Parliament (only if they want to do away with their unwarranted reluctance in the interest of the country) and the media (which is busy discussing irrelevant topics like nationalism vs anti-nationalism). This was also the one time when an Indian leader did not talk of dependence on the world leader, but talked of connectivity, cooperation and partnership, sending a clear message that as much India needs the world, the world needs the fastest growing economy and its vast market as well. We do not look to become a NATO-partner or imitate UK or Australia in being an ally of the US; we are what we are, independent yet collaborative in race to global development. We must applaud that all this came from a person who was denied a US visa some 11 years ago but was subsequently given a warm welcome after a landslide victory in 2014 general polls.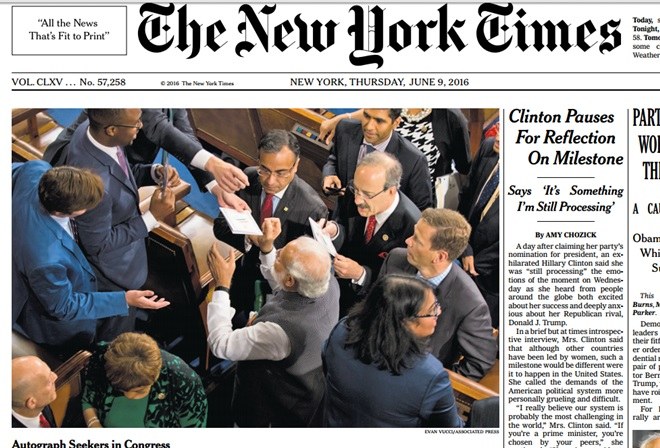 For PM Modi, having invoked former PM Atal Vajpayee was praiseworthy; had the non-BJP leaders who addressed the US Congress in the past also been acknowledged with reference, the much-needed symphony in the Indian Parliament could be accomplished in coming days with a harmonious note. It cannot be overlooked that PM Modi's attendance and address owes much to the works of earlier leaders ranging from former PM Rajiv Gandhi (credited with paving way for high technology transfers from the US to India by shaping ties with the then US President Reagan) to another Indian genius, Dr. Manmohan Singh (credited with making the civil nuclear deal with the Bush administration possible in the face of strong opposition from China and the Congress party itself); inclusion of their names in PM Modi's speech could have filled the gulf of the so-called 'bi-partisanship' in Indian Parliament. Finally, hailing PM Modi's address cannot be termed as anything except very genuine and non-partisan, for even the US has acknowledged the 'Modi Doctrine'.