India and Iran could move on with a bit more of understanding of each other's domestic and global political compulsions and the need to work together.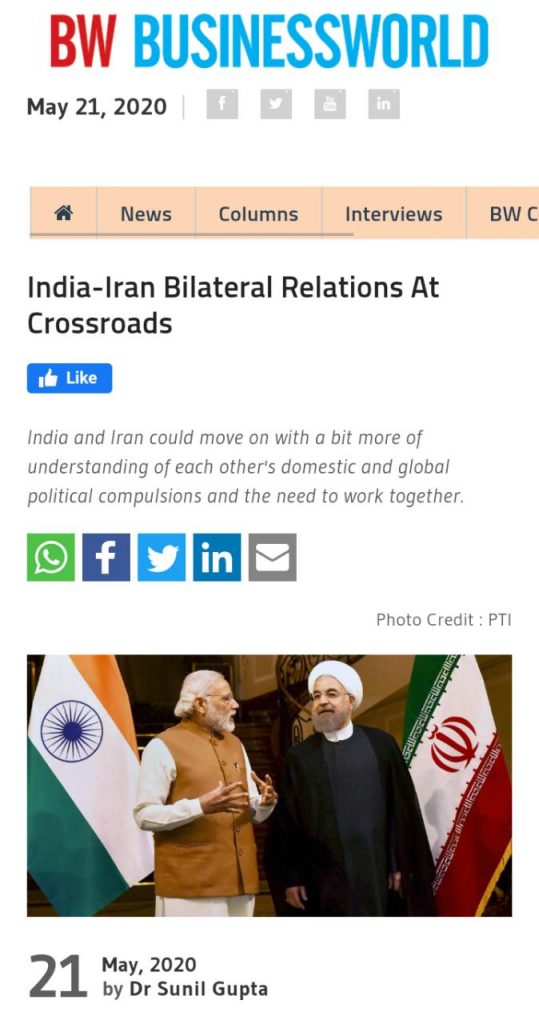 Iran has lately been hit by a double whammy of a monumental health crisis and an unsavoury turn of events in its bilateral relations with India. What makes the situation particularly awkward for Iran is its utter helplessness in tackling the crisis without help from India, which it had subjected to harsh criticism barely a month ago.

Iran Sounds the Alarm
Reeling under a severe attack by the deadly Novel Coronavirus, Iran is under lockdown. The country has reported a loss of upwards of 2,234 lives as on March 26. The figure keeps mounting, with thousands of infected people not getting medical assistance and care. Its casualty figure is the fourth highest in the world after China, Italy and Spain. A number of its senior politicians, including its First Vice President, and officials are among those infected.
With sweeping sanctions imposed by the US against the nation over its suspected nuclear program in place, the Iranian government has reported how its efforts to fight the health crisis have been severely impacted. President Hassan Ruhani has written to Prime Minister Narendra Modi a letter of appeal seeking India's help in his country's hour of distress.
India to the Fore
There is nothing surprising about the appeal. India has vindicated its acumen in the medical and scientific domains while addressing the virus problem. It has taken a swathe of proactive measures to tackle the virus outbreak in the country. Besides, it has already demonstrated its readiness to play its global leadership role by setting up a ten million dollar Emergency Fund for use by SAARC countries and a rapid response team of doctors and specialists to fight the virus in the region.
Immediately after the breaking out of the virus in Wuhan, India rushed 15 tonnes of medical supplies to China. In the case of Iran, it is noteworthy that its appeal for help comes closely on the heel of that country's shocking criticism of India made only days earlier over the violent incidents that had rocked Delhi.
Critics in a Bind 
It was a matter of cold comfort for India that no Arab state had criticised India over the Delhi incidents, CAA or Kashmir. As such, criticism from Iran, which was a leading supplier of oil to India till sanctions were imposed, was like a bolt from the blue. Referring to the violence in Delhi, Iran's Supreme Leader Ayatollah Khamenei tweeted, "The hearts of Muslims all over the world were grieving over the massacre of Muslims in India". Khamenei also advised India to "confront extremist Hindus and their parties and stop the massacre of Muslims to prevent India's isolation from the  world of Islam".
India responded in kind with a terse statement urging its critics not to make irresponsible comments and not be influenced by a selective and unsubstantiated narrative in the matter. Earlier, India had summoned the Iranian envoy in Delhi to lodge a strong protest over comments made by Foreign Minister Zarif. Ironically, the Ayatollah had stated in his letter to Prime Minister Modi that the Coronavirus "knows no boundary and claims victims without political, religious, ethnic, and racial considerations"!
A blatantly anomalous situation caused by Iran's unsolicited advice on what was purely a matter of India's domestic concern on the one hand and that country's fervent appeal to India for urgent help to tackle the crisis on the other! The unintended upshot of the anomaly was Iran's tacit acknowledgement of India's capability in the medical and scientific domains and its humanitarian approach to the other countries in distress. Thereby, Iran clearly ended up in a bind.
Why the Criticism?
What had caused the unfortunate reaction of Iran to a matter that was purely a domestic affair of India? What were its ramifications? The Ayatollah had referred, in his tweet, to a world of Islam. Evidently, it was a takeoff on Iran's presumptuous conviction that it was the supreme leader of the global Muslim community. In reality, however, the community spread all over the globe is riddled with schism and polarisation. Iran's self-importance of looking upon itself as the forerunner of the Islamic countries in a world of realpolitik was further borne out by the talk of "India's isolation from the world of Islam". In any case, the purported massacre of Muslims was a totally baseless and misleading hype in a scenario where the victims were not from any particular community or religion.
As Home Minister Amit Shah pointed out in the Parliament, those who were killed in the disturbances were all Indians, and there was no question of segregating them into religious categories. The loss was that of the Indian nation and not of any particular faith. The composite religious culture of our country was the real victim.
To refer to the incidents as an attack on a specific community was a reprehensible attempt to belittle the timeless socio-religious ethos of India. Iran's move aimed at asserting its self-importance as a global leader, albeit of a particular community, lacked credibility and boomeranged when India squarely dismissed the criticism.
The irony of the situation, followed by the subsequent health crisis in Iran, which caused that country's reaching out to India for help, is borne out by the implicit acceptance of India's global leadership by Iran, though the latter was keen to get that status for itself on fallacious grounds. On its part, India demonstrated its political commitment to the welfare of its people living not only on its own soil but also in, among other countries, Iran by repatriating the stranded Indians. Besides, it is working on the Iranian request for assistance to contain the virus outbreak.
Irritants 
The bilateral relations of no two countries could be without irritants and grey areas of uncertainty. India-Iran relations are no exception. Iran has always been known for its tough-as-nails decisions in matters affecting international affairs on the basis of its religious orientation. It has been critical of India's Kashmir policy, which suits Pakistan. Stoppage of Iranian oil imports by India as a sequel to the US sanctions has not gone down well with Iran.
There was an attack in 2012 on an Israeli diplomat in India by what seemed were Iranian elements with ties to the Revolutionary Guard Corps. Following the assassination of Major General Qassem Soleimani of Iran in Baghdad, anti-US protests, by the Iran-influenced local Shia community, broke out in Kargil and to some extent in Delhi. This shows that the Iranian influence on the Shia community in India is increasing and could become a full-blown irritant, if unchecked.
Scope for Improvement
There is, however, a silver lining to the cloud. The two sides agreed, during External Affairs Minister Jaishankar's visit to Tehran in December last year, to accelerate work on the strategic Chabahar project. The project is considered a gateway to golden opportunities for trade with the Central Asian nations by India, Iran and Afghanistan. Surely, India and Iran could move on with a bit more of understanding of each other's domestic and global political compulsions and the need to work together.
(The article "India-Iran Bilateral Relations At Crossroads" published in "Business World")