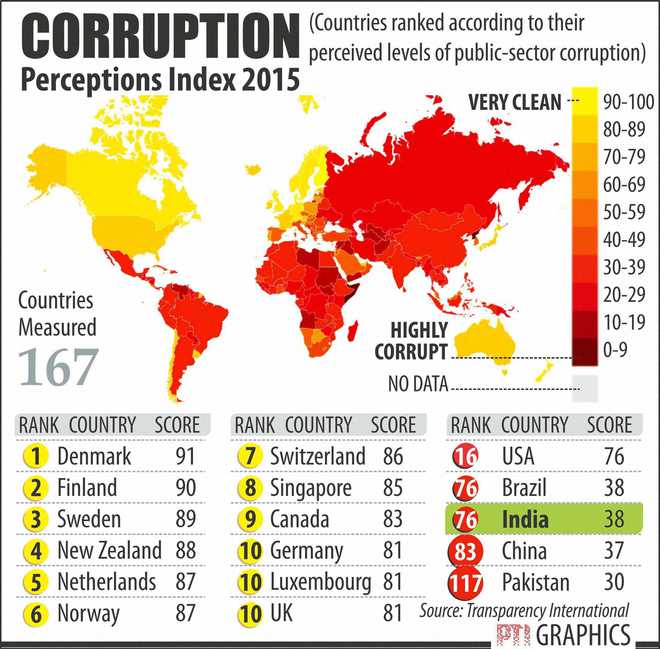 Corruption in India is a multi-headed monster, which has been shored up as much by greed and dishonesty as it is by illiteracy and lack of awareness. Making India a corruption-free country is no overnight project, because it has to be a war fought on many fronts and battlegrounds. However, it is undoubtedly a war that we need to win, because corruption distorts resource allocation and makes a mockery of India's democracy and independence by denying equal rights to all and by diverting taxpayers' money from public use into private pockets.
From increasing deterrence and cures for this malady by escalating transparency in transactions, to effecting social change through awareness campaigns and gradual social engineering, the war against corruption in India would be time-consuming and messy. But to enable the Indian citizens to truly claim their rights and make them feel inclined to carry out their duties, the disease of corruption has to be eliminated.
Corruption in its most pervasive form destroys the faith of citizens in the institutions of state and democracy and alienates them from the government. On the flip side, a government alienated from the grassroots becomes vulnerable to forces of corruption. Thus, corruption establishes a self-sustaining system, a Gordian knot, which is difficult to untangle and requires to be slashed through by drastic measures like demonetization.
Transparency International, the global anti-corruption coalition, defines corruption as "the misuse of public office for private gain." In India, corruption flourishes via two routes – bribery, wherein private entities willingly make payments to derive unfair advantages and benefits; and extortion, wherein citizens do not get access to rights unless they pay up.
Again, corruption in India is most noticeable at three levels – petty, systemic and grand. At the level of petty corruption, we find government employees and public servants who depend on small bribes to supplement their income – for instance, a traffic police pulling up a truck for no reason.
Similarly, at the level of systemic corruption, we find petty corruption converging to create established channels that extend upwards from the bribe collection points – from check-posts to ministers and from liquor dens to police commissioners, with middlemen structured across a hierarchy. These are the cartels that back, propagate, and perpetuate the hafta system and the kind of corruption that attracts anti-social elements and worshippers of violence.
Then there's the grand corruption where politicians and top administrative cadre take decisions involving large public contracts or projects with money or assets meant for development channeled to individual pockets – these range from municipal road contracts to helicopter scams.
There's more, like passing rules or ordinances, or even laws to make it difficult for a targeted section to earn a livelihood or continue in their way of life or doing things – done in the name of public good – but actually to create opportunities for further systemic corruption. This is grand systemic corruption, a hallmark of corrupted political parties.
So, how to take care of all these? Thankfully, technological innovations provide us with some measures that may act together to form the sword to cut the Gordian knot of corruption in India. The current NDA government at the Centre is already acting, and opponents are foaming at the mouth. What is now needed is public support for the Centre's demonetization move and other such initiatives, which may not be perfect in themselves, but will go a long way in slowly throttling corruption in the country.
Some more steps that India needs to take to emerge as a corruption-free country include the following:
Ensuring universal literacy, without which citizens will never understand their rights or be able to assert them by making informed choices – for instance, booth captures and vote banks will continue and the corrupt will continue to rule and flourish in India unless voters assert their rights. Furthermore, as long as illiteracy plagues the country, digitization will also fail with middlemen assuming charge.
Creating anti-corruption awareness and educating people about how corruption works, and what they should do when faced with instances of corruption. These must also be taken to classroom textbooks so that even children know when wrongs are being committed.
Eradicating licence raj, and providing speedy alternatives to entrepreneurs so that the corrupted become unable to block honest growth. This calls for transparency in system that can be infused only through digitization of all processes.
Continuously monitor efforts of foreign countries trying to export their corruption to India, like setting up chemical units here, which they are not allowed in their countries, or while making arms deals, etc. Indian laws, especially those that have become obsolete and do not match with present needs, must be amended/ repealed.
Extensive use of digital technology to ensure transparency – the Centre is already on the right track, by trying to reduce the share of cash in the country's pool of liquid capital (M1). Infrastructure for this digitization needs to be robust and capable to withstand hacking and other malicious attacks.
Installation of CCTV in all police stations as well as at check-posts, banks, public offices as well as courts of law. Although at many places they are in place, there is no accountability of those responsible for their round-the-clock functioning and scrutiny of data captured.
Creating a National Integrity Plan or Anti-Corruption Plan that is transparent and its speedy implementation. Public officials are to be sensitized and fear instilled in them so that they do not fall prey to bribes and kickbacks in kind.
Increasing the number of judges and courts and strengthening judiciary to expedite access to justice, reduce delays happening in trial procedures, and cut down time for undertrials lodged in prison based on unproven suspicions. This will help in eliminating the pall of fear that the corrupt people capitalize on to extract bribes from honest citizens.
Overhaul the corrupted police force, increase the number of personnel and police stations in proportion to the number of people so that the laws can be strictly enforced, and powers of individual police officers diluted without affecting the efficacy or power of the force. States need to be a part in this exercise, and effective implementation of centre's Modernisation of State Police Forces Scheme is called for. Police reforms and true execution of Supreme Court's judgment of 2006 on setting up of three institutions for police at state level are pending.
Create strong punitive measures for corruption – Denmark, which is the least corrupt country today, had prescribed the death penalty for taking bribes way back in 1676. In 1690, Denmark had passed a law where civil servants embezzling state funds were punished with life imprisonment and hard labour. Though these harsh penalties have been relaxed or done away with, they successfully paved Denmark's path to becoming the world's least corrupt country. Not to forget, corruption is the genesis of all evils we face, from poverty to malnutrition, hence penalties deserve to be harsh.
Create high incentives and high reward systems, including promotions and salaries for honest public officials and whistleblowers, along with adequate measures to safeguard them from wreath of influential people.
Overhaul British-era laws to reduce loopholes and increase transparency and promote conformity with the Indian conditions. India's criminal law and penal code needs extensive overhaul, something that has been overlooked for long.
Remove superfluous laws and regulations that set unrealistic targets for common people and burden them with compliance requirements that the honest majority wouldn't be able to meet. This includes simplified tax laws and their bare acts drafted in a manner that common man can easily understand all provisions of law.
Donations to political parties is so opaque that any registered party that doesn't even field contestants in polls can accept any amount of money and prevent any repercussions by declaring same as receipt from anonymous sources in less than Rs. 20,000 denomination, thus steering clear of need to declare details of donor. The Election Commission has advocated reducing this threshold to Rs. 2,000 so as to infuse transparency but political will is lacking. Amend the law with immediate effect so that political parties are ceased from being partner in income tax evasion and laundering.
Automate taxation, do away with the filing of income tax returns for low-income groups, eliminate unnecessary compliance burdens on individuals, and reduce the army of corrupt income-tax officials. In this context, it is also to be noted that many income tax officials recruited through civil service exams are so clueless that powers in their hands to adjudicate tax cases means a mockery of system.
Make taxation laws and rates as well as poverty level indices more realistic. Bring more and more people under tax net while rationalizing tax rates at the same time.
Strictly monitor development efforts and keep a constant watch on authorities and bodies associated with them to ensure that funds are not diverted to corrupt elements. Monitoring by drones and satellites like in case of PM Fasal Bima Yojana is to be made a reality.
Create mechanisms to eliminate corruption in private entities and non-government sector. This includes bringing private executives under the purview of Prevention of Corruption Act, at least in case of listed companies.
Digitize public services and address roots of corruption in local government, urban municipal bodies, corporations, and panchayats, as well as local police stations as these are places having maximum interaction with the public. The wrong behavior of officials there may strengthen perceptions of corruption and loss of democratic rights much more than what a helicopter scam does.
Enforce Aadhaar and link it with more benefits. Create Central lockers for holding digital data of citizens so that they do not have to submit them time and again to different officials. Biometric identification is the way to go and not signatures, which may vary with time, or may become difficult in arthritic hands. Furthermore, biometric identification used at all levels significantly reduces chances of fraud and forgeries.
Such a list of measures can be endless because the corrupt will always strive to find a way around. But the measures and principles mentioned here, if they can be implemented would significantly reduce corruption. The good news is that the Narendra Modi-led government at the Centre is already working on some of these fronts. The bad news is of inept people opposing their implementation and a corrupt Opposition trying to block every positive move that can reduce burdens of multiple compliances and neutralized corruption across a broad swath.
Before ending this article, I would like to emphasize that every corrupt transaction requires a 'buyer' and a 'seller'. Furthermore, it might be the responsibility of the government to deal with corrupt civil servants, but we as individuals and businesspersons have the responsibility to expose such corrupt officials.
Furthermore, we should all strive to ensure that we don't participate or promote corruption willingly or unwillingly, directly or indirectly. While such a statement may seem too lofty and idealistic, the fact is that only social peer pressure can help to change things. The power of social media cannot be underrated and the way stings have exposed the guilty is something unprecedented in the country.
As long as communities, villages, towns and cities bestow respect on those wallowing in ill-gotten wealth, no changes in law or system can make India a corruption-free country. Mind you, involvement of voters is essential, because, despite effective measures put in place to battle corruption, the lack of political commitment and resources, whether of a ruling party or its Opposition can seriously undermine all anti-corruption efforts.
When a move or measure is clearly against corruption and for the common good, political parties need to set aside their differences and join hands – or be exposed, and the electorate needs to take away the power of political miscreants. People are to shed their lust for pity perks offered by corrupt politicians during elections as they cripple the society and economy in the long-run. Finally, the corrupt have to be voted out from all levels, because without the electorate's mandate against pro-corruption forces, removal of corruption will always remain beyond our reach.
After the positive response to demonetisation of high currency notes, backed by a thought that the PM is out to eradicate corruption and black money no matter how influential may be the person at the receiving end of this move, the public awaits amendment to law that allows anonymous donations to political parties if the amount is more than Rs. 20,000. Once debated, the opposition will have no other option than to clear this amendment since public sentiments are highly in favour of measures that cleanse the economy.
Finally, we should always remember that no party in power or no individual in authority can fight corruption without the help and support of the citizenry. To contain, curb, or eradicate corruption, we Indians should assert our rights. We should neither keep ourselves aloof nor fear the powers of systemic corruption. Furthermore, we should never assume the role of a neutral party in any fight against corruption as that would only empower the corrupt elements and may help corruption win the day.