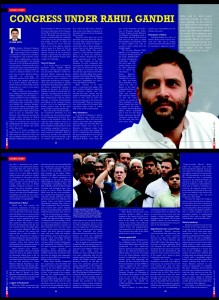 Rahul and his party seem obstinate enough to inflict a major damage on the country in a bid to tarnish the image of the NDA government in the public eye, with scant regard to the nation. Such obduracy and disregard for parliamentary procedures betray the unpreparedness and immaturity of a politician aspiring to become the leader of the oldest political party in the country
The Indian National Congress (INC) is desperately in need of reinventing itself. Its ideological bastions of democratic socialism, non-alignment and peaceful coexistence with neighbouring countries have all been dashed to the ground long ago by the shifting geo-political tectonic plates. Utterly bereft of ideological moorings and rendered short of a niche space in Indian politics to make it a distinct identity as in the past vis-a-vis other political parties, especially its arch-rival, the Bharatiya Janata Party (BJP), it is as of now, just another political outfit of power brokers and wheeler-dealers like the innumerable parties hankering for a piece of the power pie at the Centre.
With a mother-son duo leading it like a family enterprise and loyal foot-soldiers hanging on like limpets, a serious problem of crisis of identity is staring the party in the face. Unless the Congress gets a firm grip on itself and handles the situation imaginatively in the context of changing political realities, this situation may worsen in the course of time and lead the party to face an existential crisis. However, if one takes into account the peevish antics enacted by Rahul Gandhi recently, he seems to be in a hurry to accelerate the process of wallpapering the fissures and bringing it all to an abrupt end sooner rather than later.
Here it is worth recalling that Rahul forayed into active politics in 2004 when he contested for and won the Lok Sabha election and became a Member of Parliament from Amethi in Uttar Pradesh. In 2007, he was made the General Secretary of the Congress Party. Then in 2013, he was elected as its Vice President and was given the charge of spearheading the campaign of the INC for the approaching 2014 Lok Sabha elections, in which his party suffered its worst electoral defeat in its entire history winning only 44 seats in a House of 540, as against 206 won in the earlier 2009 general elections. If one is generous enough to grant that ups and downs are part of the political scenario, then consider the following.
Voice of Dissent
In a recent letter to Congress President Sonia Gandhi, Shashi Tharoor, a one-time party spokesperson and former Minister of State for External Affairs, expressed dismay that his years of sincere service to the party has not been recognised or appreciated and that he was suspected by the party President of leaking information regarding party affairs to the Press. Categorically denying a leakage on his part, he referred to leaking as a habit of cowards and conspirators. Conceding that he had earlier voiced, in a meeting of Congress MPs, disagreement with the party's strategy of stalling Parliamentary proceedings in the monsoon session, he gave vent to his apprehension of feeling isolated, with all the other party worthies turning against him.
Now, who is the coward and who is the conspirator? Definitely it is not the solitary one who stood his ground on the burning deck and shot off a missive to the President to boot, that could be either! Tharoor went on to state that some people with access to Sonia Gandhi had poisoned her mind by planting conspiracy theories so much so that his loyalty had become a much-suspected commodity. What he did not say, but left to be understood, was that the party had become a den of cowards and conspirators and—here comes the kill—these elements had access to the highest authority in the party and lost no time in branding him a traitor!
Tharoor's letter gives rise to two inevitable questions. First off, what is the party high command going to do concerning his litany of charges—award him with a plum position or elevate him in the party hierarchy? That is hardly likely. The second question is what Tharoor himself is going to do about his grievance. Having already stripped him of the party spokesperson's post, Sonia Gandhi has heaped on him the ignominy of severe castigation time and again for "always" towing an anti-party line. To drive home her point, she alluded to instances that had brought him appreciation from Prime Minister Narendra Modi, like participating in the Swachh Bharat Abhiyan and his recent address at the Oxford University, highlighting the reparations that Britain owed India.
What remains to be done with a recalcitrant foot-soldier who dared mutiny? Caught in a bind over the personal tragedy that had entailed his wife's murder and the political brinkmanship that put his nerve to test, does he have the cojones to hang on to the status quo for much longer? This is a moot question which, along with the party high command's likely course of action, falls in the realm of speculation.
More Dissidence
It would be foolishness to believe that Tharoor's was a lonely voice in the wilderness. There have been discordant notes from other disgruntled party members as well. Soon after the electoral debacle last year, T H Mustafa, a Congress leader from Kerala, sent shock waves among the party by stating that the shaming of the party at the polls was on account of Rahul's behaviour as a "joker". He demanded Rahul's ouster from the post of Vice President and induction of Priyanka Gandhi Vadra. Veteran Congress leader Bhanwar Lal Sharma of Rajasthan went a step further and said that the time had come for the party to think beyond Rahul and Priyanka, both of whom wielded clout only on account of their hailing from the Gandhi family.
The five-time Mizoram Chief Minister Lal Thanhawla did not lag far behind and left his party dumbfounded by openly criticising its leadership. Despite the party high command's diktat to all its chief ministers not to attend the swearing-in of Prime Minister Narendra Modi, he attended the ceremony. Jibes and barbs from dissidents were aimed not only at Rahul or the high command, but also at Rahul's coterie of aides and advisors who had been inducted into his team entirely on account of their proximity to the family despite their lack of support at the grassroots level. Former Minister Milind Deora demanded that it was not only Team Rahul, which gave the high command wrong advice, but also those who had kept quiet that should own responsibility for the failing of the party.
Emergence of Rahul
Notwithstanding the voices of dissent, Rahul seems to have overcome the odds and is inching towards the party President's post by resorting to aggressive posturing after a mysterious two month-vacation at some undisclosed destination earlier this year. Voices of dissidents have been muffled. The idea seems to be to give Rahul another chance to prove his mettle as a leader of all sections of the party and his capability to pull crowds and keep their attention riveted. Referring to reports earlier this year on Rahul Gandhi's proposed elevation to the post of the party President, former Minister Jairam Ramesh, considered close to the scion of the Gandhi family, said Rahul was ready for any responsibility and would not shy away from accountability or responsibility.
Reinvention of Rahul
Rahul who had enjoyed the unsavoury reputation of being an absentee Parliamentarian or one who was a back-bencher that took catnaps when the House was in session on the few-and-far-between occasions that he chose to attend, apparently felt compelled to subject his image to a complete makeover. That seems to have been the motivating factor for his sudden tearing off from the public glare for a two-month sabbatical. When he returned, however, the nation had expected him to wow the public as well as his detractors by taking a headlong plunge into the major political issues awaiting debates and discussions, before and during their introduction in the monsoon session of the Parliament by the government.
What resulted were, however, shock and dismay. Instead of getting under the skin of the subject matters for discussion, Rahul chose to get on the nerves of one and all by resorting to accusatory tactics. His new-found strategy was best described by Union Minister Prakash Javadekar as "spit-and-run." This was with specific reference to the vile language used by Rahul to launch a personal attack, by "crossing all limits of decency" on Prime Minister Narendra Modi over the Land Acquisition Bill which is currently with a House Committee of Lok Sabha.
Logjam of Parliament
When the NDA government was planning to introduce eight new bills and take up other eleven pending bills for consideration and passage during the recently-concluded Monsoon Session in the Lok Sabha, and seven bills pending in the Rajya Sabha, Rahul and his MPs cried hoarse over charges of alleged corruption or impropriety on the part of External Affairs Minister Sushma Swaraj, CM of Rajasthan Vasundhara Raje and CM of Madhya Pradesh Shivaj Singh Chouhan and demanded their resignation or ouster. When Narendra Modi ruled out any such possibility, the Congress-led Opposition Parties asked for a debate and when the NDA government said it was willing for the debate, Sonia and Rahul Gandhi immediately changed their stance to 'First resignations, then discussions', and insisted that unless Sushma Swaraj, Vasundhara Raje and Shivraj Singh Chouhan resign, they won't be ready for any discussions or debates.
Then, guided by Rahul and Sonia Gandhi, the Opposition MPs resorted to disrupting the proceedings in both the Houses of Parliament without let up, demanding blanket acceptance of their demands. Over the next couple of days, their behavior became more unruly and their protests became more and more shrill and strident. The situation came to such a pass on August 3 that Lok Sabha Speaker Sumitra Mahajan decided to take recourse to Rule 374(A) in Parliament and suspended 25 Congress MPs for five days for unruly behavior and for causing "grave disorder" in Parliament and for "persistently and willfully obstructing" the House. This has been the largest such suspension where so many MPs have faced disciplinary action at one go.
While Sonia Gandhi condemned the suspensions and described the Speaker's action as murder of democracy, on his part Rahul asked the Prime Minister to listen to the "Mann ki baat" of the people of the country. Terming the susp5Congress Party MPs undemocratic, on August 5 Rahul Gandhi told media persons that his party won't budge from its stand and there won't be any let up in its pressure on the government as far as issues of corruption, Sushma Swaraj and Vyapam were concerned. He thus made clear his party's intent to carry on with its belligerent posture on the issue of resignations of top BJP leaders whom he had accused of wrongdoing. And eventually the entire Monsoon session between July 21 and August 13, 2015 got completely washed out over the Lalit Modi controversy and the Vyapam scam.
Here it needs to be reiterated that though the NDA government kept saying from day one of the Monsoon session that it was willing to discuss and debate every single issue in Parliament, Sonia and Rahul Gandhi were more comfortable with the disruptions rather than the debate. Even during the Budget session earlier (between February 23 and May 8), there were continuous protests and regular disruptions as the Congress-led Opposition parties were against the passage of the Land Acquisition Bill. This stalling of Parliament's functioning during the past few months at the behest of Sonia Gandhi and her son and party Vice-President Rahul Gandhi, has resulted in the entire monsoon session getting completely washed out, holding up key economic legislations, in addition to an estimated monetary loss of Rs 260 crore.
Thus, Rahul and his party seem obstinate enough to inflict a major damage on the country in a bid to tarnish the image of the NDA government in the public eye, with scant regard to the nation. Such obduracy and disregard for parliamentary procedures betray the unpreparedness and immaturity of a politician aspiring to become the leader of the oldest political party in the country.
Venom against BJP
Rahul had earlier undertaken visits to different parts of the country like Punjab, Maharashtra and Kerala, purportedly to visit famine-hit farmers. Instead of assuaging the feelings of the distressed farmers, he played politics to the hilt by lashing out at the Prime Minister whom he accused of embarking on a spree of foreign visits and neglecting the farmers. He also visited the Film and Television Institute of India (FTTI) to express support for the students of the Institute who have been on a strike over the appointment of Gajendra Chauhan as Chairman of the Institute. Here again, he failed to focus on the students' issue and poured venom on the Prime Minister and his party. He lashed out at BJP and RSS for allegedly promoting mediocrity.
Then on August 14, when Rahul visited Jantar Mantar in New Delhi in an attempted show of solidarity with ex-servicemen at the venue, who were staging a protest demanding implementation of One Rank, One Pension (OROP) scheme, he was embarrassingly greeted by protesters raising slogans of "Go back Rahul".
Apprehension over Loss of Power
Meanwhile, Rahul's speeches and statements lack objectivity and focus on the issues involved. Instead, his jibes and barbs are aimed at the Prime Minister and other BJP leaders. His game plan is obviously to malign Narendra Modi and discredit the BJP. Instead of speaking about his own party and its roadmap for the development and progress of the country and welfare of the people, he is gung ho about hurting the government.
Neither he nor his party's President is reconciled to the reality of having been out of power for over fifteen months now. Nor are they inclined to wait for a full five-year hiatus, if not longer, till the next round of elections due in 2019. This may be because they fear if they stay away from the centre of power any longer, the BJP may expose more and more scams and scandals that occurred during the UPA government's misrule, which in turn may help the BJP in its avowed aim of accomplishing a "Congress-mukht Bharat". Meanwhile, the corruption cases which have already been exposed, are at various stages of investigation and litigation and are expected to be pursued by the NDA government in real earnest. The mother-son duo is personally involved in the National Herald case and has so much at stake. Any semblance of weakness or vulnerability on their part is capable of resulting in a revolt by the regional satraps of the party. Besides, the people of the country are not unlikely to get used to the NDA government's rule and give Congress a short shrift.
In short, the longer the Congress party is away from the levers of power at the Centre, the lesser its chances of a comeback to power or even survival in national politics. Hence the desperation of Sonia and Rahul Gandhi to fish in murky political waters by extending support to unprincipled political allies such as Lalu Yadav, Nitish Kumar and Arvind Kejriwal.
Rahul's Handicap
Rahul has already become the butt of ridicule in the social media as well as certain sections of the mainstream media. His lack of vision, game plan, perspicacity, focus on issues that impinge on national interests and people's welfare, his acts of disappearance, mysterious personal life, lack of objectivity and reverence for the established political norms, non-accountability and opaque style of functioning, have all contributed to a serious erosion of his credibility, image and stature. All these have rendered him woefully short of standards expected of a leader with a pan-Indian appeal. Lately, voters across the country have started realising that Rahul is not Prime Minister material by any stretch of imagination or yardstick. His party colleagues and he himself should be aware of this more than anybody else. And, last but not least, the people of India have already proved they are quite capable of thinking beyond Congress and they do not want another person from the Gandhi family as a default Prime Minister.
(The article published in weekly magazine Uday India in September 6-12, 2015 edition on page 22-25)