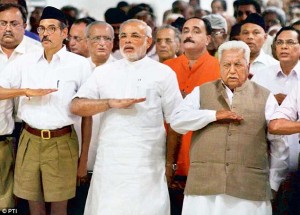 Since coming into power in 2014, the BJP government has not only speeded up administrative tasks, the men in power have substantiated that they aren't a pack of hounds, rather are a commandingly motivated group that is assuredly heading towards the desired direction. Appraisals and assessments during the execution of plan not only reminds about any misses in the passage, these exercises also help steering clear of unwanted mistakes and to realize the expectations of people you are liable to. What is wrong if one of the world's most noteworthyvoluntary charitable organization, the Rashtriya Swayamsevak Sangh (RSS), meets country's topmost decision-makers to consult and guide them towards a constructive roadmap for the future?
As alleged by some as unconstitutional, to be specific, by one from the pack of hounds in whose hands Delhi is scuffling at the moment, the RSS-BJP meet held on 2-4 September 2015, may have called for some criticisms, more so when the same is seen with the eyes of muddy Indian political arena, the truth is that this coming together is as much necessary and beneficial as are all other mid-term evaluations of government schemes and programmes. News reports do carry the facts of the meet, which embraces discussion over key social and political matters, including One Rank One Pension (OROP), border issue with Bangladesh and China, and talks over militancy concerns in Kashmir. When ministers along with persons of acumen from the RSS put across opinions and anticipations, the outcome wouldn't be futile like one of the Congress top shots attempting to score some political numbers through visits to OROP and FTII protest sites, indeed, the result will be practical answers to matters concerned with the society and economy.
Why is it senseless to term the meet illegitimate?
Many of us send proposals to the government when the law-makers plan a new law or an amendment to any existing legislation is proposed and the same is put on ministry's website for suggestions from the general public and other stakeholders. This is called participative and transparent governance, and sound ideas are considered to augment the overall productivity of the country. On similar lines, the RSS, an organization that through millions of its volunteers undertakes tasks of social betterment and is also the ideological mentor of the ruling government, when deliberates over prevailing issues with persons capable to devise and introduce new initiatives, problems and potentials are shared, legitimate answers are located and policy-makers are reminded of their indispensable duty of serving the citizens at the earliest and to the fullest.
A comparison with the past
The UPA rule witnessed a weak Prime Minister Office and concentration of power with a handful of people who imposed incompetent and biased policy initiatives on the nation. The committees and task forces formed during such time were a mere formality to refer key issues to specialized group of people, in fact, the decisions flowed from a single powerhouse. And alike is the milieu today with the AAP government, one or two men are in-charge of all possible tasks; this has led to people with dignity and sense of honesty to quit the party and expose one-man dictatorship within the group. In politics, it has been a routine to limit decision-making within a small cluster or family, more so because this doesn't let others to grow and hence demand any shift from ineffectual leaders. Isn't the same a valid reason why the Congress could not look beyond one family when it comes to electing party's President and Vice-President? Had there been an independent and shrewd group of evaluators and advisors, a sense of responsibility and delivery would have been a part of Congress' way of governance.
Why to expect and not lend ears to false allegations
Opposition parties and the so-called secular groups have repeatedly targeted RSS' right-wing belief denying the crucial role of the cadre in improving socio-economic and political scene of India. Voters who exceedingly backed the Modi-led BJP in 2014 and are satisfied enough today owing to government's deliveries in past more than one year shall also thank the RSS volunteers who communicated BJP's candidature to far-flung areas and helped the party secure a strong majority in the Lok Sabha, a pre-requisite for healthy governance. The RSS leaders as well as the bottom-most volunteers have chosen to stay away from active politics, which makes them eligible to represent the common man of India and ask the ruling government for quick corrections in the society. If at all the doubts are over the alleged pro-Hindu approach and article of faith of the RSS, people are to know that during the RSS-BJP meet, rehabilitation of Kashmir's civilians injured during militant and cross-border attacks is a significant topic of deliberation and the same calls for advancement of non-Hindusof the valley.
Since decades, opposition parties and their leaders have relied upon anti-government protests to regain public support. The OROP, FTII, land bill, amendment to labor laws and such other matters dominant today have also found illicit backing from opposition leaders. On the contrary, the RSS has assessed these subjects in view of all feasible possibilities and for the actualadvantage of all and not just a particular class or cluster. When ministers discuss tasks and ideas with RSS leaders and debatewhat steps shall be taken to overcome barriers to success, the underlying bonuses accrue to the common people of India, not to political or corporate entities.
This is no assessment, this is coordination
No one has the constitutional right to call upon ruling ministers and assess or guide their working. This notion is duly honored during these deliberations and the attempt is to coordinate and harmonize rather than impose any special or unjustified expectations on the people in power. RSS does not have any extraordinary demands to be shared, what at all they are concerned with is how governance can be made more inclusive, participatory and just. From the people of Arunachal Pradesh and states sharing border with Bangladesh to the pain of army veterans and Kashmir residents, the points of discussion touch common spheres of our lives and the liability of the government to provide resolutions. In no sense, as purported by a former Jammu and Kashmir Chief Minister, this RSS-BJP meet can be termed as performance appraisal of the government. Indians shall be contented that a social organization is making sincere endeavors in discussing issues with leaders who carry the ideology of RSS, which shouldn't be a grievance so long as this ideology is unprejudiced, sensible and evenhanded, something we can be certain of owing to the past record of the organization.
Be assured that such form of inclusive governance, as is seen during such instances, will come as a shock to those political parties which are habitual to receiving dictates from a solecontroller. For those who understand how periodic deliberations improve delivery mechanism and policy making, the RSS-BJP meet is a moment to cherish, not complain.
If someone claims that such meetings defy government's privacy to foreign relations and defence, they are to know that to make such meets possible there stands no need for the ministers and their staff to carry confidential papers for any sort of presentation. The motive of the RSS-BJP meet is clear and concrete- The government is chosen by the people to make their lives better and this task is to be accomplished in a limited period of five years. After regular intervals, the government shall be reminded of people's hopes, past policies weighed in light of their efficiency, and a roadmap for future laid to serve as a tentative guide for policy-makers. RSS is capably and diligently undertaking this work and deserves a pat on the back for the same.