Investor education is the key. Otherwise, in a landscape where macroeconomic indicators across the globe are weak, young investors may be at a risk of financial loss in stock trading.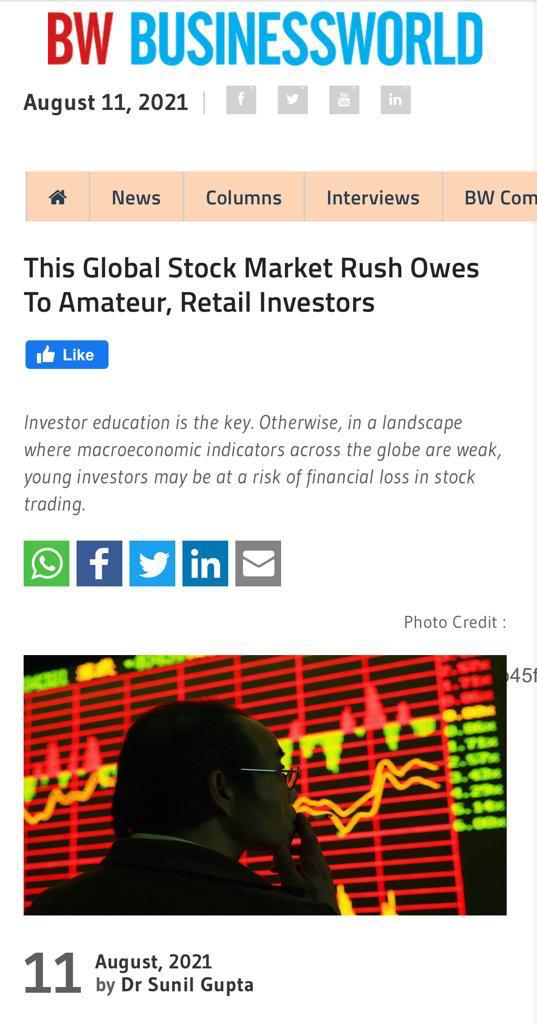 The S&P/TSX Composite Index is the benchmark index of the Toronto Stock Exchange in Canada. Amid high unemployment rate in Canada, and record-high inflation, which has become a cause of worry for the Bank of Canada, the index has scaled record peaks, recently touching the 20,000 mark for first time ever.
Is the global economy recovering with no further vulnerabilities?
Emerging market economies, including India and China, were always the preferred place for institutional investors. India has been a recipient of record investment over the past few years due to healthy GDP growth numbers. But over the past one year, stock markets of even developed countries including the US, Australia and Canada are seeing an unprecedented rush. Has pandemic receded? Has the world population been fully vaccinated and international trade and commerce rebounded?
No. More than half of Australia is under lockdown, and China has been hit by the delta variant in many of its cities. As far as economic recovery is concerned, every central bank is baffled. Joblessness is high but inflation is well above targets. In the US, the Fed is clueless on when to hike rates to suck liquidity to check price rise.
One can recall how the global markets crashed when the pandemic hit. The world's most watched index, S&P 500, fell in double digits. In India, Sensex and Nifty lost money as panic-stricken investors started pulling money out.
But within a matter of few months, markets not only recovered lost ground but astonishingly scaled new heights. Sensex is at a fresh all-time high. Most analysts are citing two or three factors behind the surge. First, slowly but steadily world cities are exiting lockdowns. Second, global vaccination drive has picked up pace. And third, economic growth in the first quarter of 2021-22 has been better-than-expected in most economies. But all three factors are anything but steady. Cities across the world are entering into new lockdowns, even the US has a very slow pace of vaccination, and economies like China and the US have lately reported weaker-than-expected economic activity.
The rush in global markets including India
The Indian stock broking industry added a whopping 17 lakh new accounts in January 2021. Compare it with mere 13 lakh new accounts in full year 2014, one of the best years ever for the Indian stock market.
Globally, the trend has been the same. Robinhood, a commission-free broker in the US, saw highest-ever app downloads in January. Retail investors, with abundant disposable income, thanks to governments' stimulus money and pandemic savings, flocked to stock trading in record numbers. In India, individuals that haven't suffered income loss and saved extra money due to reduced outings and fuel costs looked stocks to create wealth. Every other initial public offer (IPO) is being subscribed to in record numbers Brokers say many of the subscribers in food delivery app Zomato's IPO were aged below 35. The young, amateur retail investor is parking money in stocks like never before.
Even the hyper-volatile cryptocurrency market is scaling new peaks. Bitcoin soared to nearly USD 65,000 in April. Others like Dogecoin have also surged on the back of favorable stances by multi-billionaires like Elon Musk.
Brokers adding record new users, with a sizeable chunk of young first-time participants, corroborate the fact that amateur young investor is the primary force shaping global stock markets. The wild rally in listed shares and IPO space can be attributed to them. The same is shaping the global cryptocurrency investment space, where assets with no utility are being lapped up by amateur investors.
Concluding
What enabled all this is the easy availability of avenues of investment in stocks. Until a few years back, there was no smartphone app to enable parking of money in stocks, considered as quick return earning place, with a few taps. Today, such apps have proliferated. The perception is that stock market is virtually the only avenue for quick returns as other investment options like term deposits take longer time to yield moderate returns. The cause of concern is amateur investors, mostly very young, who might be ignorant of perils attached with trading. Many are not eying long-term returns in the form of dividend but quick capital gains by buying and selling of stocks.
Even the pandemic played a role in stock market boom by weeding out fear as people lost loved ones to Covid-19 and became psychologically more prepared to take financial risks. They are, more often than not, unaware of how and when to maximum profits or minimize losses. Seasoned institutional investors prudently make such maneuvers at the opportune moment. Investor education is the key. Otherwise, in a landscape where macroeconomic indicators across the globe are weak, young investors may be at a risk of financial loss in stock trading.
(The article "This Global Stock Market Rush Owes To Amateur, Retail Investors" published in "Business World")