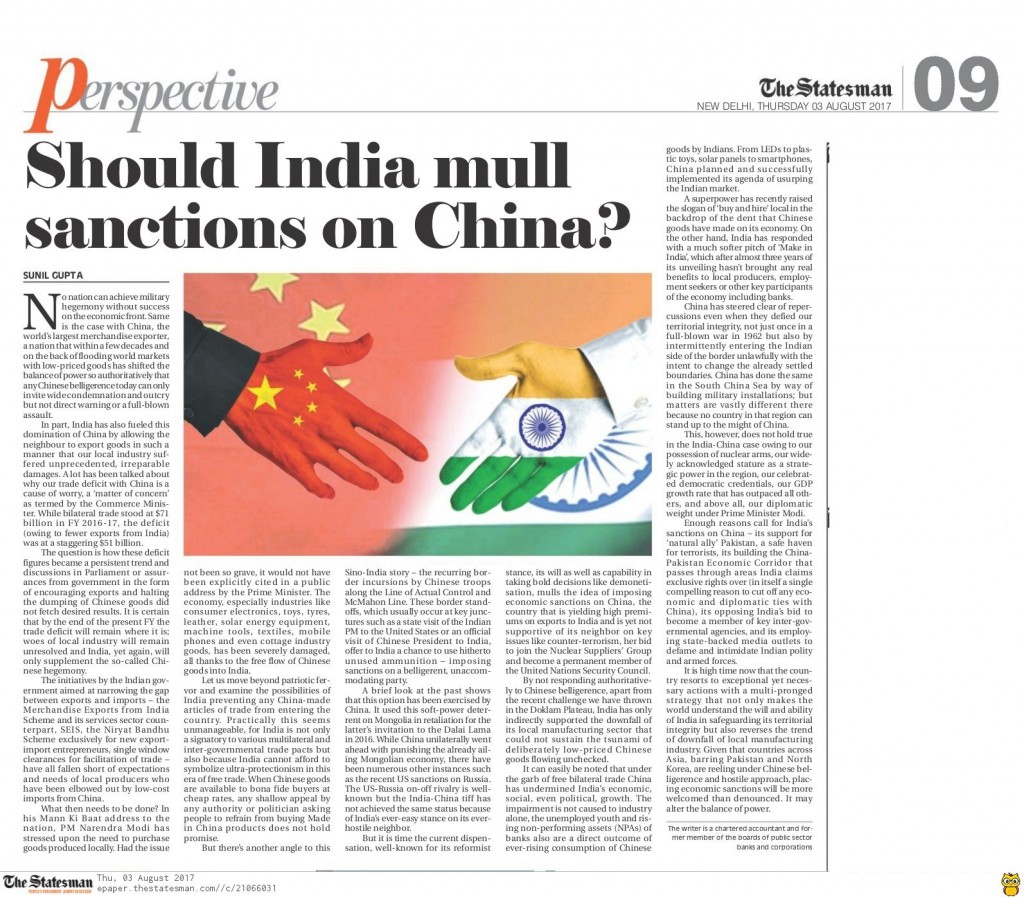 No nation can achieve military hegemony without success on the economic front. Same is the case with China, the world's largest merchandise exporter, a nation that within a few decades, and on the back of flooding world markets with low-priced goods, has shifted the balance of power so authoritatively that any Chinese belligerence today can only invite wide condemnation and outcry but not direct warning or a full-blown assault.
In part, India has also fueled this domination of China by allowing the neighbor to export goods in such a manner that our local industry suffered unprecedented, irreparable damages. A lot has been talked about why our trade deficit with China is a cause of worry, a 'matter of concern' as termed by the Commerce Minister. While bilateral trade stood at USD 71 billion in FY 2016-17, the deficit (owing to fewer exports from India) was at staggering USD 51 billion.
The question is how deficit figures became a persistent trend and discussions in Parliament or assurances from government, in the form of encouraging exports and halting the dumping of Chinese goods did not fetch desired results. It is certain that by the end of the present FY the trade deficit will remain where it is; woes of local industry will remain unresolved and India, yet again, will only supplement the so-called Chinese hegemony.
The initiatives by the Indian government aimed at narrowing the gap between exports and imports – the Merchandise Exports from India Scheme and its services sector counterpart, SEIS, the Niryat Bandhu Scheme exclusively for new export import entrepreneurs, single window clearance for facilitation of trade – have all fallen short of expectations and needs of local producers who have been elbowed out by low-cost imports from China.
What then needs to be done? In his Mann Ki Baat address to the nation, PM Narendra Modi has stressed upon the need to purchase goods produced locally. Had the issue not been so grave, it would not have been explicitly cited in a public address by the Prime Minister. The economy, especially industries like consumer electronics, toys, tyres, leather, solar energy equipment, machine tools, textiles, mobile phones and even cottage industry goods, has been severely damaged, all thanks to the free flow of Chinese goods into India.
Let us move beyond patriotic fervor and examine the possibilities of India preventing any China-made articles of trade from entering the country. Practically this seems unmanageable, for India is not only a signatory to various multilateral and inter-governmental trade pacts but also because India cannot afford to symbolize ultra-protectionism in this era of free trade. When Chinese goods are available to bona fide buyer at cheap rates, any shallow appeal by any authority or politician asking people to refrain from buying Made in China product does not hold promise.
But there's another angle to this Sino-India story – the recurring border incursions by Chinese troops along the Line of Actual Control and McMahon Line. These border standoffs, which usually occur at key junctures such as a state visit of the Indian PM to the United States or an official visit of Chinese President to India, offer to India a chance to use hitherto unused ammunition – imposing sanctions on a belligerent, unaccommodating party.
A brief look at the past shows that this option has been exercised by China. It used this soft-power deterrent on Mongolia in retaliation for the latter's invitation to the Dalai Lama in 2016. While China unilaterally went ahead with punishing the already ailing Mongolian economy, there have been numerous other instances such as the recent US sanctions on Russia. The US-Russia on-off rivalry is well-known but the India-China tiff has not achieved the same status because of India's ever-easy stance on its ever-hostile neighbor.
But it is time the current dispensation, well-known for its reformist stance, its will as well as capability in taking bold decisions like demonetisation, mulls the idea of imposing economic sanctions on China, the country that is yielding high premiums on exports to India and is yet not supportive of its neighbor on key issues like counter-terrorism, her bid to join the Nuclear Supplier Group and become a permanent member of the United Nations Security Council.
By not responding authoritatively to Chinese belligerence, apart from the recent challenge we have thrown in the Doklam Plateau, India has only indirectly supported the downfall of its local manufacturing sector that could not sustain the tsunami of deliberately low-priced Chinese goods flowing unchecked.
It can easily be noted that under the garb of free bilateral trade China has undermined India's economic, social, even political, growth. The impairment is not caused to industry alone, the unemployed youth and rising non-performing assets (NPAs) of banks also are a direct outcome of ever-rising consumption of Chinese goods by Indians. From LEDs to plastic toys, solar panels to smartphones, China planned and successfully implemented its agenda of usurping the Indian market.
A superpower has recently raised the slogan of 'buy and hire' local in the backdrop of the dent that Chinese goods have made on its economy. On the other hand, India has responded with a much softer pitch of 'Make in India', which after almost 3 years of its unveiling hasn't brought any real benefits to local producers, employment seekers or other key participants of  the economy including banks.
China has steered clear of repercussions even when they defied our territorial integrity, not just once in a full-blown war in 1962 but also by intermittently entering the Indian side of the border unlawfully with the intent to change the already settled boundaries. China has done the same in the South China Sea by way of building military installations; but matters are vastly different there because no country in that region can stand upto the might of China.
This, however, does not hold true in the India-China case owing to our possession of nuclear arms, our widely acknowledged stature as a strategic power in the region, our celebrated democratic credentials, our GDP growth rate that has outpaced all others, and above all, our diplomatic weight under Prime Minister Modi.
Enough reasons call for India's sanctions on China – its support for 'natural ally' Pakistan, a safe haven for terrorists, its building the China-Pakistan Economic Corridor that passes through areas India claims exclusive rights over (in itself a single compelling reason to cut off any economic and diplomatic ties with China), its opposing India's bid to become a member of key inter-governmental agencies, and its employing state-backed media outlets to defame and intimidate Indian polity and armed forces.
It is high time now that the country resorts to exceptional yet necessary actions with a multi-pronged strategy that not only makes the world understand the will and ability of India in safeguarding its territorial integrity but also reverses the trend of downfall of local manufacturing industry. Given that countries across Asia, barring Pakistan and North Korea, are reeling under Chinese belligerence and hostile approach, placing economic sanctions will be much welcomed than denounced, it may alter the balance of power.
(The article published in daily newspaper "The Statesman" on 3rd August 2017)