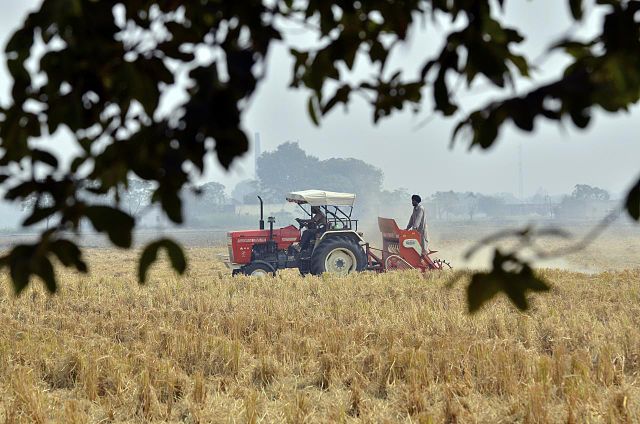 Isn't it a shame that a very basic issue that repeatedly was a part of Hindi literature and films has always remained an incomprehensible subject for our elected rulers? I can reminisce the work of Munshi Premchand, Godaan, a Hindi novel, which revolves around a poor peasant, Hori and rural society, and depicts clearly the pain of borrowing from private moneylenders who never allow a farmer to prosper. Alike was the case with the family portrayed in Hindi film, Mother India, that though gained worldwide recognition but could not invoke a sense of duty in our lawmakers. Having lived a major part of my life in rural India and as a son of a farmer, I know the day-to-day hurdles and stigma, how a poor farmer borrows a mere 10 thousand rupees from Sahukaar to purchase a cow or to dig a water bore and the monthly interest rate of 10 per cent never lets this 10 thousand to be really paid off. We talk about APMC and government meddling with respect to selling off produce at least at minimum guarantee price, but do we know that a farmer cannot afford to wait for those cheques to be released, and the only way to get instant money to finance basic needs of daughter's marriage and children's fee is to part with the produce at rates much lower than the market price offered by local baniyas.
The national capital, many a time, becomes the initiator of prime time news, protests, and this paves way for discussions, remorse and blame games. Won't you agree, if the Nirbhaya case had not happened in Delhi, the after effects wouldn't be same? Now the capital is again in the news, a mix of social disgrace, economic inequalities and political drama, for a happening that reproduced the tragedy of Indian farmers, who account for more than half of our working populace, yet are deprived of basic needs. Farmers' pain, their suicides has for the very first time now become news headlines; the dialogues and interpretations, however, by so-called intellects and our chosen representatives revolve just around accusing other political parties for what happened during AAP's protest, the cheques too have been handed over to the deceased farmer's family, few aspirants of the parliament/ state legislatures have even shed tears, some have apologized for not behaving appropriately while being present at the cursed place. Now shall I not ask my politicians, who are so very moved, shaken and grief-struck after this suicide, to assure that no farmer of India would choose suicide as the most easily available escape route from bad weather and debt?
Some are saying that AAP volunteers and leaders incited the deceased, others say that it was a gimmick that went wrong, some are saying that the suicide note wasn't his, and most of us are indifferent, why because a farmer committing suicide is nothing new in our country, rainfall playing the villainous character. A place, where the producer of grains is such grimly depressed, can never become world's superpower, even if we predict that the endeavors of the current PM would boost the economy markedly. While the Delhi suicide took away a son, a father and a husband, and almost every one of us has a feeling of sorrow running inside, let me remind you all that the National Crime Records Bureau of India reveals that 46 farmers intentionally end their lives every day in India. Records also tell that since 1995 more than 3 lakh farmers have opted for this unsolicited path; hence just noticing the incident of Delhi or the Parliament's debate on the land acquisition bill would serve no purpose, of course until we find a constructive and non-politically driven solution, something that isn't possible unless we diagnose the entire situation prudently.
It isn't only the weather that adds to the sorrow of agriculturists, in realism, it is the debt, more specifically, the money borrowed from private and unauthorized lenders that threatens the borrowers of social and financial humiliation. Then are the factors ranging from low produce value and pitiable irrigation facilities to high cost of inputs and indeed the deficiency of social infrastructure like toilets and schools. Studies have added to this endless list of causes reasons like no opportunities to earn alternative income, troubles in farming semi-arid sections, lenders' priority to businesses over agrarians and also the curse of alcohol and other addictions. It is common that the interest on money extended by private lenders to already-bleeding farmers is exorbitant and collection of dues at the time of harvest leads to selling off the produce hastily at throwaway prices.
The till-date measures by the central and state governments have proven ineffective in managing this issue and in infusing prosperity in the lives of farmers. Having focused only on credit and debt, political men have overlooked fundamentals like generation of income and productivity. What about the insult and even physical abuse of vulnerable farmers at the hands of Sahukaars, what about middlemen who take away all the profit, what about dropping water level, lack of private investment and India's backwardness in terms of agricultural research? Now that a stressed farmer has brought the matter into high-level discussions having displayed the melancholy of grain producers in Delhi, it is expected that the law makers probe not only the death of one from lakhs, but also lay foundation for better lives of Indian farmers. Also at this point in time, mention of the land acquisition bill placed in the ongoing session of parliament is evident, and the need is to assess the proposed changes diligently, not politically. This suicide also tells how our political leaders use a subject, which is so critical that a human doesn't think twice prior to taking away self's life, just to gain political mileage.
Suicide by farmers is worldwide occurrence, but we cannot use this equation to cover up the flaws of our social, economic, environmental and political domains. The caretakers of GDP and inflation have to realize that agriculture's share in GDP has constantly declined since 1951, and more than half of our workforce that is directly or indirectly dependent on this sector is scuffling to live a judicious life. Films in the past covered the despair of farmers, but this too has now become an outdated subject. The bottom line is that none of us relishing our lives at the stake of poor and vulnerable sections wants to feel the pain. The Delhi incident could have gathered attention, but it is yet to see whether it could invoke our sense of duty. Role of media, volunteers and political party/ leaders during the Delhi suicide incident can be deliberated by investigating agencies, but for law makers, it is time to assess ground concerns of our food providers in the parliament and boil down to concrete measures.
No one who blames the Congress reign during past many decades for the misery of peasants is entirely off beam. Why isn't a farmer able to borrow from legitimate sources at the time of harvest, their daughter's marriage or when a cow is to be purchased? The actual picture of loans from government institutions is wicked where a farmer has to part with least 20 per cent of the sanctioned amount as illicit commission to broker and the bank official. Do not forget that the global warming and massive urbanization we worry about is an outcome of the members of farmers' families shifting to cities for livelihood. To feel the pain, plant a tree outside your homes, give it water and care for it until it grows high, and one day when it would dry up, you would know why a farmer ends his life so easily when the crop is damaged and the borrowed money still runs high on interest and principal. Remember, sympathies find no answer when the issue is such grave and lives of the pillars of humanity, our farmers, are at risk.