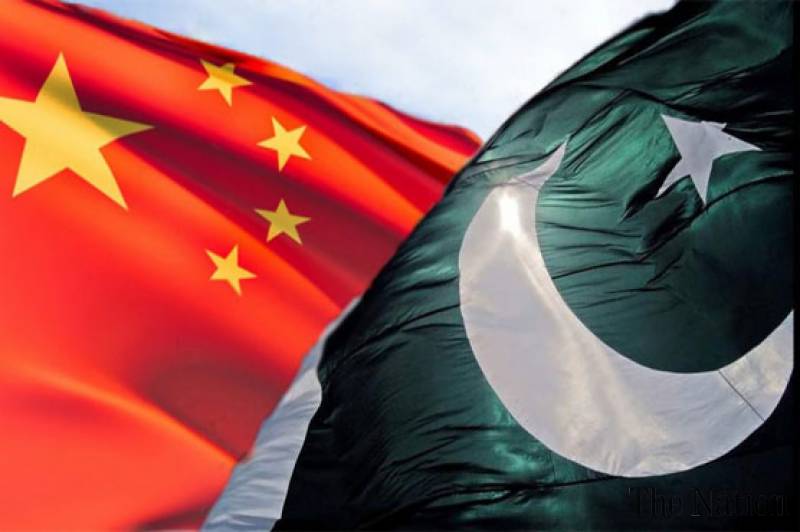 The recent paradigm shift in the Indo-Pak relations may, on the face of it, seem just another phase in the rivalry between two countries born from the partition of a greater whole. However, the latest round of bitterness, terrorist attacks, surgical strikes, Kashmir valley unrest and the mutual attempts to expose spies do not seem so much a result of age-old rivalry as they are a result of China stoking and provoking pre-existing bad blood between the two South Asian rivals for its own gain, as well as to corner India.
Here it is worth recalling that the latest round of Indo-Pak bitterness really took off on the day China declared diplomatic war against India, undermining India's sovereignty, and hooting out its claims to Pakistan-occupied Kashmir (PoK) and Gilgit-Baltistan, by signing the agreement for China-Pakistan Economic Corridor (CPEC) with Islamabad, and without even asking for India's opinion.
After this sly act, China sat back and began to dangle the carrot of the CPEC before the world as well as to the populace of the affected territories, including PoK, Balochistan, and Gilgit-Baltistan. The Communist nation seems to be trying to convey to the people of these regions that the CPEC has the potential to boost prosperity and economic avenues after it becomes operational. Thus, China is probably trying to instigate the natives of these regions to protest against India so that the latter gives up its claims and objections, and accepts the illegal secession of these areas without any protest.
What Pakistan couldn't do through half-a-century of nursing terrorism, China is trying to achieve in a few years using its Machiavellian diplomatic and economic aggression. Likewise, it is taking the same approach in Bangladesh by pitching in to build road connectivity from Kunming to Chittagong via Myanmar and Cox's Bazar. This highway will be separate from the proposed Bangladesh-China-India-Myanmar (BCIM) economic corridor, the talks for which are underway.
The underlying note of these efforts appears to be isolating and hurting India. The outcome of the Bangladesh move, expectedly, would be greater unrest in India's Northeast region, some parts of which China has long craved to own. This attitude of China becomes very apparent when one analyses its comments, both after India objected to CPEC, and after China signed the treaties with Bangladesh.
"It is regrettable to see CPEC become another unharmonious factor in Sino-India ties, but China is unlikely to give up on the idea of CPEC because of India's protest," an article in Global Times, which is China's state-run publication, said when our External Affairs Minister, Sushma Swaraj, voiced India's concerns over the corridor, which passes through PoK, Balochistan, and Gilgit-Baltistan.
Furthermore, in October, a few days before the BRICS summit, the same Global Times, de facto controlled by People's Daily, the mouthpiece of the Communist Party of China, emphasized in an article, "it would not necessarily be a bad thing if an increasingly close relationship between China and Bangladesh puts some pressure on New Delhi to rethink its strategy in this region and encourages it to put more effort into improving relations with China …." In the same article, via the following paragraph, GT tried to hoodwink those who can see through China's ambitions.
"There is a popular view that China is trying to carve out for itself a pre-eminent role in South Asian affairs and that it intends to contain India's rise by seeking closer cooperation with countries like Bangladesh, Pakistan, Nepal, Sri Lanka and Myanmar," adding later, "In this regard, some people believe China's One Belt and One Road initiative has been used as a political tool to achieve Beijing's goals."
The view is not new, nor unfounded. It was on November 7, 1950, that Sardar Vallabhbhai Patel wrote to Pandit Jawaharlal Nehru with respect to China's aggression and designs on India: "The Chinese Government has tried to delude us by professions of peaceful intention. My own feeling is that at a crucial period they managed to instill into our Ambassador a false sense of confidence in their so-called desire to settle the (Tibetan) problem by peaceful means. There can be no doubt that during the period covered by this correspondence, the Chinese must have been concentrating for an onslaught (on Tibet). The final action of the Chinese, in my judgment, is little short of perfidy."
This time, it is the CPEC around which China is professing peaceful intentions, but its aim is to demolish India's claims and objections to Pakistan occupying part of Kashmir, and Gilgit-Baltistan being occupied through deceit. China is professing that its intentions are economic, but it is not only economic, as the country's continued support to Pakistan, its joint military exercises with Pakistan, and its aggressive tendencies on Ladakh border amply indicate. And, of course, Aksai Chin, occupied by China since the 1962 war continues to be seceded from India, torn from India by China's military might.
The CPEC, when completed, would put Chinese military within a few hours' distance from New Delhi backed by infrastructure and establishment of Pakistan. So, while the recent paradigm shift in the Indo-Pak relationship (seemingly built around speeches and signals sent by both countries before, after and on their respective Independence Days) seems impulsive on the surface, for India, it has deeper roots and stakes than just the fate of Kashmir or the fate of Gilgit-Baltistan.
The CPEC is not an additional context in the paradigm shift in the Indo-Pak relationship. The disputes between India and Pakistan, over a myriad of issues ranging from trade to terrorism, have been going on since the two countries became independent identities. The CPEC acts as the catalyst for escalation of issues, including that of Kashmir and Gilgit-Baltistan, which have so far remained undecided and unresolved.
It explains why now, of all times, India and Pakistan moved into strategic positions of no retreat with no way left for reconciliation. It is probably because the CPEC is scheduled to be completed by December 2016 and it may upset all political balance in the region – permanently. So, it's never, if not now, as far as both countries are concerned.
Understand this, CPEC runs through Pakistan-occupied Kashmir, Balochistan, and Gilgit-Baltistan. Once completed, it would directly link China's Xinjiang Uyghur Autonomous Region to Gwadar Port in southwestern Pakistan. It may also enmesh Pakistan's economy inextricably into that of China's. This has the potential to end all hopes of India with regard to asserting its claims or maintaining its role in the precarious political balance over the disputed territories.
Besides the obvious economic benefits of moving goods, with the CPEC in place Chinese troops would be able to move unimpeded through land up to the Arabian Sea at short notice, affecting and upsetting the entire economic and political balance in the region – which may gradually expand also to include Africa.
Forget that the CPEC is currently being projected as a US$46 billion project that would apparently and magically turn Pakistan into a world economic hub while giving short shrift to India. The Army generals in Rawalpindi know well enough that as long as disputes over the sovereignty of the regions through which the CPEC runs remain undecided, it provides China the rationale and excuse to deploy troops all along the corridor ostensibly to "protect investments and economic interests".
China, however, would not be interested in manning the corridor's security round the year, because it would be expensive and pointless without immediate political exigency. Once enabled, the CPEC's military use would always remain open to China. So, it may also try to see that Pakistan's claim over the disputed territories gets recognized and asserted before the international forums and polity.
This may be one of the real reasons behind Pakistan trying to escalate its rhetoric and action on the Kashmir, Baloch, and Gilgit-Baltistan issues. Furthermore, there seem to be other factors involved that are conducive to the conflict and diplomatic locking of horns. The last time India and Pakistan made a major change to their international status and positioning, there was a BJP-led government in India, and Nawaz Sharif was the prime minister of Pakistan.
On May 11, 1998, India catapulted itself into the club of nuclear powers by successfully detonating three nuclear bombs and adding two more on the next day. Not to be outdone, on May 28, Pakistan, under Nawaz Sharif, detonated five nuclear bombs against India's five asserting itself as a nuclear power. For good measure, Pakistan detonated a sixth atomic bomb on May 30 in a bid to stay one up on India.
Ten days before Pakistan conducted its nuclear tests, the Pakistani foreign minister travelled to China for 'consultations'. Since the 1980s, China has supplied Pakistan with military tools and technology and is its major arms supplier. China continues in its occupation of areas (Aksai Chin), which it had usurped during the Indo-China war of 1962.  And now it sees Pakistan as its strongest ally in Asia.
Currently, Nawaz Sharif is the prime minister of Pakistan, and there is a BJP-led government in India. China started taking an interest in Gwadar port in 2002 when US forces entered Afghanistan and Central Asia. But they lost interest after Islamist violence against China in 2007 and in the face of Baloch opposition. China renewed its interest in gaining access to Gwadar port in 2015 through the CPEC, only when it found a familiar setting – Nawaz Sharif in Pakistan and BJP in India – back in the region.
The Communist country also pushed up its schedule and said the route needs to be completed by December 2016, though the entire project execution may take a few years. Lately, Sharif has now started rallying his cronies. In view of the above developments, the India government must remain extremely cautious and chalk out an appropriate strategy for the CPEC is no tool of peace, but a tool of China's imperialist ambitions.