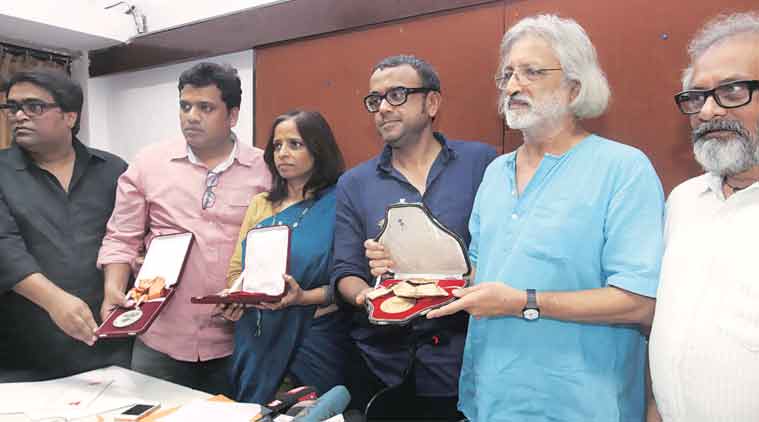 Dear eminent awardees, your capabilities and competence to comprehend issues are much more than the common man of the country. Your works are cherished by the society, your views followed and your verdicts noted. Then isn't any act of insulting the country and renowned institutions by returning souvenirs of applause a defamation of the jury and of the countrymen? The aim of this writing is to bring a slight variation in your perusal of present happenings. Also, being from the same community and having pursued writing for long, I should not blame you of being politically driven against an established and reformist union government, after all liberty of speech and expression is what that makes us free in true sense; however the debates in this context are more or less being diverted to politics, which is a strong reason to give your stand a second thought. I may breach my limits in the following paragraphs by making you remember that the awards aren't just the money associated with them or the plagues, citations and mementos, they are hopes that the society and the nation have from persons of your caliber and excellence. Isn't the return of awards an outright murder of this hope?
History of the Republic of India isn't unknown. The Vedic period, rise of the Maurya and Guptas, followed by the ferocious Delhi Sultanate, Mughal era and the colonial rule are the chapters of academic books, and notable writers and other awardees are more familiar with times past than a common Indian. Post-independence era, when the notions of democracy, secularism, equality and freedom gained utmost prominence, the exploitation of these, which we expected to bring Ram-Rajya, by political parties did not allow India to advance in the way envisaged by the makers of the Constitution. Cases of oppression of Dalit, communal appeasement, ignorance of women and child rights, and breach of internal security by extremist forces have been more than what a nation could sustain. Now the question which shoots up is that weren't these awardees aware of the globally known and many a time criticized Indian social state of affairs at the time of accepting awards from eminent Indian institutions?
Communal violence, or the so-called 'vitiated atmosphere', has prevailed in India for a long now. Mentioning the Muslim sovereignty that began with the founding of the Delhi Sultanate by the ruler of Slave Dynasty, Iltutmish and subsequent conquests by Timur, Nader Shah and others makes sense to let the protagonists of secularism in modern India know that today's India is way more stable and tolerant than pre-independence times. It is also true that the Republic of India hasn't been out-and-out prolific in delivering concepts of equality and freedom as treasured in the supreme law of the land, for which mischievous interpretation of 'freedom of religion' and 'secular nation' can be widely held liable. Here, it is also vital to note that if the call for banning of cow slaughter is viewed as an outright strategy or 'propaganda' of right groups to make India a pro-Hindu country then any pacific and meaningful solution would remain out of reach. Isn't it quite uncomplicated that considering the faith of Hindus, who unluckily form a majority in the so-called secular India, with respect to cows, outlawing acts of cow slaughter is not a sin and nothing that can promote intolerance?
It is expected out of learned writers and the honourable awardees of Sahitya Akademy that they interpret present happenings in a wider parlance and in a way that promotes communal harmony instead of igniting the feelings of discord and insecurity among the minorities. Film-makers, who have earned accolades from the government for their endeavors to promote art and creativity, are looked upon by the nation as promoters of social congruence; their returning the awards for alleged intolerance against minority is more like letting your presence felt by 'exploiting a timely opportunity'. At a time when India is excelling towards technological and scientific advancements, a veteran scientist's step to return his Padma Bhushan award is a clear deviation from setting upright examples for the future generation; holding the present central government responsible for any and every acts of intolerance, for which governments of respective states are liable, is an unfounded excuse that can hardly justify returning of awards.
It is afraid to note that instances like ethnic cleansing of Kashmiri Pandits, Mumbai and Delhi bombings, 1984 anti-Sikh riots, the Godhra train burning and never-ending suppression of Dalit, women and children could not create a feeling of anxiety among scholars who today see no other option than insulting the decision of the distinguished panels that honoured their works. Have we become so insensitive when it comes to overpowering of the rights of Hindus, women and children, or does secularism hold value in the Indian context only when minority group is devoid of some special rights, even when under the doctrine of equality? Lynching of a man in the state of UP over alleged consumption of cow meat is in no sense a justifiable act and condemning the same is the duty of every government, state or central. In the light of this, however, questioning the intentions of central government with respect to Indian secular setup is exceedingly imprudent, corrupt. It is the state government's duty to maintain a law and order situation that permits relishing of fundamental rights; declaring the so-called propaganda of the Modi-led government to spread Hindu supremacy as a cause is nothing else than politicizing the matter.
When a Chief Minister of an Indian state dares the centrally ruling government to act against him for eating beef, when a senior leader from an opposition party declares that RSS holds the remote control of country's administration and when a minister from the UP state government talks of his plan to write to the United Nations about lynching of a man over beef row, the political milieu of our country that revolves around appeasing separate communities and castes for votes stands blamable. However, intellectual personalities, awarded for their notable works, when 'use' such events as a motivation to protest, their objective and timing becomes questionable. Suicides by Indian farmers, rapes of minor girls, violence against women and thousands of street children on the roads of metropolis demand courtesy of writers, activists, film makers and others associated directly or indirectly with the social sphere. But this as well, does not seek return of awards as a means to protest inefficiency of the government. In their respective domains, these people hold enough authority and influence to express their worries, resorting to defaming the elected central government and its representatives is senseless and infertile.
In the states of UP, Bihar and Bengal, politics of communalism and appeasement has been the most reliable means to rise to the echelons of being an MP, MLA or a CM. Now when the same has led to troubles, which you must agree is a reciprocal occurrence, nervousness has found its place among pseudo-seculars. Though no one can be held accountable unless an unbiased investigation reveals findings, one side of the coin foretells that communal forces would not mind harming the members of the vote-bank they rely upon during polls so that the meritoriously functioning union government can be stopped from gaining support in legislative elections. The other side is shady; no one from the general public or the writers and scholars returning their accolades can give a clear verdict. Then why accuse the BJP government just on grounds that RSS is their ideological mentor and this voluntary organization does not find a reputable standing in the eyes of pseudo-seculars? Barbarism against any community holds no place in the Indian democratic and secular setup, in the wake of this expression, however, politics should not be permitted to thrive illicitly.
From where has the question of infringement of right to free speech and expression has arisen is hard to understand. In the past one year, more so since the BJP has been elected to power, freedom of speech has thrived extraordinarily; the awardees, opposition political parties, religious leaders and others have not only criticized the BJP of being biased against the minority, they have also halted the process of much-needed social and economic reforms. The massacre of free speech during national emergency of 1975, during anti-Sikh riots of 1984 and on many such occasions is to be compared with what the state of affairs India is experiencing today. News debates, press conferences and one-on-one discussions are filled with free expressions, some in support and many against the government of the day. The leader of the country talks about and advocates harmony among communities and inclusive development then isn't halting the process of growth and reforms the most forbidden use of freedom of expression?
What this entire episode has boiled down to is just an attack against the Modi-led government; manufactured or not, but this is the bitter truth and awardees returning their accolades ought to realize this. When Moody's, World Bank and IMF are bullish on India's prospects, a sudden turmoil is washing away all the hard work. Also, the incessant pain of Kashmiri Pandits, their exodus from own houses, now seems a trivial issue owing to awardees sudden anxiety just for a few atrocities, planned or unplanned, against people from minority groups. Indeed, this raises a question mark on the acumen of eminent people who opted for silence all through the time which was adverse for the Hindus and now doubt the intentions of the central government. Very bitter this may sound but the 'Grand Alliance' of Bihar against the lone BJP is supplemented by a cartel of national awardees. While they are alleging 'enhanced intolerance', politically stable government of the country is being burdened. One such attempt in Gujarat has recently been busted by the investigation agency, which validates scrupulous measures against the government. Needless to say, returning award can be anyone's personal choice, but unverified accusations, which can arouse communal tension, by deliberately making minority groups feel insecure, against a democratically elected government is a plain act of sedition, a novel addition to pseudo-secularism.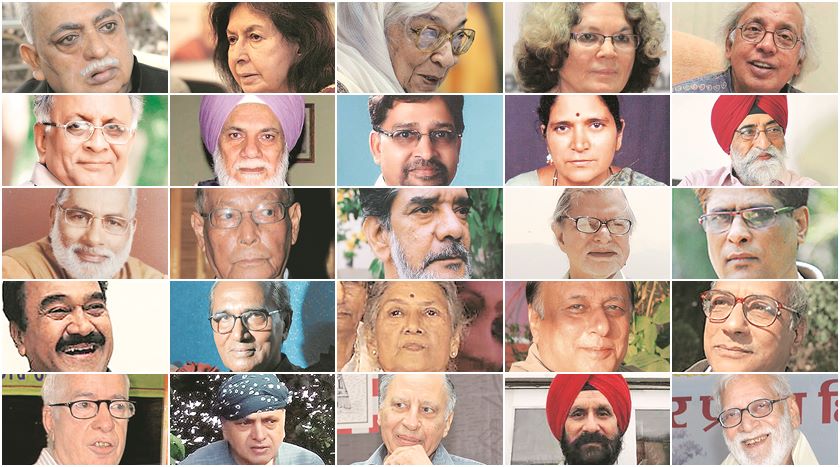 http://www.bharatniti.in/story/open-letter-to-award-returnees-is-returning-awards-a-new-addition-to-pseudo-secularism/90