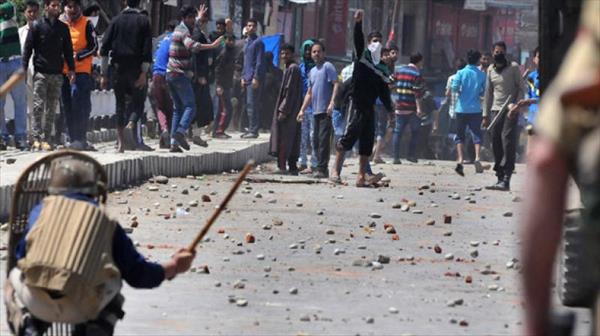 There is no simple answer to the above question about a lasting solution to the Kashmir problem, which has been a festering wound on our nation since 1947. First of all, there are four major stakeholders in this issue. They are India, to which the beautiful Himalayan state legitimately belongs to, Pakistan which falsely stakes its claim to the province and forcefully occupies part of it, and Kashmiris – both residents and displaced. Over the past few decades, they have pushed themselves into various positions from where it is not easy to wriggle out.
Secondly, the problem has many layers to it. There is terrorism that is funded and fomented by Pakistan, counter-terrorism measures initiated by India, one-upmanship by political leaders and fringe groups within and outside the state, and scepticism about India's intentions among some of the local residents. Furthermore, Pakistan, which, as a state policy, seeks to inflict a "thousand cuts to bleed India" into submission, has been fuelling civil unrest and terrorist activities in the state for several decades now. In fact, it started its nefarious anti-India games in Kashmir as soon as it gained independence.
Genesis of the Problem
Before discussing the possibility of a solution, it is necessary to revisit the genesis of the problem. We can probably blame the British for the bad handling of the Partition, but we are still left holding the baby. The dispute started as soon as the two countries – India and Pakistan – were born in 1947. Pakistan was formed as an Islamic state while India adopted "secularism" as its state policy. The more than 650 princely states had three options – to join either of the two countries or to stay independent.
The "freedom to choose by the princes" was largely in theory only. The agitated population of each province, already up in arms against Britain, tilted the decision to their chosen side. Kashmir, wedged between the two countries, had a Hindu ruler while the population was mostly Muslims. At that time Maharaja Hari Singh, the ruler of the state, decided to stay neutral, without joining either India or Pakistan.
It would have remained that way, and there would not have been any problem at all. But, Pakistan was not willing to accept that. It sent in Muslim tribesmen to conquer Kashmir. As they almost reached Srinagar, Hari Singh sought India's military help to thwart Pakistani invasion. And then he fled Kashmir and signed the Instrument of Accession with Delhi, making Kashmir an integral part of India. Meanwhile, the Pakistani tribesmen had managed to occupy a quarter of Kashmir while the remaining three-fourths of the state remained under Indian control.
Ever since 1947, the two countries have been waging small or big wars over Kashmir. But the problem changed its dimension in 1989 when pro-Pakistan militants started the insurgency in the state. They unleashed a reign of terror and selectively massacred Hindu Pundits in the valley and forced them to flee to other parts of India.
LoC – the Volatile de-facto Border
The Line of Control (LoC), which was formed after the 1947 skirmishes, has become a de-facto border, but both the countries do not accept it openly for fear of public outrage. War cannot solve the problem as has been proved a few times in the past. Now, any full-scale conflict can potentially have untold consequences since both the countries are equipped with the nuclear arsenal. It can be mutually destructive.
However, neither of the countries is willing to give up their claim on the entire state. For both the nations, it has become a prestige issue. The leaders on both sides have brainwashed their citizens so much that it is almost impossible to move away from their stated rigid positions. Any leader, whether in India or Pakistan, agreeing to a settlement by making any concession to the other, will be committing a political hara-kiri.
For instance, in Pakistan, if the political leadership in Islamabad agrees to a settlement, its military establishment in Rawalpindi is sure to scuttle it. Also, the non-state players, clandestinely bankrolled by some West Asian countries, will not sit idle. We have seen ample examples of this Pakistani ineptitude many times in the past.
In 1999, Indian Prime Minister Atal Bihari Vajpayee visited Lahore by bus, opening a regular bus service between Delhi and Lahore. Vajpayee and his Pakistani counterpart Nawaz Sharif then signed the famous Lahore Declaration. Everyone felt things were looking up and there could be good neighbourly relations between the two squabbling countries.
However, all hopes of a peaceful border were dashed when so-called Mujahedeen guerrillas occupied the Kargil heights, an Indian territory in the Ladakh region. It was later established that the occupiers were not independent insurgents but regular Pakistani troops and paramilitary forces. The plot to occupy the strategic heights was hatched on the directives of Parvez Musharraf, who was then Chief of Army Staff in Pakistan. He later assumed power by deposing Nawaz Sharif through a military coup.
A bloody war ensued and, according to reports, more than 30,000 people, both soldiers and civilians, lost their lives. One major issue between the two countries is a mutual distrust. That's why whenever India has extended an olive branch to Pakistan, its Army has responded with covert aggressions like the ones against the Indian Parliament in 2001, the Pathankot aggression in 2006, the Uri strikes and the most horrific 2008 Mumbai serial attacks.
Any rapprochement between the two countries is not easy given the extreme positions the two have taken. As the Brookings Institute quoted an Indian strategist as saying, "What standing does Pakistan have in this dispute? What is their legal standing? Pakistan is not a party to the dispute; let's get our facts right, then we can discuss it!"
This was countered by a Pakistani foreign policy official, as quoted by Brookings. He had said, "My view is that if India continues on its present course, then consequences cannot be foreseen. I cannot say where boundaries will be drawn, but certainly, the present boundaries will be changed. India must be prepared to make a reasonable agreement; then the process of partition begun in 1947 will be completed."
Despite the improbabilities, if a solution to the lingering Kashmir question is at all possible, this is the time for it. India is on a strong wicket right now. Under Prime Minister Narendra Modi the country is making rapid strides. It's growing strongly as an economic power. Internationally, its stature is at an all-time peak. Currently, India is considered the best destination for foreign direct investment (FDI). A permanent seat in the United Nations Security Council is just a matter of time.
With such growth, India will soon be prosperous. At the same time, Pakistan is on a downward spiral on all fronts. Consequentially, ordinary Pakistanis who see the widening differences in the living standards of the people of the two countries are bound to ask some tough questions to their leadership. Fed up with the economic backwardness and pariah status of their country, Pakistanis could revolt against their political and military establishments.
If that happens, it will obviously force the country's leadership to reach a settlement with India on Kashmir so that they too can enjoy the spill-over fruits of India's prosperity and development. Another development that could lead to a resolution of the border problem is the disintegration or balkanization of Pakistan, which cannot be ruled out because the Islamic country is now marred by some ongoing ethnic disharmony within itself.
As such, Baluchistan may go its separate way, with or without outside support. The Punjabis currently dominate the political establishment and the Army. They keep the union together. Once they realise that they are paying too high a price for keeping the country together, they might look for other options. The price they are paying for the sake of the country's integrity includes the slow murder of the Punjabi language and Punjabi culture.
However, even an organic Balkanisation will be stoutly resisted not by Pakistanis but by an outsider: China. Currently, Beijing has a huge stake in Pakistan, including Baluchistan. A compliant Pakistan is integral to its hugely ambitious and highly strategic 'One Belt, One Road' (OBOR) project as it will give China free access to Gwadar, a warm water port on the Arabian Sea. Balkanisation of Pakistan could shatter Chinese designs and strategic plans vis-à-vis India and other countries. Considering its immense importance, China will do all it can to prevent its strongest ally from disintegrating.
Time Ripe to Seek Permanent Solution
It needs to be reiterated here that if a solution to Kashmir is possible at all, it is now. And the man who can find that solution is Prime Minister Narendra Modi. The advantage with Modi is that he can sell almost any idea to the Indians. If India has to prosper rapidly, it cannot afford to have a troublesome neighbour. And our Prime Minister has the capacity and willingness to take strong decisions and implement them. If Pakistan too can have a similar leader who can carry its people along, a negotiated settlement is a definite possibility.
Furthermore, there is a growing disenchantment among the Kashmiri youth who are forced by the militants to be at the forefront of their agitation. They have started realising that their so-called leaders are using them for their personal gains. These youngsters have been putting their lives and future at stake in the name of "Azadi". They get killed or are maimed, or the least, they spend terms in jails while the leaders live in the midst of luxury and their children are sent abroad for further studies to ensure for themselves a secure future.
Meanwhile, a major crackdown on terror funding in July 2017 conducted by the National Investigation Agency (NIA) has found that besides getting funds from Pakistan, leaders of All Parties Hurriyat Conference (APHC) also received funds from outfits in London and Dubai. Following this development, the NIA on July 24 arrested seven Kashmiri separatists from Srinagar and Delhi on charges of receiving funds from across the border to sponsor terror activities and stone attacks as well as to fuel unrest in Kashmir. The NIA has also prepared a dossier that establishes a direct link between Lashkar-e Taiba and Hurriyat leaders and has booked those arrested on charges of criminal conspiracy and waging war against India. One of the accused Altaf Ahmad Shah is the son-in-law of hardline Hurriyat leader Syed Ali Shah Geelani, who has been supporting Jammu and Kashmir's merger with Pakistan, while another one named Shahid-ul-Islam is a close aide of Hurriyat leader Mirwaiz Umar Farooq. Another accused, Ayaz Akbar Khandey, happens to be the spokesperson for the Geelani-led Tehreek-e-Hurriyat.
The Kashmiri youth have now begun to understand the fact that the self-proclaimed leaders or their families never lose anything. Be it Hurriyat, Lashkar-e-Taiba, Jaish-e-Mohammed, Harkat-ul-Mujahideen group or their variants; they are all the same. Lately, more and more Kashmiris have started to speak up against these insurgent groups. As we know, one reason for the failure of the Khalistani movement was the corruption and selfishness of its leaders. The police too had acted tough. In Kashmir too, there are indications that the movement is going the same way.
History has shown us that any intractable dispute can get solved with the passage of time. The Irish problem, the LTTE issue and even the Khalistani movement are some such instances. So, we have solid reasons to be hopeful that better sense will prevail and peace will return to what was once known as the 'Paradise on Earth'. Now, the million dollar question is: How soon it can happen?