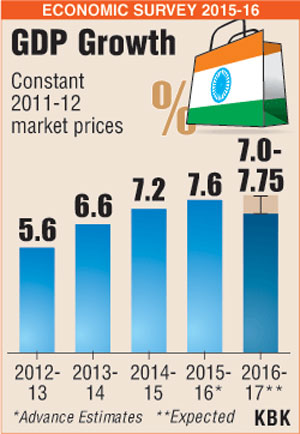 India decisively put itself on the world map as the fastest growing major economy in the last quarter of 2014 when it grew at 7.3% outpacing the People's Republic of China's GDP growth of 7% in that quarter. Though our country further improved its GDP growth to 7.5% in the following January to March quarter, the overall GDP growth for fiscal 2014-15 stood at 7.3%. Then, in fiscal 2015-16, India's economy grew at 7.6% establishing itself as the fastest growing among the world's major economies. Meanwhile, China's GDP growth in 2015 stood at 6.8% and that of the US at 2.6%. In the closing days of the year 2015, it was increasingly becoming clear that outpacing China was not a fluke and that India's domestic growth story was here to stay. Furthermore, at the beginning of 2016, the World Bank predicted that India would be the fastest growing economy during the next three years owing to a steep fall in global oil prices, growth in agricultural and corporate sectors, and fabulous contribution from urban households, which took the driver's seat during the year.
In its 'India Development Update' released in April 2015, the World Bank had pegged India's economic growth rate at 7.9% in FY17 and 8% in FY18. However, these projections were not up to the expectations of the Government of India. On the other hand, a dramatic slowdown in China's domestic growth rate has been on expected lines. It is impossible for any country to keep up the crazy pace of growth for more than a decade. This year, China has said it will grow between 6.6% and 7%, with 6.5% scenario more likely. In the meantime, India continues to hold the title of the fastest-growing economy in the world as it clocked a GDP growth of 7.9% in the quarter ended March 2016. The acceleration in growth is unlikely to see any dent and the government now estimates full year growth at 7.6%. The World Bank too has retained India's growth rate at 7.6% in this financial year, which ends on March 31, 2017.
"FY2017 has a robust outlook. Indian economy can keep its 7.6% GDP growth even if there are some slowdowns," asserted Frederico Gil Sander, Senior Country Economist, World Bank in the 'India Development Update – Financing Double Digit Growth' report. The Update, a twice-yearly report on the Indian economy and its prospects, has recently revised the figures and said: "India's economic growth is expected to be at 7.6% in 2016-17, followed by a modest acceleration to 7.7% in 2017-18. The 7.4% expansion in manufacturing and 8.9% growth in services sectors helped create urban jobs. Besides, lower inflation raised real incomes and allowed RBI to cut interest rates".
Meanwhile, Sander, who is the main author of the India Development Update, observed that India's financial sector has been performing well on many dimensions and can be a reliable pillar of future economic growth. However, speeding up structural reforms as well as addressing the non-performing assets (NPA) challenge remain the most urgent tasks. World Bank's Chief Economist Kaushik Basu is quite confident that India can continue to top the charts by clocking the fastest growth among all major economies.
The step taken by the Union government to devolve Centre and state spending has had a remarkable effect on the economy with states contributing 57% of all spending, translating into 16% of GDP. Meanwhile, a state-wide breakup shows Maharashtra as the wealthiest state with an annual GDP of US$220 billion, which is equivalent to the annual GDPs of many small European economies. Maharashtra accounts for 12% of our country's GDP followed by Tamil Nadu (US$140 billion) and Uttar Pradesh (US$130 billion).
Evolution of GDP as a Tool to Measure Economic Activity
Wars have been great for innovations. GDP, as we know today, was developed as an indicator during the Great Depression after World War I and further used as war planning tool in World War II. Governments of those days used the method to gauge the feasibility to stimulate industrial production. Despite its obvious shortcomings, the indicator found favour and the US adopted it in 1946 as the official instrument to frame economic policies. With time, this simple tool to measure market activity transformed into a device to measure both financial wealth as well as human welfare. However, GDP has its fair share of criticism since it fails to differentiate between productive and destructive activities. In fact, American economist Simon Kuznets, who is known to have developed the concept of GDP, was himself known to have been wary of its limitations as early as 1934.
Calculating India's GDP
Conforming to international standards, India introduced some changes in the calculation of GDP in January 2015. It now calculates GDP at market price for which the Central Statistics Office (CSO) updated the base year to 2011-12 from 2004-05. This was done because products previously used might not be used by consumers today. The measurement is done at gross value added (GVA) at market prices and not at factor costs. It means now subsidies are no longer added, and taxes are not deducted from the gross value. In calculating GDP, the CSO has increased its coverage area by including more services and informal sectors.
Earlier, we used to derive GDP at factor cost. Simply put, it is the sum of factor or input costs incurred during the process of turning out economy's output in a particular year. It includes wages, interests, salaries, profits, etc. Here, it is important to know that agriculture, textile, manufacturing, information technology, telecommunication, and petroleum are key sectors contributing to the growth in GDP. With the focus on digitalization, India is on the threshold of being counted amongst the world's leading economies.
Positives from New Method of GDP Calculation
Adoption of the new method will enable economists to make an international comparison of data. It will give the true picture of India's standing in the world. Also, the collection of market price data is much easier. The wider coverage has resulted in an increase in GDP allowing the government to draw long-term policies instead of focusing on short-term measures. Lastly, a growing economy brings in dollar investments, which is what we see currently happening around us.
The reasons for the rise in growth for manufacturing sector at the new base are structural as well as a change in compilation methodology. The methodological changes include the shift in approach, better coverage, use of new valuation methods and introduction of new concepts. Last year was tough for India as its economy was hit by drought, stressed rural households, weak private investments, and falling exports. Therefore, it is commendable that India has managed to convincingly stay ahead of the curve despite weakness in some of the key growth engines. The India Development Update from the World Bank says in order to remain on this growth path and sustain a 7.6% growth the government must activate the abovementioned stalled engines. It must also ensure that demand from urban households and public investments do not get exhausted. As we move ahead, demand from urban households and higher public investments will continue to propel the economy to a higher growth path.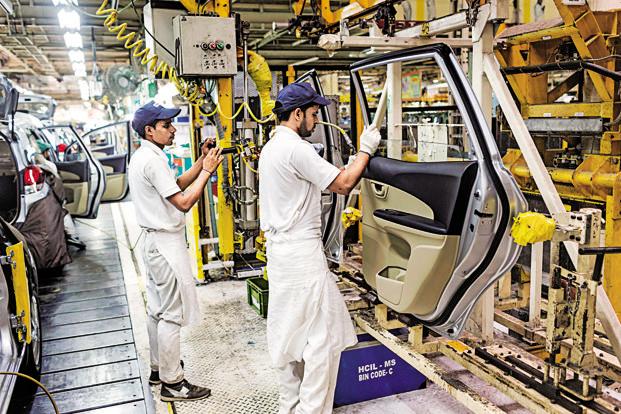 We Remain Northbound
Government spending is a great propeller for private spending. Pause a while to ponder the massive outgo of government expenditure on public services in the current fiscal year: Jan Dhan, Aadhar, Swachh Bharat, Stand Up India Scheme, Skill India Mission, and many other such schemes. The investments and expenditures towards these schemes will contribute towards stimulating production in the manufacturing sector. For instance, the huge spurt in the construction of toilets in all the states had spurred the local economy because of higher demands for relevant materials and inputs. Jobs at this level will be created, and weaker sections of the society will benefit. One policy stroke achieves two results – jobs and social impact. Social investment impact is what the government aims to achieve and is in a hurry to do so. These accelerate social betterment. With the mandatory provision in the new Companies Act for spending as corporate social responsibility (CSR), a notable increase is observed in the adoption of such government social welfare schemes by corporates.
Corporates are latching on to these schemes to complete this statutory obligation. More investment is infused in the social sector, which contributes to the GDP and also creates a direct effect on the quality of living of the weaker sections of society. New developments and research have been stimulated in the field of filtering of water for drinking purposes and as a related development, recycling of water and conservation of water. A significant contribution has been made towards increasing of such services, which are a direct development of public policy. Furthermore, the special schemes for the education of the girl child have generated a fair amount of interest. Expenditure on this scheme has also increased. This has led to growing demand for bicycles, laptops, tablet PCs and other similar products thereby stimulating demand for such products.
When compared to Western countries, India's propensity to save is higher than consumption. This is a result of the absence of social security. The recent implementation of the Seventh Pay Commission Report for enhanced pay of Central Government employees will provide a substantial amount of disposable income in their hands. State governments will also follow suit in the near future, and their employees are also likely to get a raise very soon. This will translate into increased demand and consequent expenditure on consumer goods as well as more savings. The industry is keenly awaiting this development. Demand, as well as the production of consumer goods, will go up proportionately, thereby contributing to the increase in GDP. Finance companies are also gearing up with new financial products to woo the Central Government employees to park their funds in various savings schemes. This fact cannot be ignored.
The Union government, if the indicators of the last budget are examined, is focused on job creation. This has been the constant bickering point of the Opposition with various claims and counter claims being exchanged. The impact and viability of the Mahatma Gandhi National Employment Guarantee Scheme are constantly being assessed. After more than ten years of existence, the impact cannot be discounted on the weaker sections. This scheme has contributed significantly to poverty alleviation.
The systems aimed to be out in place by the government for achieving the direct benefit subsidy transfer have also added to the GDP. The opening of bank accounts and the linking of Aadhar cards need a good amount of investment in technology which has stepped up the demand for production of the state-of-the-art payment transfer systems with very high security. This has involved the corporate sector in a big way. Research and development are constantly being encouraged for improving the methods. The ambitious project of the Reserve Bank of India for the Unified Payment System is another development in this direction.
The Government policy of opening up of the economy to Foreign Direct Investment in sectors like retail, aviation, and media will go a long way in achieving the goal of increase in GDP. It would not be premature to analyze the impact of this policy on job creation. Lower and middle-level jobs will get generated as industrial production increases. This can be gauged by the expressions of interest signed by a number of foreign entities with Indian corporates for new ventures. However, the country will have to better its score on the ease of doing business scale to make this policy a reality. Only then the Indian economy will get to see the crest of the business cycle curve.
In spite of the positive impact foreseen on the macroeconomic front, Indian policy makers will have to tame the niggling factor of inflation. Monetary policy alone cannot bring this rate down. Production of more goods and services and more exports of goods and services will be a game changing factor. The 'Make in India' campaign aims at boosting the manufacturing of products within India. In spite of so much being touted in the campaign, actual investments have not reportedly happened as expected. The thrust of this campaign should also focus on total quality management wherein the goods produced should also meet the international quality standards prescribed for exports, especially for the European and American markets. As on date, the exports of Indian manufactured goods and even textiles to these countries are falling short of expectations. Indian manufacturing should be battle-ready for the international market and compete on price as well as on the quality of the products from the South Asian countries.
Improving the standard of living of the poor and the underprivileged is the catch-line of the government. With its massive majority in Parliament, it is definitely aiming high, but the journey is still halfway. Analysis of the performance will seem like the proverbial glass – half full or half empty, depending on whether we view it as a skeptic or an optimist. In truth, as significant steps have been taken, it is hoped that with two and a half years to go, India will reach that level for the ordinary people to experience and enjoy a much better quality of life in the coming years.