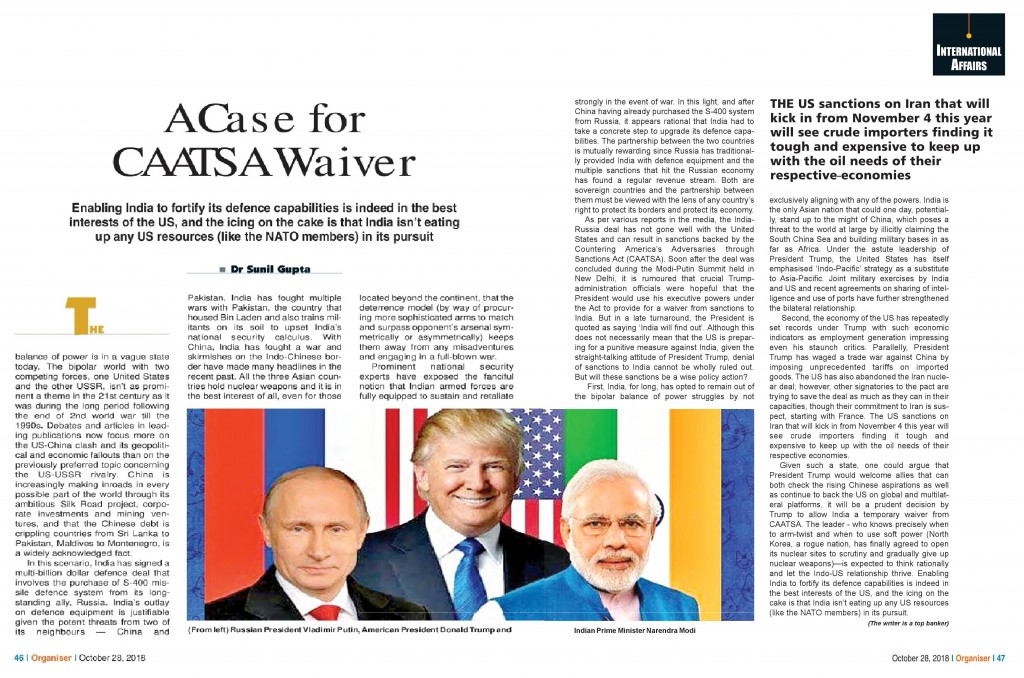 The balance of power is in a vague state today. The bipolar world with two competing forces, one United States and the other USSR, isn't as prominent a theme in the 21st century as it was during the long period following the end of 2nd world war till the 1990s. Debates and articles in leading publications now focus more on the US-China clash and its geopolitical and economic fallouts than on the previously preferred topic concerning the US-USSR rivalry. China is increasingly making inroads in every possible part of the world through its ambitious Silk Road project, corporate investments and mining ventures, and that the Chinese debt is crippling countries from Sri Lanka to Pakistan, Maldives to Montenegro, is a widely acknowledged fact.
In this scenario, India has signed a multi-billion dollar defence deal that involves purchase of S-400 missile defence system from its long-standing ally, Russia. India's outlay on defence equipment is justifiable given the potent threats from two of its neighbors- China and Pakistan. India has fought multiple wars with Pakistan, the country that housed Bin Laden and also trains militants on its soil to upset India's national security calculus. With China, India has fought a war and skirmishes on Indo-Chinese border have made many headlines in the recent past. All the three Asian countries hold nuclear weapons and it is in the best interest of all, even for those located beyond the continent, that the deterrence model (by way of procuring more sophisticated arms to match and surpass opponent's arsenal symmetrically or asymmetrically) keeps them from any sort of misadventures and engaging in a full-blown war.
Prominent national security experts have exposed the fanciful notion that Indian armed forces are fully equipped to sustain and retaliate strongly in an event of war. In this light, and after China having already purchased the S-400 system from Russia, it appears rational that India had to take a concrete step to upgrade its defence capabilities. The partnership between the two countries is mutually rewarding since Russia has traditionally provided India with defence equipment and the multiple-sanction that hit Russian economy has found a regular revenue stream. Both are sovereign countries and the partnership between them must be viewed with the lens of any country's right to protect its borders and protect its economy.
As per various reports in the media, the India-Russia deal has not gone well with the United States and can result in sanctions backed by the Countering America's Adversaries through Sanctions Act (CAATSA). Soon after the deal was concluded during the Modi-Putin Summit held in New Delhi, it is rumoured that crucial Trump-administration officials were hopeful that the President would use his executive powers under the Act to provide for a waiver from sanctions to India. But in a late turnaround, the President is quoted as saying 'India will find out'. Although this does not necessarily mean that the US is preparing for a punitive measure against India, but given the straight-talking attitude of President Trump, denial of sanctions to India cannot be wholly ruled out. But will these sanctions be a wise policy action?
First, India, for long, has opted to remain out of the bipolar balance of power struggles by not exclusively aligning with any of the powers. India is the only Asian nation that could one day, potentially, stand upto the might of China, which poses threat to the world at large by illicitly claiming the South China Sea and building military bases in as far as Africa. Under the astute leadership of President Trump, the United States has itself emphasised 'Indo-Pacific' strategy as a substitute to Asia-Pacific. Joint military exercises by India and US and recent agreements on sharing of intelligence and use of ports have further strengthened the bilateral relationship.
Second, the economy of the United States has repeatedly set records under Trump with such economic indicators as employment generation impressing even his staunch critics. Parallelly, President Trump has waged a trade war against China by imposing unprecedented tariffs on imported goods. The US has also abandoned the Iran nuclear deal; however, other signatories to the pact are trying to save the deal as much as they can in their capacities, though their commitment to Iran is suspect, starting with France. The US sanctions on Iran that will kick in from November 4 this year will see crude importers finding it tough and expensive to keep up with the oil needs of their respective economies.
Given of such a state, one could argue that President Trump would welcome allies that can both check the rising Chinese aspirations as well as continue to back the US on global and multilateral platforms, it will be a prudent decision by Trump to allow India a temporary waiver from CAATSA. The leader – who knows precisely when to arm-twist and when to use soft power (North Korea, a rogue nation, has finally agreed to open its nuclear sites to scrutiny and gradually give up nuclear weapons) – is expected to think rationally and let the Indo-US relationship thrive. Enabling India to fortify its defence capabilities is indeed in the best interests of the US, and the icing on the cake is that India isn't eating up any US resources (like the NATO members) in its pursuit.
(The article "A Case for CAATSA Waiver" is published on page no. 46 & 47 in 'Organiser' dated 28th October 2018)