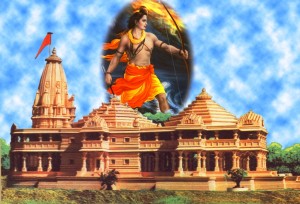 History has lessons for us, to realize that furthering religious persuasion can be for two reasons, either to oppress and win over other faiths, or to ensure well-being of ours in view of assaults on members of our community. Many can say that exodus of Kashmiri Pandits and construction of Ram Mandir in Ayodhya or for that matter, drop in number of Hindus in Bengal, withdrawal of criminal cases that were filed against members of a particular community by the UP government are unrelated occurrences, but isn't there something in common, and that something has a bearing on the lives of the followers of a faith that has remained long-neglected in the era of so-called secular politics, for appeasement of minority religions of India. Law of the land is inescapable; hence hasty decision in the sensitive and centuries-old Babri Masjid-Ram Janmabhoomi dispute will only lead to more disorder, law for the construction of Ram Mandir at the disputed site cannot be passed unless Rajya Sabha approves, but can or should this be postponed for long?
It will be sensible if this is perused basis rational, historical and archaeological facts and indeed the sentiments of any of the communities seeking custody of the disputed land will find the last place. Excavations by the Archaeological Survey of India, conducted in three distinct years, 1970, 1992 and 2003, found flawless evidences specifying that the site under question had a large Hindu complex, and be it the Rama temple or a Shiva temple, the pilgrimage was that of the Hindus. In 1788, the year when it was reportedly the first time that someone defied the rightfulness of Babri Masjid, Joseph Tiefenthaler, a missionary and notable European geographer, advocated that the Masjid was on the birthplace of Lord Rama. Since then, many honorable courts, learned researchers and a wide array of historians have backed the presence of a Hindu temple at the site, which was demolished by one of the Mughal emperors, conspicuously, Babar or Aurangzeb. In one of the most timeworn judgments, the Faizabad District Judge, in 1866, said that the Masjid built on land which is sacred to Hindus is an unfortunate event, but cannot be reversed since more than 3 centuries had passed and it was too late to accord justice to Hindus.
Uprightness forbidden because of a long interval! And since then, in the name of India's rich secularism, communal harmony, fairness to all religions and such other captivating phrases justice to the followers of Lord Rama has been kept miles away. Now, this does not validate what occurred in December 1992, on the 6th the Masjid was brought to the ground by Hindu devotees, I will not use the word 'hardliners' since the same is more apt for extremists, but the postponement of justice was the real cause of the agitation and accusing some leaders or Hindu groups is like finding an easy course to delay this movement further and gain political mileage in the so-called religiously-affluent India. In 2005, terrorists attacked the site and targeted the provisional Mandir, and who can forget the 2002 Godhra case, which left Hindu pilgrims in fumes and resultant deaths in the rage that they were returning from Ayodhya.
Tens of thousands of casualties have ensued until today, and the unfounded debate by our legislators alleging that religious accord is above any structure, be it a Mandir or a Masjid, has only kindled the subject, has ridiculed the death of those killed in many riots over this issue and has left us in a state where vulnerable-appearing Hindus and Hindu groups alleged to be hardliners by self-styled secular governments are an easy target to oppression and blame. Now that we have seen a paradigm shift in the way our country is run by administrators post the 2014 Lok Sabha elections, is it wrong or unwarrantable to expect a judicious solution of the Ayodhya dispute, also because the attached word 'dispute' with Hinduism's most sacred site 'Ayodhya' is completely unmerited. For if the Mecca is an undisputed place of worship for the Muslims and Jerusalem the holiest site for Christians, are the Hindus extreme in seeking an undoubted accordance of Hinduism to Ayodhya?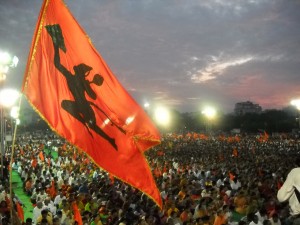 Don't we know why even realistic demands by Hindus are turned down, why extremism is the name accorded to any movement seeking justice, why even in the wake of exact facts and evidences minorities are acquitted and why there exists a wide gap in facilities for minority factions and Hindus? Perhaps it is the rule of politics and diplomacy that is to stay forever, for every king needs public backing, and this comes best from the ones who are lesser in number but adamant to mark their presence. To be precise, in India, one community relishes superfluous bonuses, which would not have been probed had it not been at the stake of another community. Such equations kill the very essence of our democracy and constitutional framework that further equality and justice.
After the judgment of the High Court, which is stayed by the Apex Court, it is apparent that the very existence of a Hindu temple at the site is totally undisputable, had it been so, the demolition of Masjid would be the only substance taken into notice and the 2/3rd part would never be given to Hindu plaintiffs. Also, the present government grasps the delicacy of this subject, Ram Mandir being a nerve center of Hinduism and its followers, but the need is to deliberate this topic scrupulously minus deferral and diplomacy. For the time being, until the BJP attains majority in the Upper House, at least debating the legislation for erection of Ram Mandir at the site and conveying the same in the Lower House is expected. BJPians are not to disremember that Ram Mandir in Ayodhya was a promise they made in the very initial days of forming the party, and Hindu votes backed them substantially in making it to the topmost echelons of Indian politics.
The Supreme Court stayed the verdict of the High Court saying that split of land was never demanded by any of the disputing parties; status quo has been ordered, and this is a chance to stand up again in the court with substantial evidences and findings to ask for a decision in the favor of Ram Mandir. Believe me, unless this matter is put to end, a decisive one, politics and appeasement will just result in suppression of both Hindus as well as Muslims, Hindus exposed to greater risk since many political parties rest on Muslim votes during polls. Then why allow interminable defeat of justice and Hindus? In judicious sense, and also to corroborate your claim for Hindus' well-being after series of downfalls, Ram Mandir is crucial, inevitable.
Having said that bringing of uniform civil code, erection of Ram Mandir and annulling of Article 370 of the constitution demands at least 370 seats for the NDA in lower house, BJP president Amit Shah has flashed a new debate. Uniform civil code finds place in the directive principles of state, an addition made to steer clear of its actual implementation by the then Nehru government and all know of the gift, Article 370 by PM Nehru to J&K. These may need constitutional amendments; hence 2/3rd majority in the lower house; however Ram Mandir cannot be delayed owing to this deficiency. Indeed, apt valuation of present conditions to assure that harmony and national security is not compromised by the erection of Mandir is undeniable. All in all, we cannot allow our descendants to be engaged in this turf war like we have been since centuries, let peace prevail with the construction of Ram Mandir in Ayodhya.