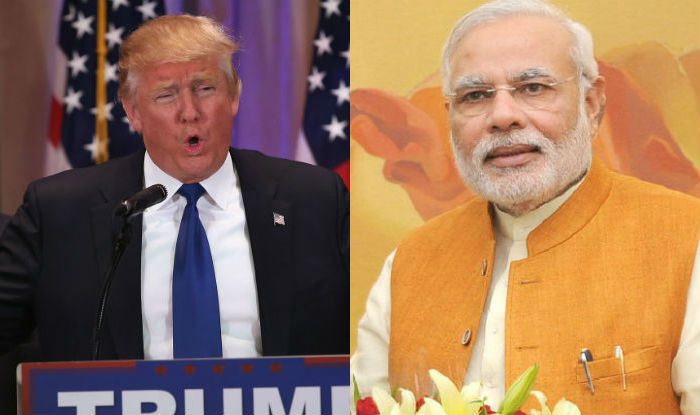 Now that Donald Trump has defeated Hillary Clinton and is set to become the 45th President of the United States (POTUS), the question that most Indians are asking is: How will it impact India? It isn't hard to find people expressing angst over the outcome of elections on social media. What should we call this, illusory fear or real threat? Does the world has really come to an end with the coming of Trump Presidency, or is this only a media created hype puffed up by debates of so-called political pundits? Let's find out.
Pollsters and Panellists Proven Wrong, Yet Again
Here it is worth recalling that in the very early stage of the Republican primaries, doomsayers, pollsters and journalists across the world were emphatic that Trump would never win the GOP nomination. As soon as they learned how wrong they were, these biased Hillary Clinton supporters started asserting that Trump has no chance of winning the presidential election. Now that the billionaire businessman has emerged victorious, many of them are crying themselves hoarse that the Trump presidency could be disastrous for the world, including India.
To support their argument, they claim that the stricter immigration rules that Trump plans to put in place would go against the interests of India. According to them, successful Indian IT companies such as TCS, Infosys, Wipro and others would be adversely affected by such policies. The media's diatribe against the Republican real estate mogul has been so prejudiced that the Economist went to the extent of listing the Trump presidency as "one of the top 10 risks".
Trump spoke against H-1B visas given to skilled immigrants, used extensively by Indian software professionals. He has also spoken against loss of jobs caused by companies setting up their manufacturing hubs outside the US – mainly China and India. Of course, these are matters of some worry for India. But should these arguments be accepted as they are served to our ears by the so-called analysts who have already been proved wrong by American voters, or should these be viewed pragmatically and in the backdrop of historical India-US bilateral relations?
Will the President-elect Turn All Promises True?
It is sure that Trump's utterances have to be seen as mere pre-election rhetoric by a Republican front-runner desperate to win the upcoming election, after all polls do demand some statements that voters wish to listen, with which they can relate to, and finally make their minds to vote in favour of a particular candidate. An aspiring candidate and an elected president are entirely two different entities; Trump's post-victory address has proved this, accepting Hillary's contribution to the country with grace was a mature step.
In 2008, during his electioneering, Barack Obama said he would take steps to curtail outsourcing of jobs to other countries by changing the federal rules. Though President Obama tried to restructure the tax system a year later, he could not change much because of an indifferent response from the US Congress. Why then prejudge the outcomes of Trump presidency and create an atmosphere where stock markets would crash out of imaginary fear? Indian stock markets, which experts said wouldn't be able to recuperate in case of Trump presidency, showed momentum after initial plunge the same day, an evidence of how markets absorb shocks.
As such, even if there is some cause of worry for India under Trump's presidency, there are many areas where India could reap immense benefits after the new POTUS takes charge. Under Trump, the US foreign policy may see some serious changes and upset the power equations in Asia to favour India. For instance, Pakistan is unlikely to be seen as a friend of the Americans anymore. In fact, Trump has described Pakistan as "probably the most dangerous (country)". He had even insisted that the South Asian nation should apologize for offering "safe sanctuary" to Osama bin Laden.
The US has been helping Pakistan with massive amounts of aid every year for fighting radical Islam, and the experts who wanted Hillary's election for a stable world (which Democrats haven't been able to deliver in the past 8 crucial years, rather have created a ruckus and atmosphere of volatility) never considered this fact. Pakistan has been diverting part of these funds to create terrorists aimed at disrupting peace in India. So, if the funds from the US dry up, as promised by Trump, Pakistan could be more amenable to peace overtures from India. And there is no better news for India than the possibility of an end to cross-border terrorism.
When Trump described Pakistan as a problem, he also mentioned that "India is part of the solution". It necessarily means that Trump is more likely, than any previous US presidents, to influence Pak's foreign policy. He hinted as much when he was talking to Fox News about Dr Shakil Afridi, who is jailed in Pakistan for allegedly helping the CIA locate Osama bin Laden in 2011. Stating that he would get Dr Afridi out in two minutes, Trump said, "I would tell them, 'let him out' and I am sure they'd let him out because we give a lot of aid to Pakistan." Is there any harm if the world's most powerful country will now be led by such decisive leader who has a hard-hitting stance on global terrorism?
Tumbled Chinese Influence in The Making?
Moreover, the Trump victory cannot be music to the ears of China, which has been flexing its muscles in its efforts to be seen as a superpower. The US currently has a huge negative trade deficit with China (US$366 billion in 2015), and so is the case with India. Trump can bring down China's trade surplus only by bringing manufacturing jobs back to the US from China. How does he do that? By introducing tax systems, that would adversely impact imports.
It would be easier to tax physical products coming from Shanghai than software transferred from Bengaluru. Any American restriction on China's imports could be catastrophic to that country's credit-fuelled economic boom. It could lead to recession and political unrest within the country and, possibly, you never know, even a violent revolution. Even a deep recession could potentially wipe away years of its booming growth. Not to forget, once China's manufacturing hub status gets disrupted, India will gain not just by way of lessening imports from this country, but also by rising as the new production centre for the global economy.
The other side of the coin is that a troubled China would be reluctant to help Pakistan, which in turn would stop meddling in Indian affairs. Besides, China would also be forced to turn its attention to more serious internal issues than casting its eye on Arunachal Pradesh, which it had been claiming as its own. The Communist country has been a threat to India on South China Sea where ONGC has been trying to drill for oil in cooperation with Vietnam. As such, Trump presidency may bode well for India.
Let's Get Real, and Not Media-Influenced
All in all, the falsely created atmosphere against President-elect of the United States will fade away sooner than later; let's not forget the Brexit hype by world press. What will remain is the new global setting where new players will take a shift toward pragmatic action than repeat same timeworn ways of administration. India is a rising star and the world has acknowledged this, Donald Trump and his cabinet will be no unacquainted of this fact. The Indian Prime Minister, who has demonstrated his capability to take tough decisions will strike a chord with the new President-elect of the US, let's wait and watch how the world order changes.