With its official notification of April this year which mandates that all countries, sharing a land border with India, would now face scrutiny before foreign direct investments (FDIs) are allowed, the Government of India has sent a strong political message to China.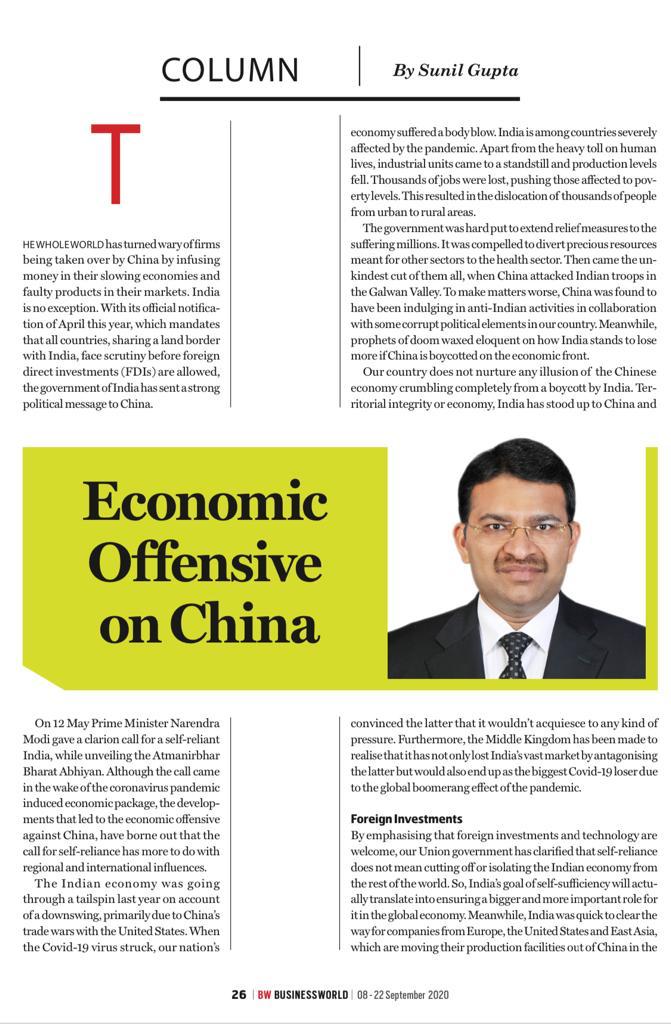 The whole world has become wary of the prospects of their firms being taken over by China with its infusion of money in their slowing down economy and faulty products in their market. India is no exception. With its official notification of April this year which mandates that all countries, sharing a land border with India, would now face scrutiny before foreign direct investments (FDIs) are allowed, the Government of India has sent a strong political message to China.
Why the Economic Offensive
A clarion call for making the nation self-reliant was given by Prime Minister Narendra Modi on May 12 while unveiling the Atmanirbhar Bharat Abhiyan. Although the call came in the wake of the Coronavirus pandemic-related economic package, the subsequent developments, which led to the economic offensive against China, have borne out the truth that the call for self-reliance has much to do with many other regional and international influences as well.
The Indian economy was going through a tailspin last year on account of a downswing, which was primarily due to China's trade wars with the US. After that, when the Covid-19 virus struck, our nation's economy suffered a body blow. India is one of the countries that has been severely affected by the pandemic. Apart from the heavy toll on human lives, industrial units came to a standstill, and production levels fell. Thousands of jobs were lost, pushing the affected people to poverty levels. This resulted in the dislocation of thousands of people from urban to rural areas.
The government was hard put to extend a helping hand to the suffering millions with relief measures. It was compelled to divert precious resources meant for the other sectors to the health sector. Then came the unkindest cut of them all when China attacked the Indian troops in the Galwan Valley. To make matters worse, China was found to have been indulging in anti-Indian activities in collaboration with some corrupt political elements in our country. Meanwhile, there is no dearth of the prophets of doom who wax eloquent about how by boycotting China on the economic front, India stands to lose more than China.
Our country does not nurture any illusion of the Chinese economy totally crumbling under the Indian boycott. Territorial integrity or economy, India has stood up to China and convinced the latter that it wouldn't acquiesce to any kind of pressure. Furthermore, the Middle Kingdom has been made to realise that it has not only lost India's vast market by antagonising the latter but would also end up as the biggest Covid-19 loser due to the global boomerang effect to the pandemic.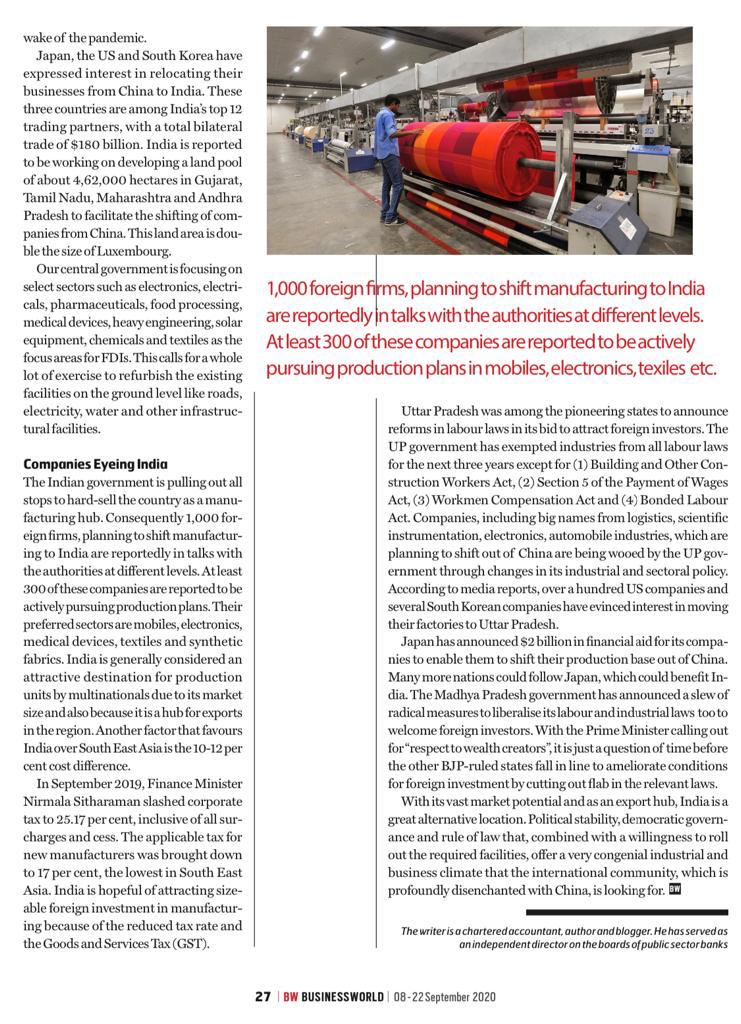 Foreign Investments
By emphasising that foreign investments and technology are welcome, our Union government has clarified that self-reliance does not mean cutting off or isolating the Indian economy from the rest of the world. So, India's goal of self-sufficiency will actually translate into ensuring a bigger and more important role for it in the global economy. Meanwhile, India was quick to clear the way for welcoming those companies from Europe, the US and East Asia, which are moving out their production facilities from China in the wake of the pandemic.
Japan, the US and South Korea have expressed interest in relocating their businesses from China to India. These three countries are among the top twelve trading partners of India, with a total bilateral trade of US$180 billion. India is reported to be working on developing a land pool of about 462,000 hectares in Gujarat, Tamil Nadu, Maharashtra and Andhra Pradesh to facilitate the shifting of companies from China. This land area is double the size of Luxembourg.
Our Central government is focusing on select sectors such as electronics, electricals, pharmaceuticals, food processing, medical devices, heavy engineering, solar equipment, chemicals and textiles as the focus areas for FDIs. This calls for a whole lot of exercise to refurbish the existing facilities on the ground level like roads, electricity, water and other infrastructural facilities. India government is pulling out all stops to hard-sell the country as a manufacturing hub. Resultantly, 1,000 foreign firms, planning to shift manufacturing to India, are reportedly in talks with authorities at different levels.
Companies Eyeing India
At least 300 of these companies are reported to be actively pursuing production plans. Their preferred sectors are mobiles, electronics, medical devices, textiles and synthetic fabrics. India is generally considered an attractive destination by the international companies for setting up their production units due to its market size and also because it is a hub for exports in the region. Another factor that goes in favour of our nation in preference to South East Asia is the cost difference, which is in the range of 10-12 per cent.
In September 2019, India's Finance Minister Nirmala Sitharaman had already slashed the corporate tax to 25.17 per cent, inclusive of all surcharges and cess. The applicable tax for new manufacturers was brought down to 17 per cent, the lowest in South East Asia. India is hopeful of attracting sizeable foreign investment in the manufacturing sector because of the reduced tax rate and the Goods and Services Tax (GST).
In a bid to attract foreign investors, Uttar Pradesh was among the pioneering states to announce reforms in its labour laws. The UP government has exempted industries in the state from all labour laws for the next three years except for the following: (1) Building and Other Construction Workers Act, (2) Section 5 of the Payment of Wages Act, (3) Workmen Compensation Act; and (4) Bonded Labour Act.
Companies, including big names from logistics, scientific instrumentation, electronic, automobile industries, which already have investments in China and are planning to shift out of that country, are being wooed by the UP government by making changes in its industrial and sectoral policy. According to media reports, over 100 American companies and several South Korean companies have evinced interest in moving their factories to UP.
Japan has announced US$2 billion in financial aid for its companies to enable them to shift their production base out of China. Many more nations could follow Japan, which is expected to benefit India. The Madhya Pradesh government has not lagged behind and has announced a slew of radical measures to liberalise its labour and industrial laws to welcome foreign investors. With India's Prime Minister calling out for "respect to wealth creators", it is just a question of time before the other BJP-ruled states fall in line to ameliorate the conditions for foreign investment by cutting out the flab in the relevant laws.
Right Choice
The US, European countries, Japan and Korea, are definitely moving their firms out of China. The chances of these firms relocating to India are very high. With its vast market potential and as it is also an export hub, India is a great alternative location. The political stability, democratic governance and the rule of law that India is known for, combined with its willingness to roll out the required facilities, offer a very congenial industrial and business climate that the international community, which is profoundly disenchanted with China, is looking for.
(The article "The Aftermath Of India's Economic Offensive Against China" published in "Business World")