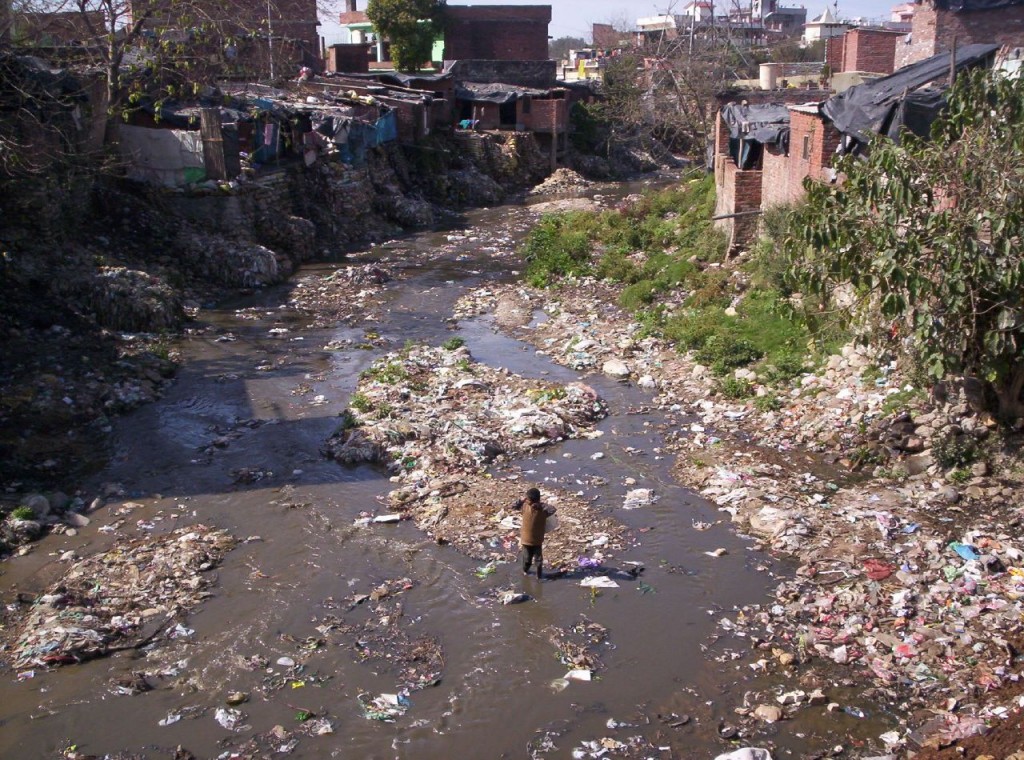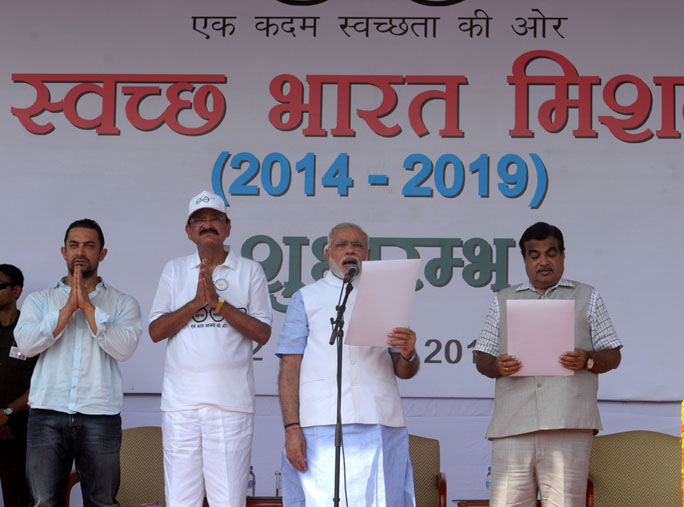 Choking were the streets and sidewalks with piling up mounds of rotten garbage and belching were the gutters and sewers, with no signs of being cleared any time soon. This could be the description of any Indian city or town, small or big. The situation in rural areas was no better. Defecation in the open was too common a sight with the poor and the needy of the society's soft underbelly having no recourse to toilets at home. In fact, a dedicated toilet was not an intrinsic part of a typical home in an Indian village or a small town. Lack of hygiene and consequent outbreak of diseases was, therefore, an inevitable consequence of such a sad state of affairs.
Women having to go out into the open at odd hours to attend the nature's call became easy prey to human predators. Tourists were aghast at the unseemly sights and revolted over the highly deplorable sanitary and hygienic conditions. A country of exquisite beauty, rich cultural heritage and inestimable spiritual treasure, unmatched practically elsewhere in the world, had started slipping down the popularity charts of international tourists for the sheer lack of an efficient waste management system and sound infrastructure in the area of sanitation and public hygiene.
All this resulted in a woeful lack of self-esteem on the part of the Indian society, which had been making strides in practically all sectors of economic development and took pride in laying claim to the title of a fast-emerging economic powerhouse in the South Asian region in close contest with China. The most ironical feature of the situation of helplessness that Indians suffered was despite their being finicky in their personal hygiene and keeping their houses spotlessly clean as a mandatory requirement in their regime of offering daily prayers, they were dismayed over the lack of a waste management system on the part of civic authorities. Consequently, both a state of mass inertia and hopelessness gripped the Indian society, compounded by a forlorn feeling of low self- esteem.
Prime Minister Launches Program
Well, in the above paragraphs we talked in the past tense, as the idea was not to indulge in an exercise of self-flagellation about the conditions prevailing in India. The intention, on the contrary, was to capture in a nutshell the woeful state of affairs as it existed before a fresh breeze of change started sweeping across the landscape of the country last year and thereby ushered in a new government at the national level that dared to think differently both at the macro and micro levels to address the monumental challenge of sanitation and hygiene.
While the situation today is not much different from what it was before Prime Minister Narendra Modi unveiled his Swachh Bharat Abhiyan or Clean India Mission, from the ramparts of the Red Fort on the occasion of India's Independence Day on 15 August 2014, there is a marked difference in the country's determination to tackle the problem of filth and squalor. For the first time in the history of modern India, a prime minister had thought it fit to talk about one of the most pressing needs of the people, namely toilets and that too on an occasion which used to be kept exclusively reserved by his predecessors for making lofty speeches on the government's achievements in areas like economy, education, industry, defence, poverty eradication, etc. Modi made a passionate appeal for uplifting the country from the depths of ignominy to which it had sunk in the matter of cleanliness, with particular focus on construction of toilets in each and every household in rural areas and separate toilets for girls in schools to ensure privacy and security. He unfurled a grand scheme for cleaning government offices and public places and presenting a clean Bharat in dedication to Mahatma Gandhi on his 150th birth anniversary on October 2, 2019.
Swachh Bharat Abhiyan
The scheme called 'Swachh Bharat Abhiyan' is no less daunting in sheer magnitude and scale than the Herculean task of cleaning the Aegean stables. The fact that no other leader of the country before him had retrospected on one of the most basic needs of the people, and presented a time-bound master plan for implementation of the scheme, in which political representatives of the people, and local authorities were involved with the active support and cooperation of the people themselves, resulted in a special resonance of the scheme for the people. 
Film stars, sports persons, captains of industry and other celebrities were enlisted not only for popularizing the scheme, but also to set personal examples and act as role models to motivate people to help themselves in the mammoth scheme on a scale never witnessed in the country ever before. Brand ambassadors were appointed and several organizations and commercial establishments roped in for implementing the scheme. More than three million government employees and school and college students are to participate in the drive. The total cost of the program is expected to be a whopping Rs 62,000 crore (US $9.8 billion), to be shared by the central government and state governments.
Challenges and Impediments
The challenges to the program are many and the impediments in its implementation are no few in number.
● The greatest of the challenges lies in the sheer magnitude and scale of the program. The program is an ambitious, nationwide campaign aimed at making India completely clean and "open defecation free" by October 2019. It plans to construct 12 crore toilets in rural India by October 2019, at a projected cost of Rs 1.96 lakh crore (US$31 billion). The government is conducting the program in concurrence with the Indira Awaas Yojana, a rural housing scheme. Although the Swachh Bharat Mission began on October 2, 2014, the government had begun constructing toilets prior to that date. Under that scheme, the Modi government was left with an allocation of Rs 32435 crore (US$5.1 billion). The program has also received funding and technical support from the World Bank and from corporations as part of their corporate social responsibility initiatives as well as from the state governments under the Sarva Shiksha Abhiyan and Rashtriya Madhyamik Shiksha Abhiyan schemes.
As of May 2015, as many as 14 companies including Tata Consultancy Services (TCS), Mahindra Group and Rotary International had pledged to construct 3,195 new toilets. As of the same month, 71 Public Sector Undertakings (PSUs) in India had extended their support for the construction of 86,781 new toilets. Between April 2014 and January 2015, 31.83 lakh toilets were built. This indicates the scale of the program. However, there is quite a long way to go towards completing implementation of the scheme.
● The question is how long could the interest of the people be sustained in the necessity and viability of the program before their spirits start sagging and they go back to their old ways. People's attention has to be kept riveted on the scheme. They have to be constantly reminded about the soundness of the scheme and why it must succeed. People have to be convinced that the government is quite serious about this program and that it is beyond politics and is essentially an exercise in self-help.
●  Another big challenge is to change the mindset of millions of people. People need to be educated about sanitation and hygiene. Although Indians do have a proclivity for cleanliness at home, they seem to behave differently in public places, which are not kept clean by the civic authorities in the first place. It would appear that "If you can't beat them, join them" kind of syndrome is in operation. Urinating on the roadside, spitting and littering are some of the unseemly acts commonly indulged in by a person who feels utterly hopeless about the dismal state of affairs. The same people who indulge in such activities while in India conduct themselves responsibly while abroad, mindful of stringent local laws, civic sense and norms of behaviour. Although their duplicitous behaviour at home and abroad is not entirely explicable, it is apparent they seem to be driven by a desire to blend with the milieu. Call it an act in trying to look nonchalant, if you will. Such people have to be convinced that public places in India also can be transformed into clean and well-maintained places as in developed countries, if not more. To start with, enough numbers of garbage bins and skips should be kept at public places to encourage people to make use of them instead of littering around.
● Once garbage bins and skips are placed at strategic places for use by the public, strict legislation should be enacted to make littering, spitting, urinating or indulging in such unhygienic and unseemly practices legally punishable. Use of non-admissible grades of plastics and other non-bio-degradable material inimical to the maintenance of healthy environment and ecology should be banned by legislation. 
●  The workforce for cleaning has to be optimal in strength. There are any number of cities and towns in the country that are understaffed on account of shortage of funds for purposes of cleaning of streets and removal of garbage. This lacuna should be rectified by appointment of adequate number of cleaning staff to work in several shifts depending upon the severity or acuteness of the problem. Appointment of cleaning staff will per se not solve the problem. They have to be paid decent wages. Their working conditions should also be improved such as by issuing of liveries, surgical masks, disposable gloves and sturdy equipment and cleaning materials to enable them to clean and collect garbage with least exposure to health hazards. Unless they are paid reasonable wages and their working conditions ameliorated, they cannot be expected to have any degree of pride in their job or carry out the work without giving cause to complaint or dissatisfaction.
●  Garbage has to be collected regularly and transported to designated places located away from residential areas and water bodies before it is segregated into biodegradable and non-biodegradable categories. Wherever possible, solid waste should be converted into natural manure for farms or recycled for the benefit of the communities generating the waste matter. This is an area where great care has to be taken to ensure that no possible use, which could be made of the solid waste in the process of its disposal, is allowed to go unexplored. Disposal of hospital waste and industrial waste is yet another matter that deserves serious consideration. With Narendra Modi's 'Make in India' program coming into force in a big way with the setting up of more and more industrial establishments and manufacturing hubs, disposal of waste output has to be reckoned. The authorities need to have a master plan for disposal of all kinds of garbage, for the preparation of which expertise, technical acumen and eco-friendly approach have to be judiciously applied in a bid to get optimal benefits.
● A mandatory system of voluntary cleaning of government offices by the personnel working in those offices on certain designated days in a year should be introduced. This would help establish a sense of appreciation of the need to keep the premises clean by the people working there themselves and instilling in them dignity of labour. This practice is already being followed in quite a few countries like the former Soviet Republics.
● There should be a cordial tie up between welfare associations of residential complexes and those in charge of commercial and industrial establishments on the one hand and the civic authorities on the other so as to ensure optimal cooperation in collection of waste material at regular intervals.
● Civic authorities have to find ways and means of generating revenues, which could be allocated for cleaning operations. One simple way would be to sell stickers of different denominations to households, industrial and commercial establishments which generate garbage, to be affixed on garbage bags for collection.
When people are educated and motivated about the program, its necessity and winnability, and the implementation is in full flow, more impediments would perhaps come to the fore. Those could be successfully addressed with all the experience and hindsight gained during the implementation of the program.
(The article was published in weekly magazine Uday India in October 18- 24, 2015 edition)
http://udayindia.in/2015/10/17/swachh-bharat-abhiyan-implementation-and-impediments/