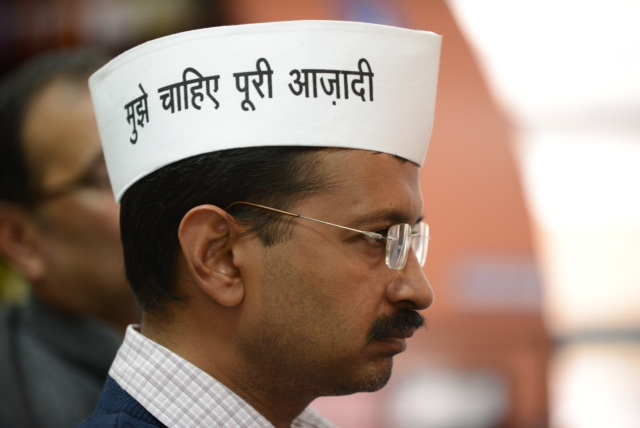 Delhi and Puducherry have been accorded partial statehood, an attribute that makes these two UTs different than the remaining five. And no measure like this comes from vague or unscrupulous diligence. The seventh schedule of the Indian constitution helps these two UTs to have an elected legislature that can oversee limited but vital matters. Now that a new political party with colossal backing from the people of Delhi is liable for state's administration, the focus has moved from legitimate powers to securing unlawful authority, a claim that has overshadowed all those critical matters, for say, Jan Lokpal and transparent governance, for which AAP was voted to power. You would agree that once you are assigned a job, you cannot correct all flaws in a day or two, nor can you ask for superficial commands just to reflect that you care for others. This simple notion is what that the Delhi government is unable to construe, leading to a state of anarchy in the capital city of India.
It is as simple as this- While on a job, you need to act in synergy with others, besides being an active orator, you need to possess apt listening skills. For those in politics, this becomes even more fundamental, you deal with people with unlike ideologies, temper and intellect. Asking for full statehood for Delhi on the day of assuming power by the Delhi's new CM was nothing more than politicizing, grabbing media attention, projecting himself as sole savior of Delhi and in this run, crushing the dreams of voters who are in no way concerned about the governance structure of Delhi, but are worried about their well-being and development. Wouldn't you agree that Delhi has more or less become a battleground of dishonest and fruitless politics in this post-AAP period? The state known for highest per capita income, fastest growing retail industries and as a hub of foreign investment, and also for some evils like commonwealth games corruption scandal and a city declared as the most polluted by the WHO, has been turned into a combat zone by unproved political men.
Having created multiple instances of awkwardness and illogical stands, just like defying prohibitory orders and staging a protest outside Parliament house while being the chief minister of Delhi, the convener of AAP has lost the very substance of his claim over the Delhi police and administration. I fear that the city that houses the Rashtrapati Bhawan, honorable Supreme Court, Cabinet Secretariat, Indian Parliament and other prominent structures and offices, if left to the sole and ultimate discretion of such inexperienced men, would mark a decisive end to Delhi's legacy. Imagine a foreign delegate on state visit to India clogged or even detained by the Delhi police at the will of Mr. Kejriwal. Or think of a combat between police and central minsters' security staff owing to ministers banned from entering the Parliament at the orders of Delhi government. And with the kind of milieu prevailing in Delhi today, these imaginations do not appear improbable.
It is now an established fact that favors asked by the AAP rest on no rigid structure. In a sensible analysis of their demand for full statehood, assess whether the entire state in its present form can ever be shifted to inclusive administration of a local government. A union government that represents the country at large and its headquarters can never be brought under any state government; hence bifurcation of Delhi is what will be the ultimate outcome of the demand. For Delhi CM, lessons of history are crucial which tell how the adamant Jinnah claimed nothing less than a separate nation for Muslims, and how the lives of hundreds of millions of Pakistanis today is stuck amid radicalism and politics. After full statehood, the Delhi Development Authority would be chaired by the Delhi CM and the liability of acquiring and developing land would come under the ambit of the government of Delhi, is the present bunch of newly sworn legislators ready for this? Development of Delhi requires sheer technical advice, stable thought process and of course, apt macro planning, which indeed they lack.
Embassies, the Red Fort, residences of veteran political leaders and DDA are secured in the current state; they cannot be made vulnerable if moved under the pleasure of the CM of a fully sovereign state. Had the political setup in Indian states been cooperative and free from the glitches of caste-based politics, the most sensitive place, Delhi, could have been thought of being brought under the control of elected legislature for quick decision making and subsequent development. However, indulging in turf wars with the LG and alleging support for the same from CMs of non-BJP governed states proves that federal structure of India has come under blunt susceptibility by the cluster of over-enthusiastic and untested MLAs of Delhi's legislative assembly.
Mr. Kejriwal is to realize, at the earliest, that it was not his arrogance and lack of accord with other political parties, but his pledge of corruption-free and effective governance of Delhi which secured him the office of the CM. Lessening of electricity bills and providing free water aren't examples of astute administration, the exchequer is put at loss that eventually will be filled by taxpayers' money. Being rigid for commands not guaranteed under the law of the land is serving no purpose for the voters who foresaw a changed and reformed administration by the candidates contesting in the name of uprightness. For next five years, Delhi's hopes rest on your shoulders; let not injudicious demands be an obstruction in accomplishing the expectations of the common men of Delhi.