Doctors recommend hand hygiene by washing hands often with soap or hand sanitizer and social distancing.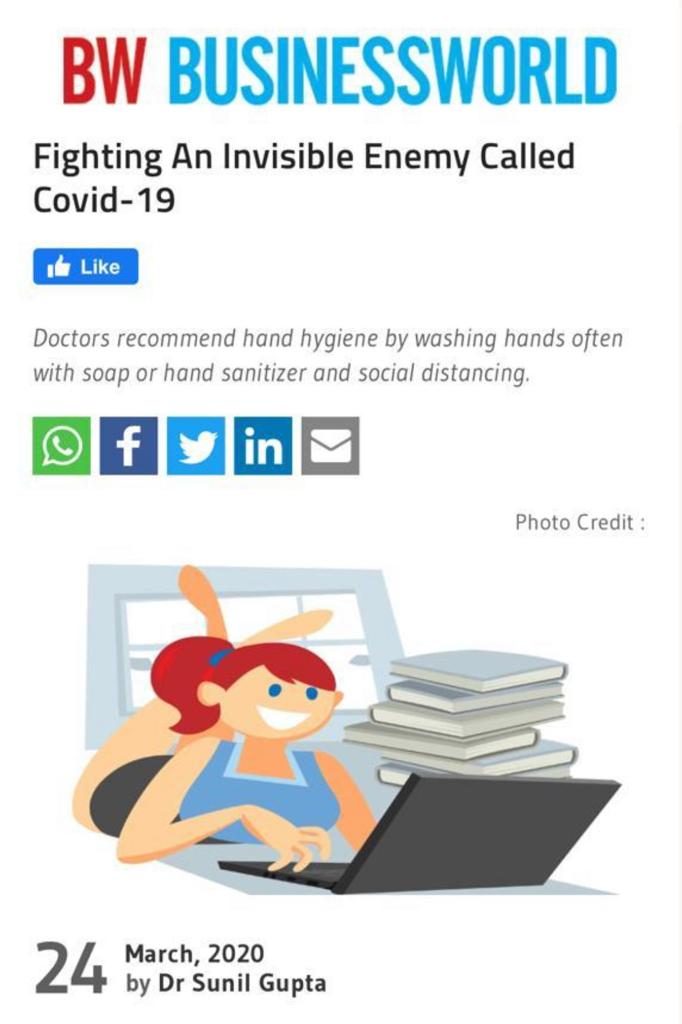 Novel Coronavirus (Covid-19) is the most recent addition to a long list of death traps that humankind has stumbled onto in the course of its short sojourn on earth. Intriguingly, it is a problem of man's own making for which a solution is yet to be found. Some of the best human brains in the medical and scientific domains are busy applying themselves to the task of inventing a cure. There is no dearth of conspiracy theories being floated in the social and the not-very-social media by busybodies to whet the appetite of an idle mind's curiosity.
While one such theory claims Coronavirus was the result of a botched-up attempt by China to devise a biological weapon gone horribly wrong, another talks about global powers trying the virus out as a deadly means in the US-China trade war. There are also claims that pharma companies are out to make a kill with new patented drugs in the embryonic stage of invention. In the meanwhile, bulls and bears have been running amuck in the stock markets across the globe, causing the rise and fall of financial empires because of which the world economy is faltering and floundering about. Meanwhile, the overall political and financial climate is one of confusion and consternation.
International Reaction
Almost all the nations are trying their best to grapple with the problem. Countries like Italy and Spain, just to name but two, are having nationwide lockdowns. Tourist places have been cleared. The US has declared a national emergency. France has ordered the closure of all non-essential businesses, including restaurants, shopping complexes, cinemas and clubs. Countries like Italy and Iran have appealed for international help. Borders are closed notwithstanding the fact that viruses do not respect boundaries. On the downside of the issue, the pandemic has caused the murky side of human nature to come to the fore. Hand sanitizers and toilet paper rolls are fast disappearing from the store shelves. Apparently, there is a hoarding of the essential as well as the non-essential supplies of daily life going on.
India's Response
India has taken proactive steps and has also set up a graded response mechanism. It has suspended most visas for a month. Non-essential travel is being discouraged. Educational institutions, malls, cinemas and swimming pools are closed. Even places of worship are either completely locked down or have scaled down their services to a thinning turnout of the devout. Trains and buses are regularly disinfected. The government is imposing restrictions on social gatherings in public places. India government's political commitments to tackle the disease as well as its containment strategy have won international acclaim. It has already taken several initiatives such as screening the passengers at airports, seaports and border check-posts.
Strengthening of surveillance, setting up of isolation wards and quarantine facilities are on. A network of more than hundred nationwide laboratories and sample collection centres has been put in place. A buffer stock of personal protective equipment and the N95 masks for use by health workers is at hand. Awareness campaigns are being organised by the central government with the involvement of the state governments and community engagement. Health workers are trained with the support of WHO to upgrade their preparedness to tackle the pandemic.
The government on 22nd March has also allowed NABL-accredited laboratories in the country to test n-coronavirus samples. In view of the gravity of the crisis, it has been recommended that the upper ceiling for testing of samples be maintained as Rs. 4,500, which shall have a Rs. 1,500 component as screening for suspect cases and Rs. 3,000 as confirmation test charges. The government has also instructed these private labs to adhere to biosafety precautions and prefer home collection of samples. Any lab violating the guidelines will face legal action. Random sample testing has also been resorted to in order to look beyond those who have a travel history and their close contacts. This step is sure to have a far-reaching impact in the fight to contain the spread of COVID-19.
India has also been very quick to dispatch special flights to repatriate hundreds of its countrymen stranded in countries like China, Iran and Italy. The repatriated persons have been quarantined and made to undergo medical checkups. Prompt and timely actions initiated by the Indian government and the quality of the medical services provided across the country have been widely acclaimed. The latest instances of repatriation reiterate the government's commitment to the safety and welfare of its nationals in whichever part of the globe they live in.
Global Leadership
India reasserted its global leadership when Prime Minister Narendra Modi announced early this month the nation's willingness to share its expertise and protocols developed to contain and fight Covid-19 with the member-countries of SAARC. India will set up an Emergency Fund with an initial corpus of US$10 million that can be used by all members of SAARC. It will also put its rapid response team of doctors and specialists on standby to be deployed across the region. India is also working on requests from Iran and Italy for help in containing the virus outbreak. It has already sent a consignment of medical equipment and supplies to China.
Indian Economy
On the economic front, the nation has both losses and gains to count. Apart from the exodus of foreign capital from the stock market, the losses are in the hospitality, entertainment, tourism, transport and service sectors. Meanwhile, the Indian economy is likely to benefit immensely from the windfall savings resulting from the global oil price war and the crash in crude prices. India also has tremendous scope to capitalize and gain if it designs an effective strategy to attract the many foreign firms which are currently fleeing China.
People's Reaction
At the individual level, nobody is taking chances, although most of the people grudge the governmental restrictions on normal life. Some groups of people are reported to have tried in vain to resist subjecting themselves to mandatory medical checkups and quarantine on the excuse that their religious belief does not allow it. Some people who have been protesting for some time now on the streets against the recent amendment to the citizenship law are still carrying on with their protest dramas. However, it is only a question of time before the fear of the pandemic catches up, and they wind up the protests.
Despite the advice of the medical fraternity that it is not necessary for those who are not affected by the virus to wear the surgical mask, you can see every other person in public places sporting one. Hardcore meat eaters are becoming vegans or vegetarians. Authorities have warned stern action against greedy traders and businessmen who are creating an artificial scarcity of the essential medical supplies or jacking up their prices. Yoga is recommended to boost one's resistance and immunity to the evil virus. Astrologers are coming up with predictions on when the nightmare will end. Spiritual gurus are suggesting hymns and spells, talisman and lucky charms to ward off the evil.
Doctors recommend hand hygiene by washing hands often with soap or hand sanitizer and social distancing. There are others who exhort people to participate in Gomutra (cow urine) parties, drink hot water, gargle with warm water, stay away from ice-cream and cold food to ward off the virus. Some even recommend exposure to Sun, without a scientific or medical basis to support their claim. India is believed to be passing through a stage where people testing positive have contracted it from someone affected by the virus and having a travel history. According to experts, the situation can be controlled locally.
India Fights
The layman, on his part, has taken the Prime Minister's advice to prepare and not panic, as the credo for the occasion and is focusing on the latest health issue with single-minded devotion, having put the other bothersome mundane matters of concern on the back burner. Although the full scale of the threat by the virus is still not known, efforts are afoot globally to come up with a cure anytime soon. In the meantime, India fights with grit and determination to overcome the enemy. For instance, Prime Minister Narendra Modi's fervent appeal for a 14-hour 'Janta Curfew' on March 22, urging Indians to stay indoors, received a commendable response from across the country. This self-imposed curfew broke the chain of Coronavirus infection, which in turn is expected to reduce new infections and also prevent further spread of Covid-19 in India.
The central government is also working dedicatedly with state governments and local authorities to ensure that any further lockdown in the wake of this healthcare crisis has a limited disruptive impact on the lives of all. It has been ensured that grocery stores, milk shops, medicine outlets and other services delivering essential goods and services remain accessible at all possible times. Lastly, the onus is also on the citizens of this country to turn government measures into a sure success by abiding by the instructions issued by authorities and not overlooking the basics- keeping personal hygiene and maintaining social distance.
PS: It is best to keep fake news regarding the n-coronavirus at bay. People using WhatsApp can now chat with official WHO account at +41 22 501 7615 to know what experts have to say about COVID-19. This facility in the form of ChatBot is available for all Indian-based users.
(The article "Fighting An Invisible Enemy Called Covid-19" published in "Business World")