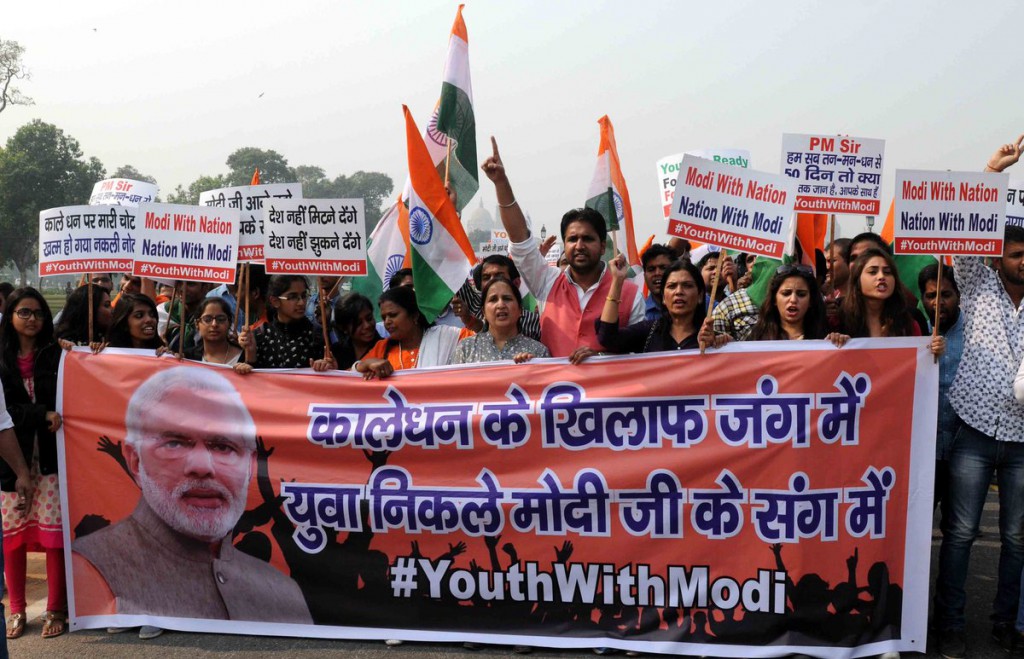 There are lot many 'may' doing rounds in media, rarely is anyone certain about how the Indian economy will respond to government's move of stripping INR 500 and 1000 notes of their legal tender status. This is why we do not have 'will' in any opinions and forecasts. Consumption 'may' be hit, GDP growth 'may' plunge, inflation 'may' ease and unorganized sector 'may' be the casualty, are a few estimates by financial and political pundits.
Another glance takes us to gold 'may' lose its sheen, real estate 'may' plummet further and the likes. Nobody's convinced of his own theory and conclusion; no one is daring to say that the economy 'will' see variations in a particular way.
Agreed, it is not the cup of tea of self-styled economists and of politicians unacquainted with even basic economic concepts like demand-supply correlation to predict the exact footprint this denotification of currency notes move will leave on the economic landscape of our country, on various sectors of economy, on job creation, consumption and inflation.
Then should we stop venturing into the field of how the economy would respond to the present drive of unearthing black money and resultant cash crunch, or isn't it a better idea to be a bit pragmatic while analyzing. Here, we shall go with the second option.
Can news be believed?
You can if you want to, but then the risk will be all yours. And with the multiplicity of news channels and plethora of experts assessing the impact, you may boil down to gaining nothing, albeit losing even your own astuteness to judge events like this. Moreover, these experts aren't real economists, they are politically inclined either to left, right or center; they will paint the picture as it suits their respective political ideologies.
In the news, the length of queues outside banks and ATMs can be correctly pictured, but all else, even the emotion of general public are played with, distorted.
You can end up watching totally frustrated public on one news channel, while on the other you will find people chanting the PM's name with heightened vigor and ever-high dedication. In some reports, people would be seen overwhelmingly backing Modi government's decision; on the other, distressed men and women are ready to recall their Prime Minister, had they been empowered as such under the law.
Is there a way out, a rational view?
Rarely can anyone be so smart and precisely practical to forecast GDP growth rate, job creation, inflation figures and bank rates after unexpected events like the one that saw Donald Trump winning the presidential race in the US or the UK voting out of European Union.
The dust only settles when all facets of economy adjust to the event, and this adjustment can only be a matter of guesses and estimates, not codified judgments.
But when such events and adjustments have a bearing on the lives of all citizens of a country, it becomes imperative to prepare oneself for upcoming changes; forecasting, extrapolating and speculating then become a need, not just an exercise in vain. Hereunder we shall discuss the impact of currency denotification on sectors of Indian economy in a way that is pragmatic and real, not illusionary.
Banking Sector of India
Banks have been reeling under capital deficit that has impacted credit growth. The central government made budgetary provisions to infuse capital in banks; this however is a long-term scenario. On the contrary, banks have seen windfall of deposits in the post-November 8 scene, even Jan Dhan accounts, infamous for being a zero-deposit liability, have received more than INR 50 thousand crores as credit.
With banks' accounts improved and lending capacity increased, economy can expect revival in loaning activity, from businesses to small farmers, beneficiaries will be all. Also in the offing are reduced lending rates and loans for those who couldn't get institutional credit owing to lack of banking transactional histories as they now have active bank accounts.
Banks, however, will have to be vigilant in their credit extending activity since uncalculated risk will only intensify their NPA woes further. Also, co-operative banks will need to add transparency in their operations; scheduled banks must reach rural and untapped markets.
Job Creation in the country
In the short-run, this can be an area of pain for the government and society as a whole. Last couple of years, when GDP growth rates were the best in the world, job growth did not match even modest expectations. And in the period after bank notes recall, when economic activity and consumption has taken a hard hit, this segment will only contribute to additional agony.
In the long-term however and when economy adjusts to new currency and rekindled spending, hope does exist. The government will tax deposits that do not match with legal source of income, and the RBI will also decrease its liability to the extent old currency notes do not reach bank vaults, thus dividend to government will be hiked.
All this will enhance the capability of government to allocate more funds to infrastructure spending (if they choose this over the populist subsidy regime), which can become the major sector to generate jobs, thus add to consumption and spending, and thereafter begin the cycle of further job creation, then spending, then more job creation and so on.
Real Estate and Gold Market
There is a widespread fear of dip in property prices, which is backed by solid reasons like the rigged property market where purchases have substantial cash involved, and slow economic growth. To an extent, this picture looks real, but add to it the passing of Real Estate Regulatory Act, cuts in key repo rate by RBI since the beginning of 2015, schemes like Housing for All and there comes a ray of hope.
The currency recall move strikes the right chord. With an increase in assets of banks over liability, interests on term deposits is anticipated to reduce, which in turn will pave way for home loans at more attractive rates.
Even in a scenario where we consider prices at same levels, property will become a preferred investment option for buyers as they will now not seek paltry interest on deposits offered by banks. Rather, investing in property will enable buyers own an asset, besides earning better returns by renting the property and availing tax benefits on repayment of home loans.
The point to notice about yellow metal market in India is that gold is a safe haven for many investors, including the retail investor who doesn't go for stock market, rather keeps gold as asset. While cash is the new unfavorable stock in post-demonetization period, people would park their money in other places, preferably gold.
The yellow metal market of India is to see its golden period in the near future and in long run. This also reflects in record high import of gold after November 8.
Retail Market and Other Crucial Industries
For sectors ranging from hospitality to automobiles and metals to consumer durables, the November 8 announcement has brought negative repercussions. There is not a single industry that did not see a slowdown in sales in the backdrop of cash shortage in the market.
Does that turn into a bigger chaos in the long-run? It is to be noticed that cash in hand was not the lone stimulator of consumption. Agreed, lessened liquidity has invited slump, this is only for the duration when newer currency isn't made adequately available and it won't be a month or two from today's date that normalcy will return.
What will then decide growth in retail and other sectors will be credit growth, job creation, public and private investment and most importantly, transparency in functioning of economy and financial markets.
Digitization of transactions will not only expedite exchange of money, it will also produce a trail of all transactions, thus a balance sheet of the entire economy. Debit card payments and e-wallets are witnessing their best-ever period, and the government will have to work further for a smooth transition from cash based economy (more than 98 percent transactions are in cash today) to a cashless, transparent and swiftly transacting economy.
Conclusion
Panelists on news channels will predict a future of their liking; they may not come with statutory warning, paying heed to such verdicts, however, will be a loss to the astuteness of common man. You know that with reduction in the level of parallel economy of India, inclusive and sustainable growth will be the outcomes.
It can be accepted that the GDP growth rate may take a hit in the short-run, but that doesn't mean that Indians are losing. Even with world's best growth figures, we have faced agrarian crisis, high unemployment, disparity in income distribution, malnutrition among children. Thus a lesser than expected GDP growth figure will be no conclusive evidence of Indian economy moving into the red.
Long-term forecast does appear promising; the government and key functionaries in the economy, ranging from banks to public sector undertakings and privately held enterprises to autonomous institutions, will have to play their respective roles attentively and prudently.
Government has been tweaking guidelines for currency exchange and deposit/ withdrawal every passing day, and this can be indicative of its receptive approach than its unpreparedness (a call this hard had come unanticipated, thus unready). And so, the opposition that is unitedly creating ruckus in Parliament – alleging that the step has hit the country and its economy hard– must read between the lines and acknowledge that currency recall can be an enduring win.
The November 8 announcement can be the most productive step of the present government. The unintended beneficiaries post-announcement were state electricity boards where people thronged to clear dues; if one looks at such patterns, future seems to hold the key to a better India.